Yoga in Clarksville
---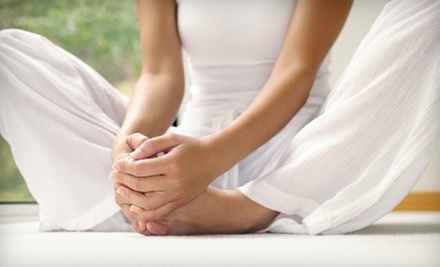 ---
Recommended Yoga by Groupon Customers
---
Director Indu Bala Bhardwaj of It's Yoga uses her nearly four decades of experience to guide a team of skilled yoga practitioners as they help pupils achieve holistic harmony and physical relaxation with a daily schedule of Vinyasa, Hatha, and Ashtanga yoga classes. The studio's brick walls, lilac accents, and carpeted floors envelop aspiring yogis as they employ measured breathing techniques to fluidly vogue through an exhilarating series of Ashtanga and Hatha poses during Vinyasa Flow 1 classes. Integral Yoga guides students through chanting and meditative breathing exercises to ease mental and physical tension; Anusara Yoga gently lengthens limbs to correct posture and spinal alignment for students recovering from injuries or chronic bouts of noodlebones. During challenging Hot Yoga classes, students work their muscles and sinews through a set of limbering asana poses in a heated room, which helps facilitate flexibility and prevent students from confusing the mountain pose with the frigid ski-slope pose.
346 Ludlow Ave.
Cincinnati
Ohio
YogahOME helps clients shed stress while nurturing strength and balance thanks to its practice of Vinyasa yoga, which matches body movements with inhalation and exhalation. Classes coordinated by experienced teachers are offered throughout the week and feature varying degrees of difficulty, such as gentle Vinyasa, moderate Hatha, hot Vinyasa, and many others. Though there are classes for different ability levels, no class is too difficult, since participants determine their own pace and level of pose extension. Since you can purchase up to two of these Groupons, mix and match six different classes to find your perfect center and qi. Mats and props (blocks and straps) are also available for rental.
3215 Brotherton Rd.
Cincinnati
Ohio
The Gumby-like founder and executive director of YOGAmazing, Chaz, is a certified instructor with years of impressive experience under his yoga mat. From developing the globally successful YOGAmazing Video Podcast on iTunes to being recognized by Yoga Journal, Chaz incorporates his effervescent attitude and passion for life into all classes. His airy, spacious studio is geared toward students of all skill sets. The class schedule includes nighttime vinyasa-flow yoga, early morning hatha, and a special Wednesday session exclusively for Groupon passes (though your pass allows you to take any yoga class you choose). You can view the complete schedule here.
211 Clover Ln.
Louisville
Kentucky
Power yoga differs from regular yoga in a few key ways, most notably its dedication to the destruction of evil through extreme muscular flexion. The wide range of class offerings ensures pliable posers of all levels can find a suitable challenge. Greenhorns can get started with a New to Yoga course, while veterans of powerful yogic posturing can up their yogame with the Power Flow 90, a 90-minute workout designed to infuse power yoga poses directly with DNA, creating the fitness version of Jurassic Park. Consult the schedule for a full lineup, and plan on arriving 5 to 10 minutes before a class is scheduled to begin. Bring a towel and water bottle to wipe away and replenish exercise tears.
3500 Michigan Ave.
Cincinnati
Ohio
To program director William Brashear and his team of teachers, yoga is a spiritual journey that begins within while a person is creating a bond with humanity. They inspire students of all ability levels to seek this inner peace in their classes, which cover a variety of styles. Options range from Mysore—a meditation-focused discipline—to power yoga—a vigorous Vinyasa-based course—to gentle yoga—a slower-paced rehabilitative class. To zero in on students' specific areas of concern, they lead one-on-one sessions, helping them master their techniques and learn Sanskrit words such as, "asana" which means "pose," or more commonly, "Can you please help me? My leg is stuck behind my head."
In addition to yoga, the school provides healing services, including Ayurvedic Thai yoga massage, in which a trained practitioner gently pulls arms and legs and twists torsos and shoulders in an effort to loosen the muscles and release stress. It also hosts yoga- and meditation-centric events and organizes calming retreats to locales such as Leeland Valley.
6125 Ridge Rd.
Cincinnati
Ohio
In the heart of Cincinnati's business district, work ends and play begins. Here, at The Yoga Bar, bodies and minds bask in a vibe that's both festive and calming, like a piñata brimming with ocean waves. Helmed by Rachel Roberts—an instructor who has trained in India, Bali, and Europe—this studio explores international yoga traditions such as Ashtanga, Vinyasa, and Yin. Teeming with bends, balances, and other physical challenges, classes fill students with energy rather than draining it away. Healthful beverages such as kombucha and coconut water flow from a mahogany bar, hydrating drinkers as they take on ancient yoga poses and modern, Pilates-inspired movements. On Friday nights, classes blossom into yoga socials where live music, tarot-card readings, and fashion trunk shows punctuate deep-breathing exercises. In addition to shepherding students toward metaphysical wellness during group and private sessions, Rachel leads yoga retreats in exotic settings such as Bali's beaches and the moon's bowling alleys. Between classes and retreats, Rachel makes mantra-inspired jewelry and serves as a community ambassador for Lululemon Athletica.
825 Main St., Floor 2
Cincinnati
Ohio
970-274-4402
---