Clarksville Health and Fitness
---
Recommended Health & Fitness by Groupon Customers
---
The technicians at Restore Health harness the fat-shedding power of exercise with LipoLaser's cold-laser technology. This high-tech form of spot reduction targets stubborn bulges and cellulite without the pain associated with traditional liposuction, the side effects associated with drugs, and the unproven results associated with gimmicky diet pills.
130 Seaboard Ln., Suite A-10
Franklin
Tennessee
615-719-9355
As a junior player in the United States Hockey League, Stephen Thiesing had grown accustomed to taking hard hits. Nothing could have prepared him, however, for the full-speed collision that left him convulsing on the ice with a severe spinal-cord trauma. Much to his surprise and disbelief, a subsequent visit to the doctor revealed nothing damaged or out of order. Still in pain, Steven was sent on his way.
This unfortunate visit planted the seeds of Steven's interest in alternative modes of healthcare. Years later, after he had begun his career as a chiropractor, he discovered the source of his pain in a compression fracture in his neck. Bolstered by this discovery, he continued training to find a solution for his aches and eventually founded Thiesing Family Chiropractic Center to provide others with the kind of care that was missing from his own youth.
Doctor of Chiropractic Steven Thiesing now draws from his training and personal experience to craft specialized treatment plans based on his patients' needs. Spinal adjustments are a central focus of his practice, as they can reduce nervous-system disruptions and help the body right itself naturally. Through a series of targeted adjustments, Dr. Thiesing works to relieve pain and stress resulting from injuries, headaches, allergies, and repeatedly carrying one's boss from his office to the lunchroom. He further advises his patients to use the same system he adheres to in his own life, focusing on regular sleep, exercise, and a healthy diet.
506 N Garden St.
Columbia
Tennessee
931-490-0606
To help women achieve their fitness goals, the certified personal trainers at Get In Shape For Women focus on four areas: weight training, cardio training, nutrition, and accountability. In small group sessions, trainers modify exercises to suit up to four ladies' fitness levels, beginning by calibrating 30 minutes of strength-training drills—such as free weights, lunges, and squats—to each student's abilities. Then comes 25 minutes of cardio: the trainers might start novice exercisers with a walk on the treadmill or light elliptical training, and challenge more advanced exercisers to high-intensity interval-training sessions for enhanced results.
The trainers supplement the group workouts with nutritional planning centered around the concept of eating six small, balanced meals six days a week. They set aside the seventh day for a bit of indulgence, be it eating a favorite sweet or lusting openly after bacon. To track ladies' progress toward reaching their goals, the trainers measure their weight weekly and body-fat percentage monthly.
600A Frazier Dr., Suite 120
Franklin
Tennessee
615-771-8515
Although performing spinal adjustments requires strength and pressure, Doctor of Chiropractic Joshua Price has gentle hands. He is trained in multiple adjustment styles but focuses mainly on the diversified technique, a method of easing discs into healthier positions using precision pressures with light force. As a result, many of his adjustments are free of the cracking and popping sounds associated with stronger-force adjustments and are so gentle that they can be effectively used for infants, seniors, and monarch butterflies.
1762 Memorial Dr.
Clarksville
Tennessee
US
931-906-9679
---
---
Health & Fitness Deals - Recently Expired
---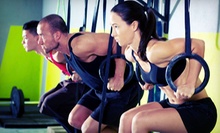 Certified instructor leads students through one-hour sessions of high-intensity exercise routines designed to torch fat and tone muscles
---
---