Restaurants in Clarksville
---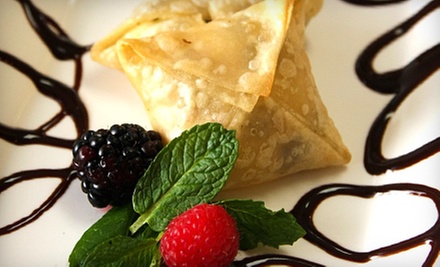 Nashville-Davidson metropolitan government (balance)
---
Recommended Restaurants by Groupon Customers
---
Named by rearranging the letters of pasta, tapas are the delicious Spanish rebuttal to Italian cuisine's long-held dinner dominance. Join the fray with today's Groupon to ChaChah. For $25, you'll get $50 worth of tapas and drinks. Sit by the cozy fireplace and cylinder chandelier in the dining room or take up residence beneath the glowing orbs of light along the bar. For lovely views, dine on the enclosed patio amongst handsome pine pillars and glass-paneled walls. Grab your loquacious epicures and gregarious gourmands for an evening of succulent cuisine and imaginative drinks that'll keep you talking all night long, eventually coaxing your enemy into revealing the location of the Icarus Device. Do share your Halloween candy with your parents, because they're just going to take it while you're sleeping anyway.
2013 Belmont Blvd.
Nashville
Tennessee
US
A fine chocolate is like a fine wine—full-flavored, delicately structured, and inadvisable to consume while operating a Segway. Today's Groupon gives you the keys to the chocolate kingdom, with a $25 box of two-dozen signature truffles from The Cocoa Tree, a $50 value. With the option to individually select each of your 24 truffles, this customizable deal will have your head dancing with myriad chocolate combinations in anticipation of your trip to The Cocoa Tree's Germantown store, where you will issue your chocolaty decrees and pronounce summary judgment on which truffles gain entry to your kingdom. Chocolate-Covered Pretzels: "These sweet, twisted falsehoods betray no difference from their bare-flesh counterparts, to my indifferent jaws. Both mash with similar yielding resignation."
1200 5th Ave N #104
Nashville
Tennessee
US
For $10, you get $25 worth of southern fare and adult beverages at Cabana. Specializing in dinner and late-night tomfoolery, this Hillsboro Village/West End hotspot keeps the energetic atmosphere and southerly cuisine cranked to 11 on a scale of one to three. Follow @Groupon_Says on Twitter.
1910 Belcourt Ave
Nashville
Tennessee
US
Today's deal gives eco-friendly epicureans all the gourmet delights of eating organic, classic cuisine without having to spend an entire afternoon in the kitchen reading cookbooks and The Wind in the Willows. For $25, you get $50 worth of organic fare and drinks at Miel Restaurant, the Sylvan Park eatery that relies on a bevy of local ingredients, cares about its carbon footprint, and won Best Brunch for 2009 in Nashville Scene. Miel is open for dinner from 5:30 p.m. to 10:30 p.m. on Friday and Saturday, 5:30 p.m. to 10 p.m. on Tuesday through Thursday, and for Sunday brunch from 10 a.m. to 2 p.m.Follow @Groupon_Says on Twitter.
343 53rd Ave. N
Nashville
Tennessee
US
A menu that never changes can never evolve. A menu that never evolves will never become self-aware and that is simply unacceptable. That's why the lineup at Daily Dish in Franklin is ever-changing. For $15, you get $30 toward a rotating cast of entree items and side dishes or the restaurant's constant salad and sandwiches selections. If you don't spend $30 on your visit, your balance will be rolled over for your next trip back. You can also use your Groupon toward a catering order.
2205 Hillsboro Rd
Franklin
Tennessee
US
You may feed your mouth on a semi-regular basis, but don't neglect to nourish your eyes, the mouths of you mind. With today's Groupon, feast on scrumptious fare while mind-gobbling a view of the Nashville skyline. For $25, you get $50 worth of bistro cuisine and beverages at Allium Café and Bar in East Nashville. Reservations are recommended for dinner, with 30-minute call-ahead seating available for lunch and Sunday brunch.
501 Main Street
Nashville
Tennessee
---