Restaurants in Clarksville
---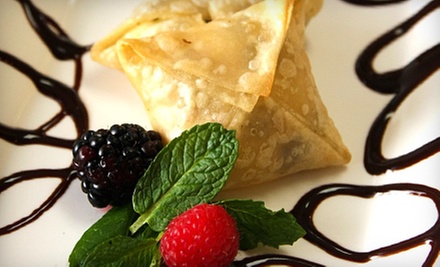 Nashville-Davidson metropolitan government (balance)
---
Recommended Restaurants by Groupon Customers
---
Welcome to Groupon Nashville! For our inaugural deal, $20 gets you $50 worth of grub and guzzle at Flyte World Dining and Wine, located at 718 Division St.
718 Division St.
Nashville
Tennessee
US
615-255-6200
If mouthwatering food makes your mouth water, the tasty smells of live music will induce euphoric synesthesia. Submerge yourself in an onslaught of sensory satisfaction with today's Groupon: $20 for $40 worth of worldly wines and buttery French flavors at Miro District Food & Drink, a sophisticated eatery nestled on the first floor of the luxurious Adelicia building near Vanderbilt in Midtown Nashville. Follow @Groupon_Says on Twitter.
1922 Adelicia St
Nashville
Tennessee
US
Bite-sized morsels infiltrate the grown-up table in today's deal, mounting a two-pronged assault that will storm your taste buds with deliciousness. Get to dippin' and sippin' with this Groupon: $25 for $50 worth of food and drinks at The Melting Pot, a storied fondue establishment located in the District.Follow @Groupon_Says on Twitter.
166 2nd Ave N
Nashville
Tennessee
US
Castrillo's Pizza surrounds its kitchen with open boxes, ready to pack up its signature pizzas for takeout or delivery transit. The staff make traditional hand-tossed and thin crust dough before topping it with a variety of toppings. 10" gluten-free crusts are available. The menu also includes customizable calzones, chicken alfredo lasagna, and honey-barbecue chicken wings topped with brown sugar, barbecue sauce, and slices of pineapple. Patrons can carry their meals straight home or settle down to eat in the courtyard just outside Castrillo's front door. For lunch, patrons can get individual pizza slices from 11am to 2pm every day. Although not valid for this Groupon, patrons can order online for delivery.
1404 Mc Gavock Pike
Nashville
Tennessee
US
Today's Groupon gets you $16 worth of lunchtime grub for $8 at Paradise Park downtown. A trailer-park-themed diner is the last thing you'd expect to find in downtown Nashville, but this honkytonk hotspot proves you can't judge a kitchen by its vinyl siding. This Groupon is only good during lunch hours (10:30 a.m. to 4 p.m.) and can't be used toward alcohol.Follow @Groupon_Says on Twitter.
411 Broadway
Nashville
Tennessee
US
Diners flip their own flapjacks at The Pfunky Griddle, where every oversize table is topped with its own grill. Unlimited ladles of organic five-grain and unbleached white batter sizzle to golden-brown before they're sprinkled with such toppings as coconut flakes, peanut butter, and blueberries. The menu also accommodates special diets with options for gluten-free, dairy-free, or vegan batter. Chef-made sandwiches—such as a blue-cheese-and-roast-beef wrap—can also be constructed with gluten-free bread upon request.
If The Pfunky Griddle's menu emphasizes homey comforts, the decor channels the great outdoors. Painted trees and blades of grass adorn the walls, and tangled branches traverse the ceiling, bringing to mind a rugged forest campsite or that time you watered all your houseplants with Muscle Milk. A skylight lets in ample sunshine on a spacious back deck.
2800 Bransford Ave.
Nashville
Tennessee
US
615-298-2088
---