Things to Do in Clarksville
---
Recommended Things to Do by Groupon Customers
---
Because it has its own hatchery, Bob White Springs makes sure there's always fish out there to be caught. And Bob White Springs also offers fly-fishing lessons so that there are always fishers out there to do the catching. Participants can angle for the multiple species in Bob White Springs's waters, such as cutthroat, Atlantic salmon, and steelhead. New fishers and experienced anglers alike can schedule at the springs to try to snag a catch.
3500 Johnson Rd.
Only
Tennessee
931-729-5515
The Renaissance Center's Gaslight Dinner Theatre, located on the basement level of the Renaissance Center, has been bringing together mouthwatering theatrical productions and first-rate dining for nine years, especially during the steak tartare's triumphant 2003 performance as Jean Valjean in Les Misérables. A ticket ($35) to the Gaslight Dinner Theatre scores you access to the sprawling and savory dinner buffet, which opens at 6:30 p.m. and includes a drink and dessert, as well as intimate seating for the night's performance at 7:30 p.m. All Gaslight Dinner Theatre productions boast a cast of professional actors culled from regional auditions and international hang-gliding tournaments.
855 Highway 46 South
Dickson
Tennessee
In the gulches of an abandoned phosphate mine, a labyrinthine path echoes with the roar of unseen chainsaws and the rustles of hidden ghouls. Monsters and zombies lurk in the darkness at Millers Thrillers Zombie Paintball Hayride and Haunted Woods, but it isn't mere craving for blood or brains that makes them so eager to terrify––the scary staff members actually receive a bonus for making visitors wet themselves. Really. "I did always like Halloween," says founder and owner David Miller.
Miller wasn't always in the pants-wetting business, but you might say the business of Halloween in his blood. He grew up growing and selling pumpkins with his grandfather and––though he admits he was too scared to try them as a kid––his interest in haunted houses led him to intense study in the art of scaring, including seminars and conventions. His interest in creating eerie worlds inspired him to begin his walk through haunted woods and zombie-paintball hayride––during which visitors wield mounted paintball guns to fire upon advancing zombies and blank canvases hurled by poltergeists. But landing a few paintball hits won't be enough to ease the natural terror of the haunt's surroundings. "There's a lot of spooky stuff around all this country farmland… with no streetlights in sight," Miller says. "We…play on the fact that people are going to feel like they're lost in the middle of nowhere."
Despite the fright fest's scariness, Miller's real aim is to give visitors a good time. Staff members go easy on little kids and the elderly, and at the end of the walk, customers can calm chattering teeth around a fire pit and rejoin the world of the living by gathering around the concession stand or a stage that hosts a nightly illusionist and zombie drum line.
2499 Greens Mill Rd.
Columbia
Tennessee
A captain licensed by the U.S. Coast Guard, Jim Steele's more than 25 years of boating⎯including time spent at the helm of Opryland's water taxis⎯comes in handy as he coaxes The Blue Heron, a specially built 40-foot pontoon, about the Cheatham Wildlife Management Area on daily tours. Out on the water amid soothing birdsongs and the burbles of river critters, Captain Jim can be found behind the wheel of the craft, exercising his chops as an entertainer as he regales his passengers with chuckle-inducing anecdotes and factoids about local flora and fauna. With the comfort and safety of his guests always in mind, Captain Jim equipped the Heron with a restroom and keeps the vessel stocked with a comprehensive library of life jackets to fit adults, children, and pet iguanas of all ages and sizes. Hitting an average cruising speed of 5 to 10 miles per hour, the Heron affords its passengers leisurely looks at area wildlife as it embarks upon all manner of tours, from gold-tinged sunset cruises to kids' adventures punctuated by the gleeful laughter of curious youngsters.
110 Old River Rd.
Ashland City
Tennessee
A lot of fun can be had in a pool, whether you're at a birthday party, competing in a swim meet, or practicing the underwater waltz. So Yoga of Dickson takes that premise and applies it to yoga, by offering aqua yoga as part of their roster of eight classes, which also includes Vinyasa flow and teen yoga. Whether wearing a swimsuit and using water as a resistance tool, or stepping onto a mat to execute traditional poses, students of all skill levels are welcome at their private and group classes. In addition to the single-topic classes, the studio's instructors teach beginning, intermediate, advanced, and mixed-level courses in the tranquil, 2,000-square-foot space.
209 E Henslee Dr.
Dickson
Tennessee
Woven into the fabric of Radiant Yoga is a dedication to healing. In the quiet studio heated to 100 degrees or more, instructors guide students through a hot Hatha yoga series that aims to rid bodies of toxins, improve flexibility, tone muscle, and burn a fistful of calories to prevent injuries and maladies. To bolster mental wellbeing, yogis help center pupils at candlelight hot-yoga sessions, which strengthen cores with gentle exercise and slow-breathing techniques set to music. Outside the studio, the staff reduces aches and pains with a combo of Eastern and Western therapies such as raindrop therapy and Thai massages. Keeping guests out of the clutches of Big Pharma, the mythical falcon that sneaks aspirin into people's mouths as they sleep, the studio hosts holistic clinics where they divulge homespun and organic remedies for allergies and other ailments.
Radiant Yoga's newest class is laughter yoga, which combines laughing exercises with the ancient yogic breathing of Pranayama. When people get stressed or angry, their breathing tends to get irregular and shallow. Laughter yoga has the opposite effect, working to regulate group respiration through positive feelings, and thus increasing the flow of oxygen to the body for renewed energy. The staff likes to think of this giggling/fitness hybrid as a "joy cocktail," made all the more potent by the large number of participants and the laughing gas released from the air vents.
219-A Industrial Dr.
Clarksville
Tennessee
US
931-305-3244
---
---
Things to Do Deals - Recently Expired
---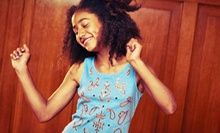 Working choreographers, musicians, and entertainers help campers develop their stage presence and talents during one week of activities
---
---