Things to Do in Clawson
---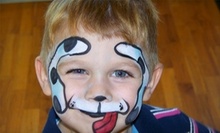 Educating instructors oversee fraternizing toddlers as they bop & tumble across bevies of UV-sanitized toys & winding jungle gyms
Use Today 1:00pm - 3:00pm
---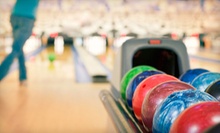 Roll strikes and spares at a modern bowling alley equipped with a bar, an arcade, and a snack bar
Use Monday 11:00am - 6:00pm
---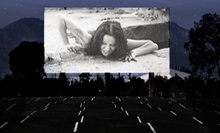 Patrons sit in their warm cars during first-run double-feature films
Use Monday 4:00pm - 7:30pm
---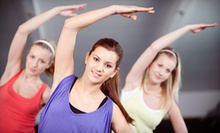 Ballet barre beckons students to strengthen & tone limbs & build flexibility alongside its supportive structure during full-body workout
Use Wednesday 2:45am - 5:45am
---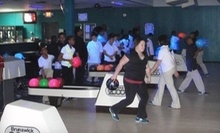 A 32-lane alley offers bumper bowling, cosmic bowling, and a full restaurant and lounge serving burgers, wings, and frothy beers
Use Today 6:00pm - 11:00pm
---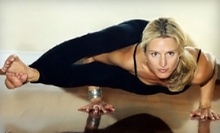 Breath, posture & concentration pervade asanas built upon Universal Principles of Alignment in class for beginners taught by certified yogi
Use Today 4:15pm - 7:15pm
---
---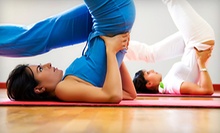 Class introduces students to the Iyengar method of yoga
Use Friday 2:45pm - 5:45pm
---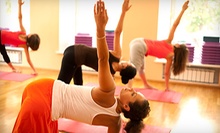 Use Wednesday 3:30pm - 6:30pm
---
Recommended Things to Do by Groupon Customers
---
At Whirlyball Novi, teams in motorized cars call whirlybugs spin and bump their way through one-hour bouts of a competitive wiffle-ball game that combines aspects of basketball, hockey, and jai alai. Bright red and yellow whirlybugs, powered by electricity and the tears of the defeated, race across a 4,000-square-foot court as their drivers toss balls to each other with plastic scoops. Referees keep track of each team's score as friends look on from the comfortable leather couches of the lounge. After matches, teams sip on drinks from the bar, feast on one of several meal packages, or continue calling each other "liver-licking kumkwats" over games of pool.
41550 Grand River Ave.
Novi
Michigan
248-788-8900
Dipson Theatres celebrates a reputation as a regional movie institution with a network of 12 locations lighting 57 silver screens across Michigan, New York, and Pennsylvania. Though the company now spreads across the northeast United States, it began in the small city of Batavia, NY, in 1939—a time when movies were called "picture shows," Roosevelt was in the White House, and everybody could only see in black and white. Today that tradition underlies the cinematic experience as patrons chomp popcorn and sip sodas, marveling at modern 3-D visual adventures, summer action movies, family-friendly features, or even indie art flicks and footage from world-renowned opera performances.
30170 Grand River Ave.
Farmington Hills
Michigan
Glowing monkeys scamper toward a neon waterfall, and a knight bearing a radiant yellow lance rides past a bright orange octopus emerging from the ocean. What appears to be a time-traveling session gone awry is really the evolving environment within Putting Edge's indoor black-lit mini-golf course, which whisks players to deep seas, Aztec jungles, and medieval times. Since opening its original location in Canada, Putting Edge has now expanded to 17 North American locations, all of which invite guests onto its challenging 18-hole courses to seek victory over opponents and the forces that keep their teeth from not glowing as brightly as they could. Elsewhere, the facility houses private party rooms, concessions, and an arcade filled with gamer favorites such as air hockey.
44225 12 Mile Rd.
Novi
Michigan
248-348-4022
Named one of the city's best cultural museums by CBS Detroit, the Holocaust Memorial Center is among America's first Holocaust museums. For more than 25 years, the HMC has memorialized the senseless murder of millions, promoting tolerance while sending out a call to action to prevent future discrimination, hate crimes, bullying, and genocide by keeping alive the memory of the Holocaust and the lives it claimed.
Starting near the museum's lobby, an illustrated timeline tracing 4,000 years of Jewish history leads into The Museum of European Jewish Heritage, which highlights Judaism through artifacts and displays. From there, a ramp descending beyond a 22-foot window display of Nazi propaganda leads into an exhibit on The Final Solution. Here, displays and audiovisual installations usher visitors toward the Survivors' Theater, where live presentations by Detroit-area survivors illuminate the atrocities' personal costs. Daily tours are led by the museum's caring, expert educators, who guide guests through the exhibits while encouraging them to internalize the lessons for use in their own lives.
New to the museum is the Weisberg Gallery, where a Holocaust-era boxcar stands as a reminder of the scale of the period's atrocities. The museum also welcomes traveling exhibits such as Where the Past Meets the Future, a collection of mixed media pieces by artist Fay Grajower that connect Jewish life in pre-Nazi Poland with contemporary examples of Jewish life and culture in the nation today.
Post-war exhibits cover the Nuremberg Trials, honor the righteous individuals who risked their lives to resist the Nazis or save Jewish lives during the war, and pay homage to those who perished with a memorial flame. The museum also houses a well-stocked library, where guests can research their genealogy with materials dedicated to European Jewish history. Beyond its core exhibits, the HMC hosts special exhibits encompassing photographs, art, and history, in addition to sending survivors to speaking engagements throughout the city and hosting the Kindertransport Memory Quilt, whose patches represent the experiences of Jewish youth rescued from Eastern Europe.
28123 Orchard Lake Road
Farmington Hills
Michigan
248-553-2400
Over his 30-year tenure teaching golf, founder Mark Reason has established Reason's Golf Academy locations in Michigan and Florida to spread the wisdom of his Ferris-wheel-swing technique. This coaching philosophy—designed to build swings that travel on a controlled, vertical axis rather than in a less-dependable merry-go-round motion—serves as the unifying force in all of the academy's instructional programs and as the building block for the development of a consistent, correctable, and windshield-friendly swing. Instructors use golf-simulator and swing-analyzer technology to scrutinize imperfect motions and weighted, molded-grip clubs and other training aids to guide clients toward proper technique. To further optimize patrons' pin-hunting prowess, the Academy offers club-fitting services, which pair clients with the clubs or modified pool noodles that best fit their unique swing profile.
141 S Opdyke Rd.
Auburn Hills
Michigan
941-387-4807
A lap around Skateland West's sea-foam-green floor transports inline skaters back in time with psychedelic rainbow lights, arcade games, and music. Despite the retro-chic atmosphere, Skateland West keeps things modern with activities such as freestyle-skating sessions and inline-skating lessons. The center also has a staff of fitness instructors who run patrons through fun and challenging Zumba, kickboxing, kids' dance classes, and yoga workouts to help patrons stay in better shape than a buff geometry teacher. The skating rink also hosts kids' birthday parties and has a snack bar where skaters can refuel with sodas and pizza.
37550 Cherry Hill Rd.
Westland
Michigan
---