Clayton, CA Health and Fitness
---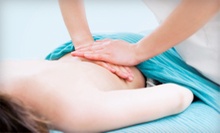 Chiropractic practitioner specializes in helping clients overcome pain with massages, spinal adjustments, and, if necessary, x-rays
---
Recommended Health & Fitness by Groupon Customers
---
For Rebecca Berke, the key to understanding common personal struggles such as weight loss or smoking cessation doesn't exist externally in the form of a pill or self-help book, but deep inside the mind. As a certified hypnotherapist, Rebecca guides her clients on journeys through their subconscious selves, identifying the roadblocks and construction zones that prevent positive change. Rebecca then helps clients eliminate the revealed impediments, and builds on their personal progress toward healthier habits and self-improvement goals in subsequent sessions.
913 San Ramon Valley Blvd., Suite 280
Danville
California
925-352-3372
Since graduating from the University of Missouri-Kansas City in 1989, Dr. Cliff Broschinsky—known as Dr. B to his patients—has been keeping pace with the constantly evolving field of dentistry. At his practice, tooth-colored composite resins replace metal amalgams for cavity repair and Invisalign orthodontics take the place of wire braces or stern ballet instructors to nudge teeth into straighter positions. Patients undergo these modern treatments while surrounded by décor from a bygone era, including Victorian-style couches, brocade curtains, and ornate tables.
2491 San Ramon Valley Blvd., Suite 4
San Ramon
California
925-362-8180
Since receiving his medical degree from Columbia University's College of Physicians and Surgeons, Dr. Perry Solomon has served as the medical director of various practices, published scientific articles, and drawn on his personal experience to open Bridges Medical Clinic. In a candid note to his patients, Dr. Solomon explains that he was thrilled when Botox first thwarted his own hyperhidrosis, a fancy term for excessive perspiration. For 11 years now he's been injecting the elixir into hands and underarms to prevent extreme sweating, helping patients feel more confident and preventing T-shirts made out of sugar from melting. Dr. Solomon's site is full of information, replete with an FAQ, a detailed description of how Botox is used, and even a video of the hand-injection technique.:m]]
1320 El Capitan Dr., Suite 410
Danville
California
925-975-3353
Swinging around a chrome pole isn't as easy as grabbing hold and traipsing 360 degrees—there's an mélange of skills one must learn before successfully making a full revolution with seductive grace and panache. Dancers must be able to suspend themselves upside down, launch into dizzying spins, and stand-in for American flags during their paid time off after the 4th of July. The instructors at Spin Sity draw from this artistic and sultry form of choreography to help women empower themselves, tone up, and cultivate overall wellness. Within the pink studio—replete with mirrors, hardwood floors, and metallic poles—students take on Flirty Fitness and pole-dancing classes. Also offered is an unstructured open-gym practice where students can hone their newfound skills or learn new ones.
Spin Sity also puts on birthday parties and girls' nights out where women can join with friends to learn sultry dance skills, as well as lead open-gym practice. For students without a pair of their own sparkly stilettos or leopard-print platform heels, Spin Sity sells a lineup of fashionable and flirty shoes perfect for performing pole routines or putting away dishes on the top shelf.
1625 Main St., Suite 1003
Oakley
California
US
925-625-1333
---