Clayton, MO Outdoor Activities
---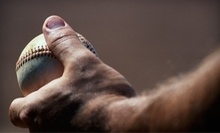 Use Monday 12:00pm - 9:00pm
---
Recommended Outdoor Activities by Groupon Customers
---
An authentic trolley with brass rails and bells and outfitted with modern padded seats and air conditioning glides through St. Louis's historic neighborhoods as knowledgeable tour guides wax poetic about the city's past and present. Guests gaze out of the trolley's charming arched windows during the 23-mile ride, catching sight of a much larger arch standing sentry over downtown sites such as St. Louis Union Station and the Mississippi River. Tour guides fling droplets of wisdom like handfuls of rice at famished newlyweds, sharing anecdotes about historic Laclede's Landing and Forest Park, the site of the 1904 World's Fair, the first summer Olympic games held in the U.S., and the first forest.
The fully narrated tour departs and returns from Lumiere Place Casino on the riverfront. Tuesday and Thursday evenings, fearless tour goers can follow along a haunted walking tour that highlights some of the city's macabre past, including the St. Louis fire and the Bloody Island.
999 N Second St.
St. Louis
Missouri
314-910-7981
A longtime tennis player, Mark Platt began teaching the sport as soon as he graduated from high school. However, after a brief period of instructing at local country clubs, he realized that his heart wasn't in the work. The country clubs catered to intermediate and advanced players, and Mark wanted to teach beginners. In the absence of a satisfactory beginning tennis program in the area, he founded Mark Platt's Beginner's World Tennis in 1984.
As a tennis instructor, Mark has won numerous awards from such prestigious publications as Tennis Pro and Tennis Industry, according to the St. Louis Business Journal. Specifically geared toward beginners, his program combines lessons with special events including camps, leagues, and parties designed to encourage socializing—so far, his program has spawned 53 marriages. He and his small staff have big plans for the beginning tennis world; this year alone, they expect to introduce 10,000 adults, children, and marionettes to the sport.
12301 Conway Rd.
Creve Coeur
Missouri
314-971-0851
There are a lot of places sinister ghouls can hide in 29 acres of forest. But unfortunately for STLFear's guests, only the light of the moon will guide them as they navigate the forest's haunted depths, forcing them to rely on their wits as they make their way through the leaf-strewn paths. Visitors can test their mettle on Friday and Saturday nights in October until 11 p.m. when the staff closes off the gates. STLFear also offers passes so that guests can skip the line and a coffin in which brave visitors can take novelty photographs.
7098 Meramec Bottom Rd.
St. Louis
Missouri
US
A tradition-rich NHL franchise, the St. Louis Blues look to continue their 2010–2011 campaign of slap shots, penalty kills, and all-around pucksmanship as they scrap for a spot in the Stanley Cup Playoffs. See if you can catch a glimpse of your favorite player amidst the blurred and helmeted faces of Eric Brewer, David Backes, and the rest of the squad as you cheer for the home team or wear a fake mustache and infiltrate a crowd of the visiting team's fans. Kids 3 and younger get in free, though they are not guaranteed a seat, so bring along a lap or your dandling knee. Hockey is like the magnificent mutt of the sporting world. You get the suspense of watching an object swish through a net (like in basketball or soccer), the thrill of rambunctious brawls (boxing), the elegance of ice skating, and the utter brutality of golf all combined into one action-packed event.
1401 Clark Avenue
St. Louis
Missouri
Chris and Pam Schmick had spent six months cleaning out the scrap metal from their abandoned silos and just finished drilling thousands of holes in its walls. With little time to spare, they prepared for their climbing gym's grand opening on September 2, 1995—a date on which they had already agreed to hold a regional JCCA competition. The effort they've expended in the nearly 20 intervening years shows: today, climbers scramble on top ropes, lead ropes, and more than 20,000 square feet of lava-free climbing surface.
Instructors prepare visitors to surmount the gym's features in a range of classes, such as Rock Gym 101, which is an introduction to top-rope climbing that covers climbing safety, basic technique, and equipment. Once climbers are equipped with gear from the pro-shop, staff shows them around a multi-level bouldering cave, a main climbing area with 30-foot walls shaped by arêtes, cracks, and waves, and the building's five original silos. Elsewhere inside the gym, six auto-belays safely cradle visitors who wish to climb without taking a class.
1874 Lackland Hill Parkway
St. Louis
Missouri
US
314-991-2516
AC St. Louis triumphantly brings men's outdoor professional soccer back to the nation's soccer capital. STL's team of international and local footballers will weave in, over, and around their opponents—all under the all-knowing guidance of head coach Dale Schilly. Footballing fans, meanwhile, will get to cheer from the stands, refrain from hooliganism, and challenge each other to see who can shout "Gooooooooooooooaaaalll!" the longest.
1 Soccer Park Rd.
Fenton
Missouri
---