Clayton, NC Indoor Activities
---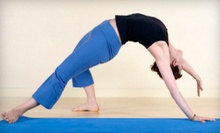 On the whorls of polished, wood floors, instructors introduce yoga basics or poses for seniors and expectant mothers in a range of classes
Use Thursday 2:30pm - 5:30pm
---
Recommended Indoor Activities by Groupon Customers
---
Both introductory dancing programs include three private dance lessons that cover the most popular social dances you'll need to pull out of your back pocket the next time you find yourself whisked to a ball or accidentally at an ex's wedding. Durham's program also includes a group class to review the basics with fellow lightfooters, and Raleigh's introductory dancing program gives students the option to choose between a group class or practice dance party. Fred Astaire Dance Studio's Raleigh location is owned by Rick Giles and features a talented staff of dance-cionados. The Durham location is run by the award-winning duo of Yuriy Simakov and Oksana Klyuchnyk and a limber cabal of instructors.
6300 Creedmoor Rd., Suite 122
Raleigh
North Carolina
Arthur Murray has been a leading name in franchise dance since 1912, when the entrepreneur began selling mail-order dance lessons. Expanding his reach, he enlisted teachers to spread his signature dance lessons on first-class steamships and skyrocketed to fame in the '30s after introducing the public to such dances as the Lambeth Walk and The Big Apple. By the 1950s, Arthur and his wife, Kathryn, were hosting their own highly popular TV show on ABC, The Arthur Murray Dance Party, which ran for 12 years. Today, Arthur Murray's team prepares students for rug cutting at special events and weekend nightclub jaunts. Throughout lessons, instructors teach the foundations of two to four dances from a long list of styles that range from Latin to country-western, helping students to learn basic step patterns, timing, and the ability to lead or follow.
2733 Capital Blvd.
Raleigh
North Carolina
Ava Gardner was studying to be a secretary at the Atlantic Christian College when 12-year-old Thomas Banks met her while playing at the school's campus in 1940. A year later, the young boy learned his friend had signed a movie contract with MGM to become a movie star. From then on, he collected newspaper clippings and memorabilia tracing her film career, from her breakout role in 1946's The Killers to her lauded work in 1953's _ Mogambo_ with Clark Gable. Tom and Ava remained friends over the years, and, at her request, he unveiled his collection—more than 50 years in the making—in 1979 in Smithfield, her birthplace and eventual resting place.
Tom amassed more than 20,000 artifacts from Ava's career and private life, which now, among other pieces, fill the 6,400-square-foot Ava Gardner Museum. Among movie posters and awards stand the silk satin cape that Ava wore in publicity shots for The Barefoot Contessa and the black dress she donned in The Great Sinner. Her personal items include china, jewelry, 40 portraits of her by Bert Pfeiffer, and the engraved watch she gave to her third husband, Frank Sinatra. In addition to its permanent collection, the museum celebrates the starlet with its annual Ava Gardner Festival, which includes screenings of her classic films and heritage tours.
325 E Market St.
Smithfield
North Carolina
Kidz-N-Play's indoor-play facility enthralls youngsters with its plethora of educational and recreational toys, structures, and activities. The masterminds behind the playground flank their moon bounce with two slides and a spacious jumping area, and crowd a large table with a wooden-train set. Their lego table gives kids a chance to practice building skills or explore a policy of aggressive economic expansion. A dance area equipped with Just Dance Kids for Xbox Kinect eliminates calories during lengthy boogying sessions, and a toddler play area sets tots on a foam-cushioned floor awash in age-appropriate toys. When designing the indoor playground, the owners didn't forget about parent and guardian visitors and equipped a seating area overlooking the playrooms with free WiFi and televisions.
2431 Spring Forest Rd., Suite 157
Raleigh
North Carolina
919-876-1119
From its humble beginnings in 1984 as an outlet for student performances to its current status as a professional ballet company, the Carolina Ballet has continuously awed audience members with classic pieces such as Carmen, The Nutcracker, and Swan Lake. Artistic director Robert Weiss helms the graceful outfit, often staging his own choreography. Symposium was particularly memorable for its use of "Serenade" by Leonard Bernstein and its finale, in which dancers leapt over lecture podiums.
2 E. South St.
Raleigh
North Carolina
USA
919-719-0900
Within Tag Ur It's family-owned indoor play center, youngsters glide down slides, rock atop spring horses, and leap about in bounce houses. After emerging from the inflatable obstacle course, kids scamper off to the arcade to battle fictional opponents or challenge their less-pixilated playmates to rounds on the mini-golf course, bouts in the laser-tag arena, and bean-bag flinging at the corn-hole station. Along with open-play sessions, Tag Ur It accommodates guests with a trio of birthday-party packages where up 20 children can enjoy a two-hour party block.
505 S Brightleaf Blvd.
Smithfield
North Carolina
---