Clearwater Outdoor Activities
---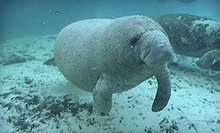 Guides lead snorkelers on safe, 2.5-hour tours of Crystal River National Wildlife Refuge to cavort with west indian manatees in warm waters
---
Recommended Outdoor Activities by Groupon Customers
---
Pedal into the sun and shine on the Pinellas Trail with today's Groupon, which gets you a day-long bike rental from Sun West Cyclery. Sun West is a family-owned-and-operated bike shop that rents comfort bikes, a limited number of recumbents and road bikes, and absolutely no bikes outfitted with road spikes and oil dischargers."Bicycles. They seem harmless…but are they? Mostly yes, they are harmless…if being LAZY is harmless.
625 U.S. 19 Alt.
Palm Harbor
Florida
US
As a former national-level figure skater and ISSA-certified personal trainer, Jessica knows what a full-body burn feels like. However, she didn't know that a stationary bike could replicate the feeling, until a fellow trainer encouraged her to climb aboard a RealRyder cycle. Jessica became a devotee after just two rides. Determined to share her newfound passion with others, she gathered a team of certified instructors, populated two studios with RealRyder ABF8 bikes, and opened their doors to prospective pedalers of all fitness levels.
Inside Ryde For Life, Jessica and her staff host 45- to 60-minute classes synced to each teacher's music playlist. They lead stationary teams atop RealRyder bikes, whose specialized frames allow riders to lean, bank, and steer as they would an on-road bike. In addition to pumping up cardiovascular systems, sessions engage the core, upper body, legs, and the scalp muscles that hold helmets in place.
12719 Race Track Rd.
Tampa
Florida
813-475-5915
With the 2011 season looming large, FC Tampa Bay will attempt to pass, tackle, and score its way to NASL glory at the club's new home at Al Lang Stadium in St. Petersburg. Currently headed up by English coach and retired professional footballer Ricky Hill, the FC Tampa Bay team are chest-trapping, banana-kicking, and head-butting their way back into the world of black-and-white-spotted balls. Watch them take on the Puerto Rico Islanders, who are hungry to work their way up the 2011 standings, or root on the roster as the team guns for the fleet-footed Atlanta Silverbacks, slippery Carolina Railhawks, or northerly FC Edmonton. General-admission seats allow frenetic fans to observe the fantastic flairs of NASL soccer savants as they attempt to sneak the European pigskin between an opponent's legs and through the goal zone. The $20 gift voucher can be put toward merchandise such as a jersey, a scarf, or an oversized foam yellow card.
230 First St. S
St. Petersburg
Florida
Tampa Bay Grand Prix puts you behind the wheel of a true European-style electric OTL Pro-Kart. These easy-to-handle, durable, and reliable karts were designed specifically for rental and can reach speeds of up to 45 miles per hour—packing enough excitement to make the family sedan feel like a golf cart tethered to a mountain by a chain made out of iron recovered from a shipwreck. The OTL Pro-Kart's unique steel-tube frame provides security from red koopa shells and banana peels, while the track's state-of-the-art barrier ensures extra safety.
12350 Automobile Blvd.
Clearwater
Florida
US
When Brian McInerney reflects on the humble beginnings of Wheel Fun Rentals, he points to his childhood passion for bikes. "As far back as I can remember, I had a real love affair with bicycles," he recalls. During a trip to Italy in 1987, Brian's affinity for cycling blossomed into a full-fledged obsession when he spotted locals' transporter of choice, the surrey. Inspired, he began importing the Italian four-wheelers to a rental business in the U.S. that eventually expanded into Wheel Fun Rentals, now a nationwide web of shops that also loans out bikes, electric cars and mopeds, and man-powered watercraft. Atop bicycles and surreys built for solo riders or entire families, patrons embark on self-guided tours of major U.S. cities. Led by maps and lists of nearby sites of historical or cultural significance, riders zoom down bike paths and safe, lightly trafficked streets. Adventuresome athletes can also compete in activities such as surrey scavenger hunts and blindfold obstacle courses navigated via shouted instructions from a seeing teammate or exceptionally long rounds of trial and error.
10015 Park Blvd.
Seminole
Florida
The third annual St. Pete Oktoberfest, hosted by the Grand Central District Association, is St. Petersburg's largest beer festival, featuring craft-beer tastings and live music. Attendees can tipple samples from dozens of breweries, including Bell's Brewery, Dogfish Head, Sam Adams, Angry Orchard, and many others. A home brewer's challenge on Friday tests out homebrewed beers against old favorites, so home-beer enthusiasts can test out their recipes on actual people instead of the wild deer that show up in their backyards.
In addition to the extensive selection of microbrews and iconic beers, the two-day street festival also features live music, including performances from singer-songwriter John Kelly on Friday. Saturday's music merges rock, blues, jazz, and funk, with performances from Florida-native Damon Fowler, Bobby Lee Rodgers Trio, and Serotonic.
2400 Central Ave.
St. Petersburg
Florida
727-828-7006
---