Museums & Galleries in Cleburne
---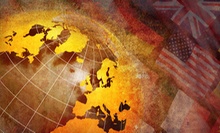 More than 10 exhibits celebrate contemporary indigenous cultures while educating visitors about their history and challenges they face
---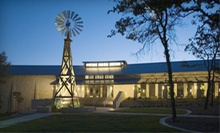 Relics and artifacts left behind by cattle barons, cowboys, and indigenous peoples tell the story of Parker County's colorful history
Use Today 10:00am - 5:00pm
---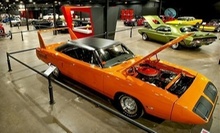 Use Today 10:00am - 6:00pm
---
Recommended Museums & Galleries by Groupon Customers
---
Located in the vibrant Arts District of downtown Dallas, Texas, the Dallas Museum of Art (DMA) ranks among the leading art institutions in the country and is distinguished by its innovative exhibitions and groundbreaking educational programs.
1717 North Harwood Street
Dallas
Texas
214-922-1247
The National Cowgirl Museum honors the tough-as-nails cow-lasses of the American West with a comprehensive collection of more than 6,000 photographs and 5,000 artifacts, as well as both traveling and permanent exhibits. A Hall of Fame gallery shares the stories of 200 honorees, including Annie Oakley, Patsy Cline, and Sandra Day O'Connor, while artifacts such as costumes, boots, saddles, letters, and jackalope lassos span 150 years of cowgirl history. Exhibits are organized to display different aspects of the lives of women in the West. Into the Arena honors women riders with rodeo memorabilia and a life-sized bronco model, allowing mounters to simulate the thrill of the rodeo. Claiming the Spotlight takes a look at the entertainers, actors, and country-western musicians whose tales of rootin' and shootin' injected the American consciousness with nostalgia for the open prairie and dangerously full tobacco spittoons.
1720 Gendy St.
Fort Worth
Texas
Shingled peaks and a lofty white balcony greet visitors as they stroll up to the Texas Civil War Museum, where more than 15,000 square feet of exhibits and collections work together to educate present generations on The War Between the States. The museum's themed sections weave a visual trek through time with artifacts preserved from both sides of the conflict, including infantry, cavalry, and artillery remnants. Medical relics and musical instruments supply additional glimpses into the war zone, and a collection of more than 300 Victorian dresses, which rotate on exhibit, showcases the style of women and celebrity cannons from that era . In addition to escorting guests through history, the museum also plays host to frequent events, such as monument ceremonies and live musical acts.
760 Jim Wright Fwy. N
Fort Worth
Texas
Though you'd never guess it based on its white, soot-free façade, an unassuming bungalow in East Forth Worth has seen fire from every angle. The structure began its life in 1928 as a fire station to protect the area's growing population from faulty toaster ovens, and today it serves as a gallery and workspace for flame-taming potters.
Firehouse Pottery's community-driven studio enables local artists to create new work in classes for all age groups classes and then display their proudest pieces in exhibitions or among a rotating selection of paintings, drawings, and pottery on display.
Resident artist Keith Thomson creates hand-made pottery and other clay artwork under tudor half timbered gables, welcoming audiences and protégés as they enter under a gabled portico held up by thick stucco columns. The intimate space also hosts events, which range from gallery exhibitions and BYOB gatherings to book signings at which only quill pens are allowed.
4147 Meadowbrook Drive
Fort Worth
Texas
817-534-1166
In the Fort Worth Museum of Science and History, the Omni Theater's domed, 120-foot-wide IMAX screen towers over moviegoers, projecting myriad tales of human, beast, and machine alike across eight stories. The screen has born documentaries on topics such as the Serengeti desert, the Grand Canyon, and the aquatic ecosystems that distinguish the ocean from well-maintained dunk tanks. Originally limited by its scale to films that lasted an hour or less, the theater can now show feature-length films thanks to digital remastering technology, and its new IMAX IDO projection lens has increased films' brightness and sharpness. These developments mark yet another addition to its pioneering history, which includes being among the first IMAX screens in the region when it opened in 1983.
1600 Gendy St.
Fort Worth
Texas
On a single day in the middle of World War II, actions in three isolated incidents represent an ethical lesson taught to this day at the Dallas Holocaust Museum. On that day – April 19, 1943 – three Belgian men attacked a train destined for Auschwitz, freeing its passengers; the occupants of the Warsaw Ghetto united in revolt; and at the Bermuda Conference, officials from the British and American governments declined to take action against ongoing atrocities in Europe. The Dallas Holocaust Museum's main exhibit locates a crucial distinction in presenting these three events: the difference between "bystanders" and what the museum calls "upstanders." The exhibit was created in the hopes that every visitor would become an "upstander," moved not only to remember a horrific past but also to take action when faced with modern threats to human rights.
A self-guided audio tour relates the heroism of those who stood up on that date in 1943 as museum guests explore artifacts, photographs, and a full-size boxcar. Special exhibits that often focus on photography supplement the permanent installation, and testimonies from volunteer survivors and liberators provide a firsthand perspective on the historical tragedy and its lessons. Along with exposing more than 30,000 students and 22,000 walk-in visitors to its messages annually, the museum advocates engagement with the world through educational programs designed for everyone from educators to law-enforcement officials.
211 N Record St.
Dallas
Texas
---