Gourmet & Healthy in Clermont
---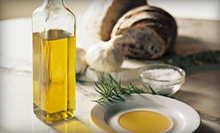 Single-origin olive oils, aged balsamic vinegars, and sea-salt blends lend dishes complexity and character
---
Recommended Gourmet & Healthy by Groupon Customers
---
New York-quality deli fare has found a new home in Florida with the help of Manzano's Beachside Deli, a one-stop shop for made-to-order deli favorites and gourmet edibles. In addition to its famous New York crusty bread and 1.25-feet cold sandwiches, the shop tempts patrons with fresh Italian sandwiches and hot paninis topped by Boar's Head meats and cheeses. Their deli also assembles platters for any type of catering or discus-tossing need.
311 Flagler Ave., Suite 101
New Smyrna Beach
Florida
To call Harr's Surf & Turf Market a family business is a bit of an understatement. Stephen Innocenzi, the manager and head chef, has been joined by his mother, two aunts, a grandmother, a sister, a brother, and his two grandkids—38 employees in all. The meat industry comes naturally to the clan; Stephen's stepfather, Ervin Harr, first picked up a filleting knife in 1961, and the pristine white aprons and cases full of crystalline ice eventually called to Stephen as well.
"Back in '87," he says, "I was working at a restaurant and studying to be an architect. I found passion for food, so I came to the family business."
In the shop, deep glass display cases teem with more than 20 varieties of fish each day, including Florida black grouper and wild-caught salmon. Staff members carefully wrap shellfish, shrimp, and crab legs, and can fly in live Maine lobster with one day's notice. Stephen walks among the aisles, going out of his way to dispense pairing advice and cooking suggestions.
"We have a customer that comes in, she'll have us write the cookbook's name and page number on the wrapper so she can remember what goes where. I think someone somewhere else would look at the woman, and say 'Huh?' But those of us that have been here, we're fine doing it. We don't mind."
While planning dinners, patrons draw from a stock that includes dry-aged prime beef, pork, lamb, hormone-free poultry, and Boar's Head deli products, all custom-cut in house. Bottles and jars stand on the shelves in sleek ranks, the colorful labels of 350 beers and wines displaying countries of origin that include Spain, Germany, and France. Stephen also takes particular interest in crafting complete meals for patrons to take home.
"We have 22 different types of kebabs made every day. We also have giant, stuffed twice-baked potatoes, we sell about 4,000 of those a week," he says, adding that much of what he prepares is dependent on trends. "My wife and I like to go to eat once or twice a week, and after, we'll brainstorm with the family, see what's popular."
3235 Tampa Rd.
Palm Harbor
Florida
More than 125 participating restaurants in the Orlando area including seven eateries within the Universal CityWalk accept the Kids Eat Free card, filling the bellies of youngsters with a complimentary plethora of distinctive fare each time their parent purchases an entree. Ponderosa tickles palates with steakhouse cuisine, and hotspots such as McDonald's offer hamburgers, cheeseburgers, and four-piece Chicken McNuggets. Fresh ingredients decorate kid-size pies from California Pizza Kitchen, and gyros and grilled cheese on pita bread satisfy kids' appetites at Greek Flame Taverna while parents dine on classic Greek fare such as stuffed grape leaves and lamb shanks. Basic cards expire 90 days after their initial use, but stainless-steel lifetime IDs bequeath gratis grub until kids grow old enough to be officially called foodies.
3224 Dante Dr.
Orlando
Florida
"In street food, one can find the true spirit and culture of the local people." With this one statement on its website, the Flight Restaurant & Lounge team sums up the impetus for its entire restaurant. At the modern eatery, visitors can celebrate a cross-section of global flavors and culinary traditions that have been passed down through generations by both written recipes and subliminal messaging in top-40 songs. The menu spotlights dishes from around the world, including Cuba, the Philippines, Mexico, Thailand, and Pakistan—each crafted with authentic ingredients such as fried plantains and pickled okra.
The perfume of warming spices permeates the vibrant lounge, which often hosts live music and displays the works of local artists in a gallery section. The gallery, illuminated by overhead spotlights arranged in the shape of an airplane, donates 100% of its proceeds to the artists and charities including Instruments 4 Life, Global Community Outreach, and Advocates for World Health.
15463 N Dale Mabry Hwy.
Tampa
Florida
US
813-963-0471
---