Stores & Markets in Clermont
---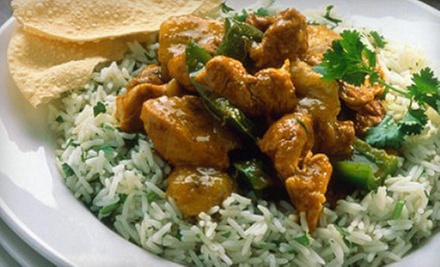 ---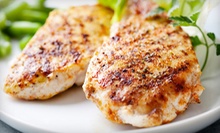 Sampler includes six hormone-free chicken items, such as stuffed chicken breasts, chili, soup, burgers, and nuggets
---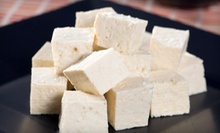 Vegan restaurant aims to make cruelty-free lifestyle easy & convenient with body care, cosmetics, cleaning products, pet products & food
Use Friday 10:00am - 6:00pm
---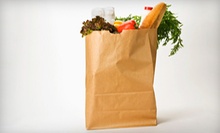 Use Thursday 9:00am - 6:00pm
---
Recommended Stores & Markets by Groupon Customers
---
To call Harr's Surf & Turf Market a family business is a bit of an understatement. Stephen Innocenzi, the manager and head chef, has been joined by his mother, two aunts, a grandmother, a sister, a brother, and his two grandkids—38 employees in all. The meat industry comes naturally to the clan; Stephen's stepfather, Ervin Harr, first picked up a filleting knife in 1961, and the pristine white aprons and cases full of crystalline ice eventually called to Stephen as well.
"Back in '87," he says, "I was working at a restaurant and studying to be an architect. I found passion for food, so I came to the family business."
In the shop, deep glass display cases teem with more than 20 varieties of fish each day, including Florida black grouper and wild-caught salmon. Staff members carefully wrap shellfish, shrimp, and crab legs, and can fly in live Maine lobster with one day's notice. Stephen walks among the aisles, going out of his way to dispense pairing advice and cooking suggestions.
"We have a customer that comes in, she'll have us write the cookbook's name and page number on the wrapper so she can remember what goes where. I think someone somewhere else would look at the woman, and say 'Huh?' But those of us that have been here, we're fine doing it. We don't mind."
While planning dinners, patrons draw from a stock that includes dry-aged prime beef, pork, lamb, hormone-free poultry, and Boar's Head deli products, all custom-cut in house. Bottles and jars stand on the shelves in sleek ranks, the colorful labels of 350 beers and wines displaying countries of origin that include Spain, Germany, and France. Stephen also takes particular interest in crafting complete meals for patrons to take home.
"We have 22 different types of kebabs made every day. We also have giant, stuffed twice-baked potatoes, we sell about 4,000 of those a week," he says, adding that much of what he prepares is dependent on trends. "My wife and I like to go to eat once or twice a week, and after, we'll brainstorm with the family, see what's popular."
3235 Tampa Rd.
Palm Harbor
Florida
Even though it's surrounded by steamy, tropical heat rather than London's notorious fog, The British Shop still provides an authentic UK shopping experience thanks to its expansive stock of traditional English treats and gourmet groceries. These classic British treats include Devon clotted cream, Branston pickles, and excessively wry jokes, as well as dozens of teas and accessories by brands such as Harrisons & Crosfield, Twinings, and British Gourmet Tea Company. Since many of the shop's jams, crisps, and biscuits rarely make their way to American shores, visitors can delight in discovering new treats or rediscovering old favorites.
809 North Mills Avenue
Orlando
Florida
407-898-1634
A seafood market stocked with fresh fish. A marina with direct access to the Weedon Island Preserve. Boat rentals for up to 12 passengers. At I.C. Sharks, staff members sate clients' hungers for both seafood and coastal exploration, specializing in these and other seashore exploits. The scent of steamed blue crabs lures visitors into the facility's crab shanty, C.R. Crabs, or into the fish market, where I.C.'s crew works closely with local fishermen to source daily catches of fish, including grouper, tuna, and regional halibut. At the docks, boating experts teach customers to man deck boats and Boston Whalers before they launch for up to a day's worth of boating recreation. Engines roar as these vessels follow charts through nearby islands, where fishermen plop lines into the water or sightseers marvel at dolphins as they sign autographs in their natural habitats.
13040 Gandy Blvd.
St. Petersburg
Florida
727-578-5117
Surf & Turf Market's curated selection of gourmet groceries includes grain-fed USDA Prime cuts of beef, fresh-daily seafood catches, and prepared entrees and deli-style sides. Seafood from the Gulf of Mexico and other famous swimming pools includes fresh and frozen mahi-mahi, king crab, and conch. Hormone-free chicken, grain-fed pork, and hand-made sausages line up in the meat and poultry case, ready to form dinner alliances with legions of potato and pasta salads. The store also organic wines and dairy, frozen food items, and imported cheeses.
2900 W Bay Dr.
Belleair Bluffs
Florida
727-585-8781
At Max Muscle, teams of knowledgeable health experts maximize bodies' potential with fat-burning enzymes, muscle-boosting proteins, and vital vitamins and nutrients. Certified nutrition coaches help customers craft personalized nutrition plans based on meticulous research, thorough analysis of body composition, and interviews with 19th-century circus strongmen. The shop's tidy shelves brim with specially formulated pills, whey powders, and bars designed for amateurs seeking to reinforce a healthy lifestyle or professionals looking to sharpen their frames before high-stakes muscle flex-offs.
4104 Millenia Boulevard
Orlando
Florida
407-855-3000
Total Nutrition Center's staffers steer patrons through a wide-ranging selection of groceries, supplements, and homeopathic remedies, happily answering any questions with healthy lifestyle tips. Bottles of multivitamins, canisters of amino acids, and various antioxidants line shelves, and fibers, oat bran, and other digestive products keep insides humming as smoothly as a forgetful Barry White. The grocery section, replete with preservative-free options and gluten-free staples, simplifies the practice of healthy eating, and natural bath and bodycare products allow customers to shower themselves in eco-consciousness.
1530 N McMullen Booth Rd.
Clearwater
Florida
727-724-1111
---