Cleveland Cleaning and Home Services
---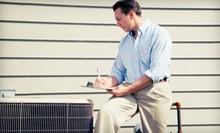 A technician inspects and performs maintenance on a forced air heating unit, cooling unit, or both to ensure safe and efficient operation
---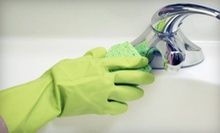 Bonded cleaners eliminate grime from bathrooms, living areas, and kitchens
---
Recommended Home Services by Groupon Customers
---
Founded in 1982, the National Association of the Remodeling Industry has promoted house makeovers throughout its long life. Comprised of remodelers from around the nation, the NARI RemodelOhio Show fills the expansive floor space of the I-X Center with top-brand exhibitors that vend their wares for convention-goers and ambitious pets looking to upgrade their cages into luxurious master suites.
6200 Riverside Dr.
Cleveland
Ohio
Committed to providing his customers with the best possible service at affordable rates, Jeff Ulery leads the licensed, bonded, and insured staff of All Pro Window Cleaning as they tend to the windows, gutters, and façades of local homes, schools, and businesses. All Pro's membership in the International Window Cleaning Association assuages clients' worries about its quality, and de-grimers learn proper window-cleaning safety techniques. Drop cloths, padded ladders, and shoe covers aid in keeping carpets smudge-free, and a call from the team following each appointment ensures that homes are cleaned to the exact specifications of the client or the client's wicked stepmother.
1801 Denison Ave.
Cleveland
Ohio
216-870-8760
Though the orangey wisps that rise over Tiger Air's service van are meant to pay homage to the company's namesake animal, they also resemble flames, which are a much better representation of the company's area of expertise. The trained technicians deploy to homes and commercial spaces, handily tuning furnaces and air conditioners from an extensive list of brands that includes Ducane, Whirlpool, Lennox, and Amana. As they complete their checks, they run through a series of questions—Are the electric connections secure? Is there duct leakage? Have dust bunnies surveyed the space for development?—that can improve the equipment's efficiency and subsequently cut energy costs. The staff also aims to educate clients on the latest products to improve their home's air quality, such as humidifiers, filters, air cleaners, and UV lights.
5285 Pearl Rd.
Parma
Ohio
216-407-0330
Dan Hesch woke up on his 5th birthday covered in welts from more than 100 yellow-jacket stings. The day before, he had explored the woods near his house and stumbled upon some ornery wasps. What happened then doesn't need to be spelled out. Dan looks back on the incident, and the innate curiosity that spawned it, with fondness. "It seems I was destined to pursue a career in the pest industry," he said.
Today, Dan boasts nearly 40 years of pest-control experience, which includes learning his trade in one of the country's most insect-friendly climes, Phoenix. Dan and his team of exterminators now target creatures trespassing into homes around Toledo while being mindful of clients' health and using application techniques that minimize clients' chemical exposure and maximize insects' pleas for mercy. He also vows to beat any competitor's price, charging at least 10% less than any estimate homeowners can show him.
4001 Maple Ave.
Castalia
Ohio
877-843-7378
Mr Mosquito Man's organic-compliant barrier spray doesn't just kill mosquitos, it stops them from coming back for up to three weeks. Technicians arrive at area homes and businesses with a back-mounted spritzer and go to task covering lawns in a specially formulated chemical-free mist. Their spray kills mosquitoes on contact and also deters future infestations by suffocating any larvae playing dead on bodies of water. In additional to residential services, teams are available to treat commercial properties, playgrounds, and outdoor event spaces.
3420 Cavalier Trl. E
Cuyahoga Falls
Ohio
330-922-2847
In 2004, Debbie Quinn was the manager of several high-rise office buildings, an environmental manager for local hospitals, and the head of laundry operations for multiple four-star hotels. But still, she felt that perhaps something was something missing, and that something was a more personal, client-facing operation. That's when she started QCS Carpet Cleaning, which, according to an interview at The Suburbanite.com, began out of Debbie's house. And within only a few years of her husband Mike joining in on the venture, the couple had grown the company to envelope a modest group of 40 employees.
In the same interview, Mike radiates with pride at his wife's dedication to her client base. "The first day on a job," he explains, "Debbie is usually there cleaning and working with the lead project manager for that team." Though QCS specializes in residential and commercial carpet cleaning, the company's services tackle many tasks, from floor refinishing and interior painting to one-time flood cleanups for special occasions such as soprano night at the local aquarium.
2830 6th St. NW
Canton
Ohio
330-605-1398
---