Coffee & Treats in Cliffside Park
---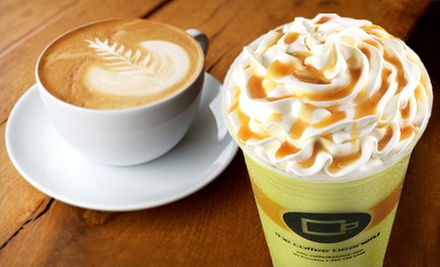 Jersey City – Hudson Mall
---
---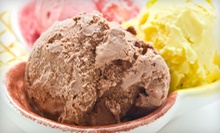 Use Today 1:30pm - 10:30pm
---
Recommended Coffee & Treats by Groupon Customers
---
Tea is served from 2:30 p.m.–4:30 p.m. daily.
158 West 55th Street
Manhattan
New York
US
212-217-0442
In the 19th century, neighbors would congregate in local bakeries, butcher shops, and candlemakeries to chat about the weekend's brutal turf war and swap Jughead hats. Today's deal gives you a taste of that simpler time: for $7, you get $15 worth of fine, fresh-baked fare at Grandaisy Bakery. Choose the most convenient location for you, and select above to get a store-specific Groupon.
176 West 72nd St.
New York
New York
Soy Café tosses a lifesaver of veggie-friendly fare to diners drowning in the community pool of carnivore-catering cuisine. Breakfast is served all day, allowing you to satisfy your craving for organic oatmeal ($6), egg whites with avocado and soy cream cheese ($6), or a mozzarella, basil, and roasted-pepper omelette ($10), even as the afternoon sun looks on in helio-disbelief between puffs of his cumulo-cigarette. Sail seas of soup with the vegan-friendly three-lentil chili ($6), served with multigrain toast, or deforest the summer avocado salad ($11) with your mouth-mulcher. Soy Café also offers cold sandwiches ($8) with tofu and hummus, as well as salmon, turkey, tuna, and chicken variations for non-vegetarians. Paninis and wheat-free crêpes ($10) also offer omnivorous options for all ilks of eaters. Silence the cries of your sweet tooth with Soy Café's vegan sweets, including its acclaimed almond brittle ($4.50).
115 Greenwich Ave.
New York
New York
SweetLeaf serves fair-trade-certified specialty coffee and whole-leaf tea, filling cups, mugs, hearts, and minds with flavors and aromas of pure, delicious sustainability. A cup of Stumptown ($2), which won Roaster of the Year from Roast magazine, can mean the difference between hitting the ground running and creeping back into bed to hit the snooze button relentlessly. Give your alarm clock time to let its bruises heal by slurping a macchiato ($3) or a foamily refreshing cappuccino ($3.50). Decadence-seeking mocha lovers get their fix from a chocolate-laced cup for $4. SweetLeaf's in-house baked muffins ($2.50), cookies ($2.50), and savory croissants ($3.75) delight any coffee and tea-tinted tongue; look for a selection of freshly baked treats (priced daily) that change depending on the day, humidity, or how well you can affect a Prussian accent.
10-93 Jackson Avenue
Long Island City
New York
917-832-6726
A cup of joe in the morning can mean the difference between hitting the ground running and hitting the snooze button relentlessly. Give your alarm clock time to let its bruises heal with an Americano (a $2.25+ value) or an extra perky mocha (a $3.50+ value). Chill out by pouring an iced cappuccino (a $3.50+ value) or a so-cool iced latte (a $3.50+ value) over your steaming dome. After a month of regular Café Regular visits, you'll come to call its arty décor—murals, chandeliers, reflective bronze metalwork—your third home away from home, right after the Statue of Liberty's shin.
158 Berkeley Pl.
Brooklyn
New York
Made With Love is an organic bakery and café that creates fresh, healthy, and organic sweets and savories while stirring up an undercurrent of social and environmental responsibility. With today's deal, customers can tease their sweet tooth's taste buds with a dozen cupcakes, crafted by French Culinary Institute–trained owner Celeste Governanti from the finest of locally obtained, certified-organic ingredients. Five cupcake styles are available: vanilla with either chocolate- or vanilla-flavored buttercream, chocolate with the same two buttercream options, or CocoVelvet, Made With Love's dye-free version of red velvet, smeared with a mouth-seeking missile of cream-cheese frosting.
530 Jersey Ave.
Jersey City
New Jersey
---