Hair Salons in Clinton
---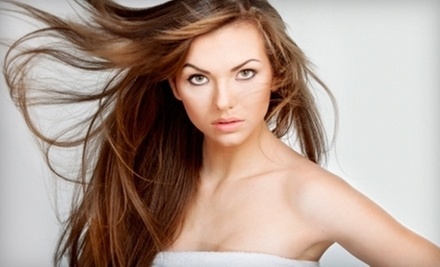 ---
Recommended Hair Salon by Groupon Customers
---
Miracles in the City founder Olympia Hantzopoulos has stayed busy for nearly two decades overseeing a team of hairstylists and developing her own line of styling products to augment the salon's full Redken line. In addition to a whirlwind of activity that results in ombre color, hair gloss, replenished chit-chat reservoirs, and Brazilian keratin smoothing, the space demonstrates Hantzopoulos's other passion: recognizing the work of female artisans in developing countries. The boutique side of the business sparkles with jewelry such as antique tribal necklaces, hand-blown glass trinkets, and beaded cuff bracelets. The salon also hosts an art gallery with installations that have included children's art from an Afghani orphanage.
1501 Wilson Blvd.
Arlington
Virginia
US
Shock limp locks into voluminous 'dos or prepare for your upcoming zeppelin race with smooth legs with today's Groupon to Urban Escape by Subairi: $25 gets you $50 worth of hair and waxing services from the friendly stylists at Urban Escape. Combine up to three Groupons ($150 worth of Urban Escape goodness) for a serious salon session with multiple services or one big-ticket service, such as a spiral perm (a $100 value and up) or a full-leg wax (a $90 value).
1781 Florida Ave. NW
Washington
District of Columbia
US
Throughout history, animals have tended their manes to attract mates, frighten predators, and make gazing into a lake more aesthetically pleasing. Today's Groupon to Lux Studios solidifies your spot at the top of the food chain with $70 worth of salon services for $35.
4711 Montgomery Ln.
Bethesda
Maryland
US
Angels Hair & Skin Care pampers patrons with salon and spa services specialized toward clients' needs and preferences. Ladies can corral berserk beehives with a cut and blow dry ($55+) or assume an alias with assistance from a one-process coloring job ($75+), while gents can explore looks of Draper or Dreyfuss with a clipper cut ($25+) or a cut and finish ($28+). Other follicle-focused treatments include waxing services, such as full arms ($45), full backs ($50), bikini regions ($40), lips ($10), and eyebrows ($13). Unclog clutter-packed pores with a facial ($70), or get expedited exfoliation with an express facial ($40).
3000 N 10th St., Suite C
Arlington
Virginia
US
Roche's menu of services runs the gamut from haircuts (85+ women, $45+ men) to facials ($65–$130/hr). In the bright, minimalist setting of one of Roche's salons, you can consult with an expert stylist before issuing follicle fiats and dermis decrees. A single Groupon will cover a variety of tubular combos: a classic manicure ($20) and bikini wax ($30); a spa manicure ($35) and a feet paraffin treatment ($15); or a Brazilian wax ($50) and access to free-floating nitrogen ($0). Two Groupons will cover a French manicure ($25), a French pedicure ($50), and a brow wax ($20); or a French pedicure and any Kerastase treatment ($50). Massage services are also within your grasp; a Swedish or an aromatherapy massage clocks in at $100/hour, and a deep-tissue massage at $55 for a half-hour.
3000 K Street NW
Washington D.C.
Washington D.C.
Suissa Salon has been crafting individual head fashions for more than 20 years through the skilled hands of talented stylists. Just as ceilings grow bored staring at the same drab floor all day, fedoras and foam cheese-wedge hats become irate when faced with the same follicles day in and day out; trick them with hair coloring and a creative new 'do. Start off your transformation with the luxurious lathering of a warm shampoo treatment. Then a series of fancy maneuvers motivated by your own unique follicle vision fancify mere hair into a slick 'do for any occasion on the town, in the town, or casually circumnavigating the town before the admiring eyes of others.
7933-L Chain Bridge Rd.
McLean
Virginia
---