Photography & Portraits in Clinton
---
Photography & Portrait Deals
---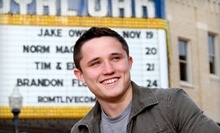 College-trained & experienced photographer captures cheesing high school graduates in his aperture & creates keepsake alma mater memories
Use Today 9:00am - 11:00pm
---
Recommended Photography & Portraits by Groupon Customers
---
Suzanne Upton's photographic portraits capture subjects in settings and scenarios tailored to their personalities, whether they are fun loving, mysterious, or funsterious myving. A mother of three, Upton recognizes how cherished family photos are among kith and kin. Her photos of high-school seniors are at once candid and casual, like a game of truth-or-dare played at a barbecue, while her elegant portraits of families are sure to put a smile on Aunt Mildred's new lips when she gets this year's Christmas card in the mail.
4198 Oak St
Grand Blanc
Michigan
Irresistible You Boudoir Photography's husband-and-wife team of Mike and Tracy peer through the camera's batting eye and set subjects at ease as they snap alluring memories of couples and single subjects. With each wink of the camera, Tracy and Mike contrast colors and textures and put their editorial fashion sense to work, winking camera shutters at models who pose alone or with beloved swamp beasts. Backward glances, leggy poses, and intimate embraces performed by models cast a bewitching mystique onto photos that are professionally touched up after photo shoots. Each guest is then awarded a print and a disk of final copies that they can email to a significant other or slip beneath the door of an estranged teddy bear.
1755 Livernois Rd.
Troy
Michigan
248-561-6873
When Prem and Cheridy Mukherjee got married in 2001, they didn't know anything about creative wedding photography. Prem's interest in taking photos had been piqued during his travels in Sydney, Australia, but it wasn't until after he had met and married Cheridy that his interest flourished into a real talent. Cheridy soon picked up the camera herself, and together the husband-and-wife team became Arising Images, expertly capturing shots for weddings, engagement announcements, and family-portrait sessions. In 2009, with more experience under their belts, the couple wanted another shot at their wedding album. They once again donned white attire, along with a colorful pair of sneakers, and posed for artistic, playful shots that truly captured their joy—something they strive for in their own photography sessions.
Prem, who has shared his expertise at national conventions, passes along his camera-friendly knowledge to budding photographers during starter and intermediate classes. He spends the sessions educating students on the functions of their own cameras and the fundamentals of editing images with Photoshop Elements, eschewing the traditional method of going over photos with a ballpoint pen and masking tape. Private lessons shower all the attention upon one participant, while a tag-along on a photo shoot or wedding allows students to view Prem and Cheridy in their professional environment.
600 E University Dr.
Rochester
Michigan
586-944-7736
Nature photographer Mike Moats deals exclusively in evocative and otherworldly up-close shots. His workshops can last anywhere from three hours to three days, and cover general image-making techniques, such as controlling depth of field, composition methods, and postshoot digital processing. Moats also teaches his students to think like photographers: lessons often cover selecting a subject in any season and working in natural light. With proper grounding in the theory and practice of shooting tiny subjects, macro-photographers will have plenty to shoot no matter where they live, unlike photographers who specialize in Leap Day lunar eclipses. :m]]
200 W Big Beaver Rd.
Troy
Michigan
586-770-3992
Lori Taylor finds it easy to sum up what's unique about her photography business—"We want people to not only love their photos, but also to love their photographers." Initially, the lifelong photography hobbyist spent 20 years as a restaurant manager, learning the value of personalized customer service. It's a value system she still practices, diligently manning the LA's Photography phones seven days a week in addition to running photo shoots. Each of the photographers on Lori's team of photographers specializes in a particular kind of photography that ensure each of the studio's yearly 150–200 graduation gigs, 45–65 weddings, and multitude of family portraits shines uniquely. Lori personally listens to clients describe their needs before matching them up with the specific photographer on staff whose skills are best suited to the occasion in mind. The resulting harmonious relationship between subject and photographer seems to be what drives the company's wealth of referral business. "We've never really needed to advertise," says the cheerful owner, who mostly acquires clientele via word of mouth and by defeating other photographers with her darkroom jujitsu.
2057 E Cook Rd.
Grand Blanc
Michigan
248-459-4337
After modeling in LA and Europe, Randall Scott found himself behind the camera, embarking on a 15-year career that saw his work grace the pages of magazines such as GQ, DNR, and Vogue. Scott's extensive experience with modeling as well as photography led him to develop a style that, like Arthur Fonzarelli after a hot-stone massage, is hip, youthful, and relaxed. As a specialist in senior and yearbook shoots, Scott immortalizes each subject's prime of life with striking, personalized portraiture and expertly styled hair and makeup.
27112 Harper Ave.
Saint Clair Shores
Michigan
586-498-8900
---