Restaurants in Clive
---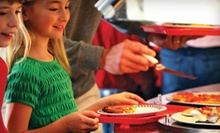 Fun center powers over 100 games, such as mini golf and go-karts, and stocks the buffet with over 100 meal choices, including pizza
---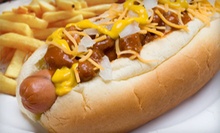 Hot dogs topped with chili, Fritos & buffalo hot sauce vanquish hunger alongside Reuben sandwiches within renovated 116-year-old building
---
Recommended Restaurants by Groupon Customers
---
801 Chophouse approaches the Platonic form of a special-occasion restaurant, where every table might well hold a ring in a hidden box or a couple celebrating an anniversary. There are the white tablecloths popping against dark leather booths, the racks of wine tended by a certified sommelier, the encyclopedic list of single-malt scotches, and, of course, the chops and steaks, all USDA Prime. On the other hand, it's quite conceivable that someone might gladly eat at 801 Chophouse every week—the menu and drink selection could accommodate months of exploration, and an ever-changing "fresh sheet" overflows with the seafood selections of the day.
On any given night, the wait staff moves across wooden floors beneath high ceilings and 1920s-inspired decor, trays loaded with Maine lobster pulled live from the tank, nine creative potato preparations, filet mignon, and dry-aged pork chops. Meanwhile, golden calf statues gaze out over the dining room's cherry-wood finishes and granite counters, waiting patiently to graze on uneaten garnishes.
801 Grand Ave.
Des Moines
Iowa
515-288-6000
Bennigan's evokes a spirit of Irish hospitality with Celtic-inflected fare and generous portions, evidenced in their half-pound burgers and overflowing pints. The eatery's focuses on hearty meat dishes such as the pot roast doused in red-ale gravy, the new york strip steak, and baby-back ribs. Half-pound single-patty burgers, such as the Guinness-glazed bacon burger, kneel before The Big Irish, a two-patty tower interspersed with three bun slices. Alternatively, groups can share plates of snacks such as bacon-cheeseburger chips—kettle chips topped in ground beef, bacon bits, and cheese—as they cheer for their favorite team or shout the species of their favorite mascot during televised games.
1810 Army Post Rd.
Des Moines
Iowa
515-309-3111
Business at Red Bistro is a family affair. Everything from the menu items to the interior design to the day-to-day operations is handled by one of the Nong siblings. Their brother, Executive Chef Zon, taps his culinary instincts to create an eclectic mix of traditional and innovative Chinese dishes that include familiar favorites such as lo mein alongside dishes such as tilapia with ginger sauce and shrimp on crispy noodles. The restaurant folds in Japanese culinary traditions with fresh sushi—chefs assemble artful rolls such as the Red Caterpillar, which features a topping of crab meat and unagi sauce and a heart of tempura shrimp and gold.
2925 Ingersoll Ave.
Des Moines
Iowa
515-274-0097
---