Things to Do in Clive
---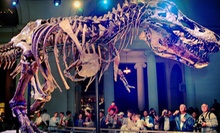 Interactive exhibits include rocket building and space exploration in addition to a replica of the world's most complete T. rex fossil
---
Recommended Things to Do by Groupon Customers
---
As children and their caretakers enjoy a leisurely day at Union Park, a cluster of animals—storks, giraffes, brown bears, and ostriches among them —suddenly storms past. What sounds like a stampede is really the family-friendly site of The Heritage Carousel of Des Moines, which has been entertaining guests since 1998. For only 50 cents, participants can hop aboard the turn-of-the-century replica carousel, which builders hand carved from basswood and hand painted. As the dulcet tones of an old-fashioned band organ hum in the background, the carousel accommodates children, wedding parties, and bull riders in training. Elsewhere, riders can pause from carousel excursions to sample other Union Park attractions such as multiage play equipment and the Rocket Slide, whose recent repainting replicates its original look from the early 1970s.
1802 Pennsylvania Ave.
Des Moines
Iowa
515-323-8200
When owner Aaron Stevens says that climbing "builds strength, self-confidence, and trust," he's speaking from experience. For much of his life, Aaron suffered from acrophobia, otherwise known as a fear of heights. To deal with his fear, he took an unexpected strategy. He started climbing.
Today, when he walks around Climb Iowa's 10,000 square feet of top-roping, bouldering, and lead-climbing stations, his proudest moments are when he sees guests "persevere on the climbing wall and achieve a level they never thought they could attain." An avid outdoorsman, Aaron and his crew oversee simulated climbing terrains that include cracks, overhangs, laybacks, verticals, and slabs. In addition to open sessions, Climb Iowa's team members lead classes tailored for both beginning and intermediate to advanced climbers. They also offer yoga classes to keep climbers lithe, along with youth summer camps and a recreational and competitive climbing team. Beyond the classes, an extensive stock of gear equips climbers for adventures inside and outside of the gym. Climb Iowa's construction reflects its team's love of the outdoors, sporting an eco-friendly design with plentiful natural lighting, geothermal heating and cooling, bicycle racks, and parking spaces for Flintstone cars.
3605 SE Miehe Dr.
Grimes
Iowa
515-986-2565
The course at Rolling Hills leads golfers out into an emerald oasis with well-maintained fairways that rise and fall over frequent elevation changes. Water is a prominent feature that comes into play on six of nine holes, including on the seventh tee, where golfers can reach the green 160 yards away by carrying their golf ball over the water and using their golf bag as a buoy to wade through it.
Along with its regulation-size par 36 course, Rolling Hills invites players to hone their short games on the nine-hole par 3 course, which features lights so play won't be halted by dusk or hungry owls that mistake golf carts for chubby mice.
Course at a Glance:
Nine-hole, par 36 course
Total length of 2,885 yards from the back tees
Three sets of tees per hole
Scorecard
---
Rolling Hills Golf Course's rates fluctuate throughout the week.
6205 Hwy 28
Norwalk
Iowa
515-981-1500
Like many other horseback-riding facilities, Louw Stables' 50 acres of rolling hills, dotted with trees and lined by picket fences, paint a picturesque backdrop for warm-weather riding lessons. But it's the way owners Louis and Jennifer Louw have prepared for the winter months—when snow generally blankets these pastures—that sets their facility apart from the rest. To accommodate riding year-round, they built an expansive indoor arena that, along with a 30-stall stable, is heated so that lessons and trainings can go on through winter without interruption.
Jennifer draws upon 22 years of experience as she teaches children and adults the art of horsemanship along with equine care. Her eight trained lesson horses are all steady-tempered and work with novice riders and advanced equestrians alike. She also oversees an open barn each Saturday from 8 a.m. to noon, during which students can help with chores around the stable, including brushing horses and ironing their saddles.
36479 Osage Ave.
Van Meter
IA
US
515-468-3863
---