Restaurants in Cloverleaf
---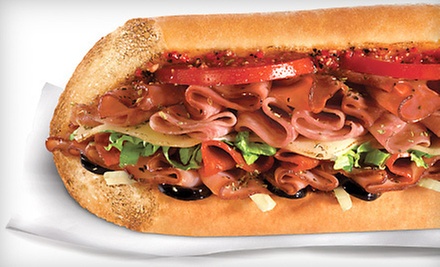 ---
Recommended Restaurants by Groupon Customers
---
Specializing in regionally influenced international provender since 2000, Farrago World Cuisine presents worldly wonders with the help of a local network of farmers, growers, butchers, fishermen, and people to fact-check the fisherman. Awarded both "Best Posole" and "Best Brunch" by H Texas Magazine, the adventurous chefs prescribe remedies for bored palates such as chilaquiles, Cajun eggs benedict with crawfish cream, and Hawaiian sweet red crab cakes. Noteworthy dishes lurk between the pages of the other menus as well—Elizabeth Searcy of the Midtown Paper was enamored of the curried mussels, saying, "The marriage of basil, cilantro, and lime in the sauce is not spicy, but wonderfully fresh and aromatic," while the reviewers at Guyot praised the grilled salmon with sweet potato puree and nectarine salsa.
318 Gray Street
Houston
Texas
713-523-6404
Byzantio Cafe & Bar
Every Thursday night, belly dancers swivel their hips to the beat of Mediterranean music at Byzantio Cafe & Bar. Live DJs spin on weekends while patrons puff smoke rings of apple-, melon-, and mint-infused tobacco from hookahs. To fuel the revelry, chefs whip up classic Mediterranean cuisine such as sliced gyros with warm pita bread and a lamb souvlaki plate. After dinner, patrons may sip signature cocktails or grab a quick snack from the menu of bar bites and Greek coffee served until 2 a.m. The restaurant, a renovated bungalow, is composed of several rooms filled with sofas and cushioned chairs. The space's centerpiece is the elaborate bar adorned with a stone mosaic and surrounded by antique fixtures. A patio offers additional seating for outdoors junkies during nice weather.
403 W Gray Street
Houston
Texas
713-520-6896
When Travis Dickey opened the first Dickey's Barbecue Pit in 1941, he served only two meats: beef brisket and pit ham. His sons eventually took over the reins of the restaurant and expanded its selection in 1967, and since then, the menu has hardly changed, except that it needs a pair of bifocals to read itself. The cooks at Dickey's Barbecue Pit slow-smoke and season their signature meats onsite, including the Texas-style chopped beef brisket, southern-style pulled pork, Virginia-style ham, and spicy cheddar sausage. Diners can devour meats by the pound, or in a sandwich served with onions, pickles, and the requisite sauce.
1911 Taylor Street, Suite A
Houston
Texas
832-673-0077
From half-pound Angus burgers to fish tacos, every item on H-Town Bar & Grill's menu is made to-order. Regionally influenced grub sits atop tables like an edible map of North America, charting a course from the Aloha burger's grilled ham and pineapple to the El Diablo burger's roasted jalapeños and chipotle mayo. Flat-screen TVs line the spacious eatery, where barkeeps man a full-service bar, doling out domestic and imported brews and house wines to help wash down barbecue chicken sandwiches and steak caesar salads. Guests can also reserve the casual space for private events or sneak into someone else's party dressed as a philly cheesesteak to blend in with the surrounding environs.
4825 Washington Ave.
Houston
Texas
713-861-9933
Patrons duck through an enormous beer barrel in order to enter Taps House of Beer. The entryway hints at the ranks of 90 tap handles and condensation-dappled bottles that wait inside, populating the massive beer list. Customers find a seat at wooden tables or a brown-leather couch in the exposed-brick room, sipping on Delirium Tremens, Chimay, Maui Brewing Company's Coconut Porter, or Racer 5, an oak-hued IPA infused with the West-Coast sunniness of Cascade hops. From the kitchen emerge pulled-pork sliders and nachos, which are easy to split among friends, unlike the last pizza in a life raft. Flat-screen televisions fill the air with news of football games, the sound punctuated by the chatter of a beer club and the performances of karaoke singers.
5120 Washington Ave.
Houston
Texas
713-426-1105
A large, old-fashioned porch surrounds Phil & Derek's creole-style cottage filled with food, wine, and sounds from the Big Easy. The BYOB restaurant's wine bar washes down catfish and prime rib with potables culled from wineries in Bordeaux, Spain, and Argentina. Every night, live jazz, zydeco, and blues complement the fresh Cajun dishes and the restaurant's antique accents, such as french doors that once acted as translators. On Sunday mornings, diners can devour a variety of ever-rotating brunch fare during what Citysearch called the Best Morning-After Brunch.
2811 Bammel Ln.
Houston
Texas
713-529-1314
---