Cloverly, MD Indoor Activities
---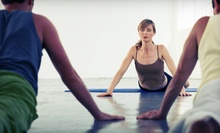 Yoga practice tailored to beginners focuses on basic poses, breath control, and proper alignment
Use Tuesday 3:00pm - 6:00pm
---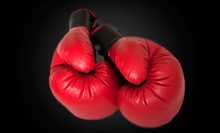 Hour-long workout incorporates drills designed for professional fighters, cardio & strength conditioning to challenge major muscle groups
Use Monday 3:00pm - 6:00pm
---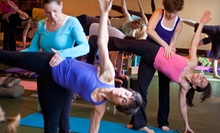 Hatha, Pure Bliss, Vinyasa flow, and hot Vinyasa classes invite students of all levels to peaceful sessions led by seasoned instructors.
Use Today 6:00pm - 9:00pm
---
---
Recommended Indoor Activities by Groupon Customers
---
Overhung with glittering chandeliers and surrounded by billowing red curtains, The Fillmore Silver Spring's main room easily holds elegant concerts and thrashing dance parties alike on its hardwood floor. Balconies equipped with tables and chairs allow VIP seclusion, elevated sightlines of onstage antics, and easy conversation with GA-ticket-holding giraffes.
8656 Colesville Rd.
Silver Spring
Maryland
301-960-9997
Though science has yet to yield the answer to whether or not time is infinite, Endless Food & Fun hedges its bets on the side of eternity, thrilling visitors with huge laser-tag skirmishes, 7,000 square feet of arcade games, and a bountiful buffet. New and old arcade games challenge players young and old. Dual laser-tag arenas pit dozens of competitors against one another as parents monitor the action via live streaming video. And a 200-item buffet boasts four themed dining rooms, including a sports-themed spot with multiple TVs, a "Surf's Up" room with pool tables, and a cartoon-themed room in which patrons gain the inexplicable ability to survive encounters with ACME anvils.
7817 Old Georgetown Rd.
Bethesda
Maryland
US
301-657-1444
When it was founded in 1970, the theatre company Street '70 didn't have a home, instead serving as a nomadic outreach program for schools and community spaces. It would be seven years before they'd find their own space in the Round House Theatre, which would eventually become the company's moniker. Since those early days, the ensemble has produced more than 200 performances per year out of their home theater in Bethesda and a black box theater in Silver Springs. Round House Theatre also spreads the drama bug through classes, workshops, and not washing their hands after handling freshly penned manuscripts.
4545 East-West Hwy.
Bethesda
Maryland
240-644-1100
At Montgomery Royal Theater, six screens beam larger-than-life stars into the eyes of moviegoers during showings of recently released flicks and Hollywood blockbusters. Viewers can sink into the theater's plush, cushioned seats to absorb action-packed reels that showcase the twists of budding romance or the dire consequences of resurrecting an extinct flower's DNA. The theater's concession stand outfits viewers with buckets of popcorn and cups brimming with soda, providing the appropriate rations to accompany treks into the fantastical worlds of first-run films.
11006 Veirs Mill Rd.
Silver Spring
Maryland
301-949-6424
A nonprofit castle-themed adventure land created by The Good Knight Child Empowerment Network, The Good Knight Enchanted Kingdom & Family Museum is an interactive fairy-tale realm designed to teach children about safety. Founded by a coalition of retired federal officers, The Good Knight Child Empowerment Network's mission is to empower kids and their parents through education, using the fairy-tale format to bring awareness to such hard-to-talk-about topics as child abduction. Through special events, shows, summer camps, and onsite adventures, costumed fairies and brave knights lead their young charges on themed challenges and quests to encourage them to fulfill socially responsible roles and build their self-esteem. The shows also teach children how to employ the ABCs of protection and how to recognize the 10 basic physiological deceptions that criminal predators often use to manipulate their victims, giving kids the skills to defend themselves and their peers.
11001 Rhode Island Ave.
Beltsville
Maryland
301-595-8989
Beyond providing an opportunity for friendly competition and social interaction throughout the DC area, the organizers of Capital Bocce League only have one mission: help players have fun. During each season, teams of up to 12 players compete in lighthearted bouts of the classic Italian game, which unlike other sports, requires little to no experience, physical exertion, or physics PhDs to master. After each game, teams can head to local bars for exclusive drink specials, and a variety of prizes await the victor of each season's playoffs.
Elm St. and 46th St.
Chevy Chase
Maryland
---