Restaurants in Clovis
---
Recommended Restaurants by Groupon Customers
---
With an Old West atmosphere and grill-centric menu, Joe's rounds up hunger, ropes it, and brands it "V" for vanquished. Sandwiches, burgers, and char-grilled delectables offer lunch and dinner eaters a meaty respite from the vegetation-laden workaday world. Bovinophiles can swoon over the Philly cheese sandwich, a pile of tender, marinated pulled beef cheese-bathing on a ciabatta lounge chair ($8.95), or the Cowboy Burger smothered in barbecue sauce and topped with bacon, onion rings, and melted pepper jack ($9.95). With Joe's signature steak menu, committed carnivores can sink canines into an array of cow slabs portioned to all manner of appetites, from the 6-ounce ranch steak ($12.95) to the 20-ounce porterhouse ($30.95). All steaks are served with warm bread, soup or salad, sautéed veggies, and choice of baked potato, mashed potatoes, or rice pilaf.
831 Van Ness Ave.
Fresno
California
Sweet basil, chili sauces, and ginger cast their scents throughout the dining room at Thai Palms, providing an olfactory glimpse of the intricately spiced menu. The curries range from mild yellow broth to spicy green varieties. Bamboo-skewered morsels of chicken, beef, and prawns line the grill tops, and rolls of fried rice paper surround cores of herb-accessorized proteins.
7785 N Palm Ave., Suite 101
Fresno
California
559-438-2803
For Ali Saleh, the chef who owns Taqueria 2 Palmas, a great meal isn't just about sustenance. It's a performance meant to entertain and intrigue. That's why restaurants and live music make such as dynamic duo. When Ali bought his first storefront on East Tulare Street, he immediately built a stage so the restaurant could also host concerts. These days, his 24-hour eatery teems with mariachi bands that serenade guests with romantic ballads and vibrant pasodobles. The sultry sizzles of hot plates chime in as servers deliver chicken fajitas and Tampiquena-style steaks to nearby tables. In contrast, shrimp cocktails and fresh oysters are as cool as an igloo full of Elvis impersonators. To fuel morning exploits such as newspaper crosswords and WiFi surfing, the restaurant also serves huevos rancheros and other hearty Mexican breakfasts.
4630 E Tulare St.
Fresno
California
Experts in all things wine, The Grape Tray's staff can help patrons choose their ideal wine while sampling vintages from vineyards such as Silver Oak, Chateau Lynch-Bages, and Sleepy Hollow. A roster of dessert and sparkling wines rounds out the corked collection, which includes selections from popular spots like France and Spain as well as lesser-known wine-producers, including New Zealand and Austria. The Grape Tray's staffers also craft tasty sandwiches from its deli counter, piling corned beef, vegetable medleys, and crab and chicken salad between slices of bread from nearby bakeries.
5091 N Fresno St., Suite 126
Fresno
California
---
---
Restaurant Deals - Recently Expired
---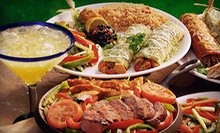 Fajitas, tacos, and enchiladas served with housemade pico de gallo and salsas
---
---