Things to Do in Clovis
---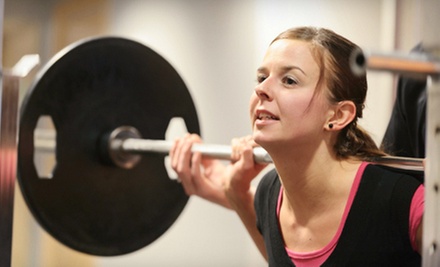 ---
Recommended Things to Do by Groupon Customers
---
Color Me Mine puts paintbrushes and pottery in the mitts of customers old and young. Budding Toyozo Arakawas will follow six easy steps to craft beautifully painted ceramics, first choosing a ceramic piece (most cost between $12 and $70) from Color Me Mine's selection of hundreds of seasonally changing items. After charting out the desired design from individual imagination or Color Me Mine's idea gallery, painters will select an underglaze from a cast of more than 75 colors, then apply paint with the focus of a peregrine falcon occupied by a Rockwellian spirit. Color Me Mine handles all kiln-firing work, allowing clients to take home their final products within three to five days. A studio fee of $5 for children 12 and under, $7 for teens 18 and under, and $10 for adults covers all paints, supplies, glazing, and firing.
230 Paseo Del Centro
Fresno
California
Fig Garden's experienced instructors—all of whom are registered with the national Yoga Alliance or trained by independent schools in their areas of specialization—have been inching Fresnites toward enlightenment since 1998. The cozy, intimate studio focuses on the Iyengar style of hatha yoga, often employing props such as blocks, straps, and water-squirting boutonnières to aid participants of all ages and experience levels in maintaining poses suitable for Cubist figure-drawing classes. After a few classes, inflexible flexors will see an improvement in balance, an increase in core strength, and a newfound taffy-like bendability. In addition to stretching and burnishing a stiff soul-sack, hatha yoga focuses the mind and eases emotional tension caused by the continued inability to beat a cousin at pogs. Fig Garden's ongoing repertoire of small, drop-in classes ($15 each) ensure that greenhorn yogis and experienced gurus have many opportunities for individual attention.
6045 North Palm, Suite A
Fresno
California
Perfect Balance Yoga is an award-winning yoga studio that helps its members achieve and maintain a healthy body-and-spirit balance. Experienced yoga teachers instruct students in gentle and restorative yoga, Ashtanga, and Vinyasa yoga, with classes geared toward meditation, kids, and moms-to-be. Inside the Perfect Balance studio, students are soothed by the spare, spacious practice area and its welcoming warmth.
5091 N Fresno St., Suite 133
Fresno
California
559-222-6212
After traipsing deep into Fresno Regional Sports Complex, warriors breach the perimeter of Maximum Paintball, an expansive enclave spread throughout several obstacle-infested outdoor fields. Concrete blocks, wooden horses, and metal barrels populate Field1, and regulation barricades such as pyramids, cylinders, and Paul Bunyan's beanbags wait to be splattered with neon paint in other nooks. Maximum Paintball hosts traditional paintball games and some with slight variations, all overseen by referees unafraid to eject people for unsportsmanlike conduct. An observation area with awnings and picnic tables protects onlookers from stray pellets, and a supply store stays open seven days a week to equip sharpshooters with necessary accouterments.
1707 W Jensen Ave.
Fresno
California
At Fresno Fencing Academy, head coach and former Soviet and Ukrainian champion fencer, Vladimir Ostatnigrosh, distills his experience to foster a new generation of duelers within a 4,200-square-foot facility that boasts electric fencing strips, a fitness room with weight machines, and changing rooms. Ostatnigrosh invites students of all levels, aged 7 and older, to discover the art of parrying and thrusting, which nurtures self-discipline while bolstering the cardiovascular system and developing the skills necessary to retrieve stolen lunch money from Zorro. The academy's classes, which range from introductory to competitive levels, cover the three Olympic fencing weapons: the foil, the épée, and the saber. Those expert swordsmen and swordswomen who have mastered the fencing rules and refrained from detonating any last-resort grenades during a match defend the academy's robust reputation at local, regional, and national tournaments.
5717 N 1st St.
Fresno
California
559-224-1910
---