Coffee & Treats in Coconut Creek
---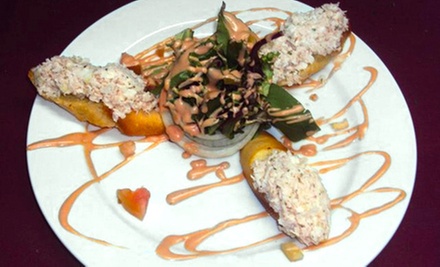 ---
Recommended Coffee & Treats by Groupon Customers
---
The fruit pruners at Fresh Fruit Bouquet Company rearrange nature's bounty into a blooming cornucopia of ripe delights for nutritious gifting. Each Fresh Garden bouquet comes blooming with an arrangement of strawberries, cantaloupe, honeydew, grapes, oranges, and daisy-shaped pineapple to plant on a colleague's desk or toss to hungry bridesmaids. As a special for Groupon users, Fresh Fruit Bouquet Company will include three chocolate-dipped strawberries culled from their cocoa-fertilized garden in every biodynamic bundle.
12093 SW 152nd St.
Miami
Florida
US
A well-timed dose of cupcakes can make a dull winter bright, bring a smile to the face of a child, and even play a pivotal role in diffusing tensions during an XYZ Affair. Resolve your own diplomatic crisis by appeasing your sweet tooth with today's Groupon. For $6, you get a 12-pack of mini cupcakes from LA Sweets in South Miami, a $12.84 value. There is no purchase limit, so addiction is imminent. However, there is a limit of one redemption per visit to help curb any ensuing mini-cupcake dependency.
5701 Sunset Dr
Miami
Florida
US
The only emperor is the emperor of ice cream. Crown yourself as creamery king with today's Groupon. For $2, you get an 8-ounce junior cup of ice cream at Wall's Old-Fashioned Ice Cream in South Miami. There is no limit on the quantity purchased. Pick up enough to take the whole family, city council, or knitting circle out for a dairy dinner. Kids standing less than 3 feet get a free ice cream cone, so start feeding your 4-footers less water and more salt to induce shrinking.
8075 SW 67th Ave.
Miami
Florida
Cushy Cakes conjures up sweet sensations with the lighter-than-air lusciousness of the Andes' famed cotton-candy clouds. Using organic butter, milk, and eggs, Cushy Cakes commandant Melissa Jarquin will whip up a dozen cupcakes ($20) in flavors such as Bananarama, the key-lime-pie-tinged Southernmost Cupcake, and Betty's Carrot Cake, or in the customized flavor of your choosing. Sweet tooths seeking the cream of Cushy Cakes' crop should opt for the Cafe Con Leche, a flavor based on the beloved breakfast coffee, or the Stout Cupcake with Kahlua frosting, made with the beloved breakfast beer Guinness. Gluten-free and vegan cupcakes are also available.
3300 NE 192nd St.
Aventura
Florida
Long gone are the days of scraps-of-lace humanoid toy dollies for little girls. Today's dollies are cake balls—spheres of moist, heavenly cake, topped with frosting and coated in a firm cover of chocolate or vanilla. These handheld treats come in 12 flavors; with your Groupon poised to dab frosting from your lips, call up Little Miss Sweet Tooth and choose two flavors to go into your batch of 12. Plain Jane is a popular choice (vanilla cake and frosting in a vanilla cover), and a Southern Belle (red-velvet cake topped with cream-cheese frosting in a dark-chocolate bonnet) offers up some tonal contrast. New flavors include the Backstabber, peanut-butter cake with chocolate frosting dipped in a dark-chocolate helmet, and the Che Boluda, chocolate cake and dulce de leche swathed in dark chocolate.
305 Alcazar Ave , Suite 2
Coral Gables
Florida
The North Miami Beach Italian-ice and bubble-tea shop specializes in frosty cold treats to cool summer-warmed bodies. The chilly-treat experts offer more than 30 flavors of their signature bubble teas ($4.25)—fresh-brewed iced tea with small tapioca pearls at the bottom of each cup, served with a thick straw for sucking up the gummy-esque spheres. The creamy and mostly fat-free tea is made from fresh fruit and milk and comes in fruity flavors such as pomegranate and passion fruit, as well as latte-inspired brews such as the caffe latte and caramel rooibos. If tea isn't your treat of choice, opt for a refreshing Italian ice ($2.99 and up) and dine on one of nearly 60 flavors in two iced styles. The fat-free and dairy-free water ice pleases with flavors such as rootbeer and cotton candy, and low-fat cream ices such as bananas foster, cannoli, and chocolate peanut butter will satisfy dairy-deprived palates. With nine no-sugar-added and sugar-free options, the Italian-ice treats are sweet options for sugar strikers and diabetics.
3061 NE 163 St.
North Miami Beach
Florida
---