Coconut Creek, FL Spa and Massage
---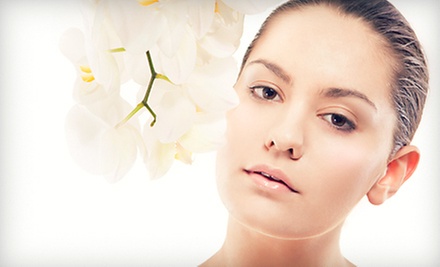 ---
Recommended Spa & Massage by Groupon Customers
---
The staff at New Age Laser Spa strives to craft a comfortable, soothing atmosphere, in which the clientele can enjoy a vast array of FDA-approved services. The robust menu of aesthetic options, including spider-vein treatments and facial-rejuvenation sessions, showcases the versatility of the laser, which was previously relegated to tedious tasks, such as barcode scanning and removing Earth's vestigial moons. The spa also offers microdermabrasion and chemical peels for those who prefer more hands-on skincare methods and rejuvenation from natural antioxidants or moisturizers.
333 NW 70th Ave., Suite 201
Plantation
Florida
Upon entering the peaceful realm of Essential Day Spa & Wellness Institute, stress flees from clients' shoulders, absorbed by the breath of the Buddha statuette in the reception room or the hushing organic rustle of the live bamboo plants scattered throughout the bright and airy space. In private treatment rooms swathed with Victorian charm, rich sateen curtains soak up the soothed exhalations of patrons enjoying massages under the direction of Dr. Mohamed Gajraj. The massage therapists mollify tense muscles, working in concert with aestheticians to help patrons reach corporeal goals. Slipping past treatment rooms full Zerona lasers and elixirs from Pond's and Pevonia Botanica, guests return to the tea room to prepare for a return to reality among muted colors, brocade chairs, and ottomans trained not to tie shoelaces together.
6991 N State Rd. 7
Parkland
Florida
954-603-2100
The Europa Medi Spa's staff includes a medical doctor who performs aesthetic services and employs the 100% vegan line Nayked Botanicals to render a more effective natural treatment than rubbing clients' faces in organic lettuce. Nail technicians pamper fingers and toes with manicures and pedicures and soften skin with paraffin dips, and massage therapists relieve stress and release muscle knots with hot lava stones and aromatherapy. The menu of services also presents anti-aging treatments, such as the signature 24-karat-gold facial, which covers faces in wrinkle-fighting gold-infused masks inspired by recently uncovered photos of King Midas pinching his own cheeks.
6018 SW 18th St., Suite C11
Boca Raton
Florida
561-416-1767
When Andrea Fittipaldi, a native of Brazil, moved to the United States, she noticed many waxing salons did not practice authentic Brazilian waxing techniques. To fill the demand, she opened Beauty & Waxing studio, which offers authentic Brazilian waxes alongside body and face waxes. Andrea uses a creamy, hard wax that causes less pain and irritation than some other waxes due to its composition of shea butter, aloe, jojoba oil, and alpha bisabolol, which has a soothing, cooling effect on the skin.
Aside from waxing services, Andrea performs permanent-makeup procedures for those who have lost their eyebrows, those who find it difficult to apply makeup, and those who simply don't have the time to apply makeup on a daily basis. Her menu of beauty services also includes below-the-belt skincare treatments, ear candling, and eyelash extensions.
2290 Boca Raton Bvld., Suite 2
Boca Raton
Florida
561-860-5757
The research staff at 7E—a medical-aesthetic company that prides itself on skincare innovations—designs noninvasive treatments that combat the effects of aging and bolster all-over wellness. Once staff members have perfected a solution, they share the fruits of their labors with clients at 7E Fit Spa. One of these many fruits is the Torc Plus, an FDA-approved body-contouring machine that works to deplete inches and bulk up muscles in bodies through electrical stimulation. The spa's noninvasive face-lifts tighten visages while evening out skin tone, reducing puffiness, and increasing circulation, and saunas detoxify the body and relax clients with infrared heat shoplifted from the equator.
1400 E Hillsboro Blvd.
Deerfield Beach
Florida
954-426-0550
---