Coeur d'Alene, ID Outdoor Activities
---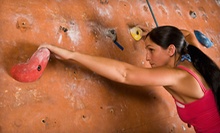 Learn some rock-climbing basics or take your skill to the next level at a gym with seven climbing and bouldering areas
---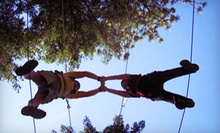 Couples rely on teamwork to conquer ground-level games and aerial adventures up to 50 ft. high before settling down to a catered dinner
---
Recommended Outdoor Activities by Groupon Customers
---
Paddles dip into the water of Coeur d'Alene lake, boards glide across its surface, and a moose nibbles plants near its edge as groups of paddleboarders see North Idaho through new eyes. Moments like these spring from the dedication and passion of Coeur d'Alene Paddle Board Company's staff. With a mission to share their love for stand-up paddleboarding, they teach classes on fundamental techniques and lead group sessions into the area's scenic waters. Under guides' watchful eyes, groups float out into the open lake or along more narrow waterways flanked by trees and rubber duckies squeaking in their natural habitats.
512 Sherman Ave.
Coeur d'Alene
Idaho
208-292-4156
Staffers at Vacation Sports Rentals loan boats, paddleboards, and floatation devices to aqueous adventurers to explore the pristine waterways of Lake Coeur d'Alene while soaking in its surrounding beaches and mountain views. Water vessels available for half- or full-day rental include the Larson Senza speedboat, 24-foot pontoon, and 2011 Sea-Doo waverunners. Four-, 8-, or 24-hour rentals facilitate water sports such as tubing and wakeboarding. In addition to the boats, Vacation Sports Rentals doles out wakeboards, skis, kneeboards, standup paddleboards, and tubes. Safety necessities such as life vests, paddles, and wetsuits keep athletes protected from injury and icky seaweed.
311 Coeur d' Alene Ave.
Coeur d'Alene
Idaho
208-665-0686
With the roar of engines, bikes pound through the dirt and fly over manmade mountains at Airway MotoCross Park. After quiet falls, the track is groomed by bulldozers to prepare for a schedule of races, special events, and tea-party-ruining competitions. As bikers slip past each other in mid air and spray up a mist of mud, fans cheer on a favorite to win a purse of up to $5,000. Patrons also suit themselves up during open-practice sessions on a track suitable for those of all skill levels and abilities.
12402 W Sprague
Spokane
Washington
509-218-2014
Shot chases regulation birds hurtled from two voice-activated traps at Coeur d'Alene Skeet and Trap Club, where guests take aim at clays on three trap fields, a five-stand course, and four skeet fields, one of which is also voice activated. Each field hosts two annual shoots and tournaments for its 55 league teams, while visitors and more than 700 members test their clay-shattering skills with a variety of wobble games. Elsewhere, novices boost shotgun skills during lessons, ladies brush up on gun know-how at instructional clinics, and kids sample clay-target sports in the youth program. In between rounds and lessons, customers can visit the pro shop to restock on ammo or pick up a shotgun to mount and hang above the mantel.
1879 W Miles Ave.
Hayden
Idaho
More than 55 lakes—among them Lake Coeur d'Alene, Lake Pend Oreille, and Priest Lake—speckle the region around Coeur d'Alene, giving ospreys plenty of fish to dive after and outdoor adventurers many waterways to explore. The team at New Sun Adventures encourages these explorations by renting out a veritable armada of jet skis, kayaks, and stand-up paddleboards.
Locals and tourists alike glide across the glassy waters of Hayden Lake in easy-to-maneuver Emotion Spitfire 8 kayaks or dart around Liberty Lake atop Surftech paddleboards. The company's fleet of jet-powered Yamaha WaveRunners comes in handy when one needs to fly across the lake or settle a grudge by jousting with foam noodles. For those who prefer adventuring on dry land, New Sun Adventures plans to soon offer ATV rentals for rugged treks through the region's national forests.
206 E Indiana Ave., Suite 117
Coeur d'Alene
Idaho
208-664-3399
Your City Bites' manifesto can be summed up in a single word: local. Local foods, local guides, and local culture—all distinguishing features of its walking food tours. Guides, each one a home cook, lead groups on approximately two-hour jaunts through a city, during which they pause to sample the edible creations of six to eight restaurants. Culinary expeditions might explore the world-famous deli sandwiches of Salt Lake City or tour the ethnic eats that pepper Spokane's restaurant scene. Throughout each tour, guides elucidate tales of local culture and architecture, covering sites from the Salt Lake Temple to Spokane's infamous Leaning Tower of Cinnamon Rolls.
Committed to cultural education, Your City Bites' staff works to make its walking adventures available to as many people as possible, ensuring treks are wheelchair and stroller accessible. Additionally, guides make sure vegetarians have alternatives throughout each tour. Not content to stay in just Spokane and Salt Lake City, the company has plans to begin tours in Nashville, Albuquerque, and the moon's cheese-filled core.
507 N Howard St.
Spokane
Washington
888-982-4837
---