Restaurants in Coeur d'Alene
---
Recommended Restaurants by Groupon Customers
---
When most little boys were hoping to unwrap G.I. Joes or dirt bikes on Christmas morning, Michael DePasquale had his fingers crossed for a Suzy Homemaker oven. From this iconoclastic start, Michael advanced from his toy oven to a job as a dishwasher, then prep cook, then lead cook—and then honed his developing skills at the Culinary Institute of America in New York. In his spare time, he adopted a loyal pet rhode island red chicken and taught it to chase frisbees. After graduating, he honed his craft as head and executive chef at several different restaurants before launching his own eatery.
Fifteen years later, Michael is still cracking eggs and sizzling sausage for the breakfast dishes his eatery serves all day long. Omelets—which convert to scramblers upon request—can be packed with fresh jalapeños, bacon, and sour cream. For sweeter creations, he slathers honey butter onto pancakes, as well as custard-style sourdough french toast. At midday, hand-pressed burgers enter the lists and don cloaks of spicy habanero or barbecue sauce. Diners can lounge on an outdoor patio on summery afternoons, and on colder evenings, they can savor chicken marsala and roasted tri-tip steak amid the dining room's wood-paneled walls.
203 Coeur d' Alene Lake Dr.
Coeur d'Alene
Idaho
Rated the best Indian restaurant in the area by Spokane Coeur d'Alene Living, Top of India lives up to its name with tandoori staples culled from different regions of India. These include chicken tikka and lamb shish kebab. Beyond those meaty mainstays, the eatery cooks up more than 15 vegetarian options. Dishes like mushroom korma and chicken chili lend credence to the restaurant's award-winning stature, and the full bar offers house specialities such as a hard mango lassi with a flare of coconut, a Royale Salute martini, and a margarita based on the classic Indian nimbu pani.
11114 E Sprague Ave.
Spokane Valley
Washington
509-927-0500
Though it's not uncommon to hear lip smacking at Smacky's on Broadway, that's not how the eatery got its name. It was named after owner Mike's childhood pet monkey. But despite its playful name, Smacky's is serious about sandwich making. Its menu includes french dips, crispy paninis, and twice-baked hoagies. All of these handheld meals are made with fresh-baked bread, save for the selection of wraps, and top-choice black forest ham, roast beef, and slow-roasted turkey.
In 2009, Smacky's moved into a roomy, newly renovated space with wood-paneled walls and an eclectic collection of furniture. Above a big fuzzy green sofa hang an assortment of frying pans, windowpanes, and a map of North America. These seemingly random decorations help create a casual atmosphere, not unlike when a corporation insists its employees wear footed pajamas to the office.
6415 E Broadway Ave.
Spokane Valley
Washington
After making countless lasagnas for their seven children over the years, Lasagna's On Ya owners Dan and Jennifer Shorts decided to bring their homemade specialty dish to the public. Each day, they prepare several types of lasagna--from the classic lasagna with tomato sauce to the mushroom melt with alfredo sauce--and design you-build-it varieties for customers from scratch, tailoring lasagna to be lactose- or gluten-free upon request. The take-and-bake meals pair with salads, artisan breads, and rich desserts that leave a sweeter taste in your mouth than eating Shirley Temple postage stamps.
521 E Holland Ave., Suite 10
Spokane
Washington
Chicken-N-More founder Bob Hemphill moved to Spokane, he brought the flavors of his native Texas with him. Here, white and dark-meat fried chicken perfectly compliment sides such as hush puppies and gumbo, while rolls sidle up to orders of ribs. Sandwiches range from barbecued brisket and pulled pork to farm-raised Alabama catfish, and guests can finish their meal with a peach cobbler or a sweet-potato pie. Chicken-N-More also crafts its own famous sweet-tart Old South Barbeque sauce sauce, sold by the pint.
Inside, you'll find the walls plastered with old pictures, license plates from across the country, and sports jerseys given to the restaurant by local teams. In an interview with The Inlander, Bob said that players from the Gonzaga and Eastern Washington basketball teams eat at Chicken-N-More all the time.
414 1/2 W Sprague Ave.
Spokane
Washington
Laguna Cafe's owners, Dan and Debbie, are avid travelers—and were inspired to create a menu that reflected the cuisine in their travels across the country. At the restaurant, patrons will find a large selection of local craft brews and wines, met with delectable entrees such as veal and beef meatloaf, burgers topped with cheese, bacon, and barbecue sauce, and overflowing cobb salads. While dining, they'll also be met with outdoor seating that overlooks a fountain, and live music weekly.
4302 S Regal St.
Spokane
Washington
509-448-0887
---
---
Restaurant Deals - Recently Expired
---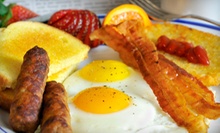 Huckleberry waffles, fried mushrooms, and juicy burgers topped with thousand island dressing and grilled onions
---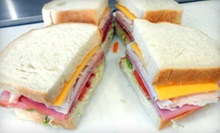 Hand-sliced meats and verdant veggies adorn freshly baked bread at a neighborhood sandwich eatery that also crafts crisp salads
---
---