Restaurants in Coeur d'Alene
---
Recommended Restaurants by Groupon Customers
---
Go Go Burrito fills its kitchen with locally sourced ingredients in order to prepare fresh salsas and sauces daily. The restaurant's "Build Your Own" entrees can be loaded with beef, chicken, pork, steak, rice, beans, and a variety of vegetables. During the ordering process, customers can opt to top off entrees with one of Go Go's fresh salsas or sauces, such as pesto ranch, chipotle, thai peanut, guacamole, or ghost pepper salsa. Patrons can settle down in Go Go's brightly painted dining room or pick up orders through the drive-thru window.
1902 W. Francis Ave.
Spokane
Washington
The menu at Bonsai Bistro and Sushi Bar draws on culinary traditions from a broad swath of East Asia, but many of its flavors get their start closer to home. Familiar recipes from Japan, China, Thailand, Vietnam, and Korea get a regional twist as chefs incorporate organic produce, sustainably sourced ingredients, and locally made tofu into each dish. This widens the scope of the already expansive menu to include such nontraditional items as sushi rolls with heirloom tomato or garlic-citrus sauce. To accommodate diets or personal tastes, the chefs can tailor the spice of virtually any entree, and they can modify many dishes to be vegan-friendly, vegetarian, or gluten-free.
In contrast to the eclectic menu, the restaurant's dining area embraces a spare-and-simple vibe. Concave windows overlook the waters of Lake Coeur d'Alene, and a creek-like indoor koi pond brings the natural world even closer as it wends between wooden tables and dawdling rays of sunshine.
101 Sherman Avenue
Coeur d'Alene
Idaho
When most little boys were hoping to unwrap G.I. Joes or dirt bikes on Christmas morning, Michael DePasquale had his fingers crossed for a Suzy Homemaker oven. From this iconoclastic start, Michael advanced from his toy oven to a job as a dishwasher, then prep cook, then lead cook—and then honed his developing skills at the Culinary Institute of America in New York. In his spare time, he adopted a loyal pet rhode island red chicken and taught it to chase frisbees. After graduating, he honed his craft as head and executive chef at several different restaurants before launching his own eatery.
Fifteen years later, Michael is still cracking eggs and sizzling sausage for the breakfast dishes his eatery serves all day long. Omelets—which convert to scramblers upon request—can be packed with fresh jalapeños, bacon, and sour cream. For sweeter creations, he slathers honey butter onto pancakes, as well as custard-style sourdough french toast. At midday, hand-pressed burgers enter the lists and don cloaks of spicy habanero or barbecue sauce. Diners can lounge on an outdoor patio on summery afternoons, and on colder evenings, they can savor chicken marsala and roasted tri-tip steak amid the dining room's wood-paneled walls.
203 Coeur d' Alene Lake Dr.
Coeur d'Alene
Idaho
The chefs at Pizza Oven hand toss fresh dough to create specialty pizzas available by the slice or whole pie. In addition to creative pies like the Bangkok Bombshell, slathered in thai peanut sauce, chicken, cilantro, and mozzarella, they also make classic bread sticks and garlic bread sticks.
808 W Main Ave., Suite 3
Spokane
Washington
509-838-7716
The Grille from Ipanema, which takes its name from a beach along Rio de Janeiro's picturesque coastline, also draws inspiration from the Brazilian churrasco experience. This type of dining stems from the gaucho tradition of gathering around a fire pit and roasting skewers of meat over the flames.
The eatery's chefs re-create this experience by searing skewers of more than 18 different meats—including top sirloin, pork shoulder, and bacon-wrapped chicken—over a mesquite-filled grill. They then hand the large meat skewers off to servers, who drift throughout the dining room looking for green coasters, which signal that the diner requires more meat. After they're called tableside, the servers carve the meat into individually sized portions with their industrial-strength laser pointers. By flipping their coasters from green to red, guests tell servers to temporarily stop the never-ending meat deliveries, buying themselves time to visit the salad bar and load plates with hot and cold side dishes.
Natural light floods in through the walls of windows, illuminating the dining room's blond-wood finishes and draped fabrics. The Pacific Northwest Inlander praised the restaurant's scenic vantage point in 2011, saying, "you won't get a view of the Rio de Janeiro beachfront but you will get an eyeful of still-impressive Lake Coeur d'Alene."
601 Front Ave., Suite 101
Coeur d'Alene
Idaho
208-676-1122
Mulligan's Bar & Grille comforts bellies with hearty, home-style fare. Nestled inside the Best Western Coeur d'Alene Inn, the restaurant's blond-wood booths host groups of hungry hotel guests, and a fireplace warms sippers under the beige fabric awning of the full bar. The breakfast menu awakens erstwhile dreamers with the scents of jumbo cinnamon rolls, huckleberry pancakes, and six types of omelets. Meaty viands such as burgers and chicken-fried steaks pal around with lighter fare such as chicken-spinach wraps and candied-walnut salads on the lunch and dinner menus, and the prime-rib buffet on Friday and Saturday nights challenges the traditional notion that prime rib should only be eaten on Sundays from a Stetson hat.
506 W Appleway Ave.
Coeur d'Alene
Idaho
208-765-3200 x310
---
---
Restaurant Deals - Recently Expired
---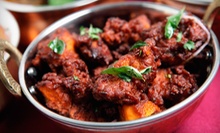 More than 100 traditional Indian dishes, such as vegetable biryani, lamb vindaloo, and chicken seasoned with freshly ground spices
---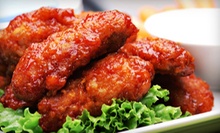 Three dozen sauces and rubs flavor chicken wings, third-pound sirloin burgers don grilled onions and hot sauce, and a slew of draft beers
---
---