Massage in Coldwater
---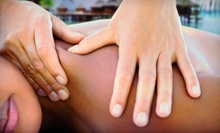 Gliding Swedish strokes assuage tension and imbue a sense of calm
---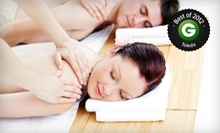 Licensed massage therapists relieve discomfort from pregnancy, injury, and common tension with focused bodywork and skin-soothing add-ons
---
Recommended Massage by Groupon Customers
---
Melinda Smith started dreaming about feet in high school. Confused by the recurring visions, she asked a teacher for advice and began to study reflexology—the practice of gently massaging pressure points along the feet in order to promote well-being across the entire body. Melinda's first encounter with the healing bodywork technique cemented her resolve to study massage therapy, and she eventually founded her own studio with numerous modalities on the menu.
The spa includes four private treatment rooms, each of which is designed to channel one of the four elements (earth, fire, air, and water) that Aristotle discovered with his particle accelerator. The rooms' different energies serve different purposes—with the earth room aimed at relaxing minds and the fire room intended to cultivate inner strength. Outside these rooms, the spa's aestheticians and technicians incorporate botanically derived Aveda products into skincare treatments and paint nails with chip-resistant OPI gel polishes.
5812 Maplecrest Rd.
Fort Wayne
Indiana
260-969-7977
Tonia Patton does not define massage therapy as simply a relaxing treatment, but as a way to heal the body from the inside out. She customizes each session to meet her clients' needs, from an athlete's regular soreness to an office worker's constant tension. By calibrating her kneads, strokes, and stretches, she can help address a host of physical maladies and soothe minds in the process. Tonia's new massage studio surrounds her guests with soothing low light, calm music, and lavender-perfumed air, creating an atmosphere more relaxing than napping in the sun after eating an entire wheel of cheese.:m]]
205 Farnsworth Rd., Suite I
Waterville
Ohio
419-389-2228
Certified massage therapist Kimberly Beneke has trained in multiple massage modalities, which she uses to help her clients to achieve relaxation and chronic pain relief. She studied at the Ann Arbor Institute of Massage Therapy, earning certifications in neuromuscular massage, myofascial-release therapy, Swedish massage, prenatal massage, and bubble-wrap-popping therapy. Kimberly customizes sessions to each client's needs and crippling moisturizer phobias, integrating techniques from various massage forms into the treatment. She is a member of the Associated Bodywork & Massage Professionals and strives to continue her education by constantly learning new techniques and pursuing additional certifications.
180 Jackson Plaza
Ann Arbor
Michigan
810-922-7229
The team at Lumina Sanare Healing Center relieves stress and spurs the body's healing processes with holistic therapies inside a spacious, wood-floored center. The menu of services speaks to a penchant for both physical and mental healing. TMJ treatments relieve tender jaws, and respiratory steams coax congestion and unwholesome daydreams from sinus cavities. Lumina Sanare's dole of therapies extends to acupuncture, facials, and a mastery of reiki, a technique that plies the body's electrical fields to alleviate pain and stress.
201 E Liberty St., Suite 23
Ann Arbor
Michigan
734-646-8105
As a child, Elizabeth Meixner enlisted her mother to lie still for hours at a time so that she could work out her muscle-manipulating technique. Years later, ensconced in the high-stress world of business, Elizabeth longed for the freedom to be her own boss, and, more importantly, to have a schedule that would give her the flexibility to be home for dinner with her three kids. Using the skills she honed as a girl as well as earning the title of certified massage therapist, Elizabeth escaped the hustle and bustle and began hauling her massage table from house to house. It wasn't long before she set up her own space. Certified in therapeutic, myofascial, and prenatal massage modalities, Elizabeth deploys years of experience behind each knead and stroke as she unties knots in backs strained from entering homes via cat doors.
180 Jackson Plaza, Suite 219
Ann Arbor
Michigan
734-444-8219
After graduating from Fort Wayne's own Center for Vital Living, Vicki Salzbrun opened her massage-therapy practice at the stunning Lotus Yoga, Wellness, & Gallery. With her 800 hours of massage study and 200 hours of training as a yoga instructor, Vicki fit right in with the center's cooperative of wellness professionals, all of whom specialize in fields such as personal training, chiropractic care, yoga, and massage.
The huge, airy studio—whose walls hold numerous pieces of eclectic contemporary art—continues to serve as the home of Vicki's massage-therapy business, Full Circle Wellness. Balancing this business with full-time studies at IPFW has taught her to attend to her own wellness as she shoos away stressors that arise from work and school. She imparts these stress-management skills to clients in wellness assessments that analyze the body and mind to help develop achievable lifestyle goals. To further demonstrate her breadth of knowledge, Vicki also heals energies with Japanese reiki therapy, guides students down meditative pathways during private yoga sessions, and periodically challenges her fellow yogis to interminable games of Twister.
1301 Lafayette St. , Suite 205
Fort Wayne
Indiana
260-499-1314
---