Things to Do in College Park
---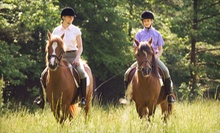 Gentle, encouraging instructors strengthen bonds between riders and horses during a brief lesson before taking students out on the trails
---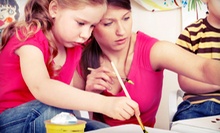 Summer art camp immerses kids in a week of creativity-stoking projects, including painting and paper mâche
---
Recommended Things to Do by Groupon Customers
---
Known for guiding the women of The Real Housewives of Atlanta through ab-strengthening moves, the instructors at the Nazeem Allayl Belly Dance Studio started as a professional dance troupe before opening a studio in 1999. Now with 32 classes offered under one roof, the Nazeem Allayl Belly Dance Studio aims to boost the self-confidence of its all-female students during drop-in Shimmy Fit classes and five-week technique courses. Instructors disguise calorie-blasting exercises with engaging choreography so that students can tone muscles without spending the day trying to slip an oiled-up pig into a wetsuit.
1394 Mc Lendon Ave Ne
Atlanta
Georgia
US
For beginning suitors to the zoot, try the Swingin' From Scratch course, with upcoming sessions from May 5-26 (on Wednesday evenings) and June 7-28 (on Monday evenings) at Firefly Studio in Decatur. Learn how to move from certifiably passionate swingers (of the dance variety) as they lead novice feet around the room for an hour. Other class options include courses in Balboa, jazz and blues steps, along with Lindy Hop and Charleston sessions for those who have already completed their intro to swing. Whatever class you choose, you'll cut rugs with newly honed shoe-scissors to classic rockabilly, R&B, and other swing-era music. Beginners will quickly learn how to juke and flow around the room like turn-of-the-century dance machines with modern flair, while more advanced students may discover that they still have a thing or two to learn. Sign up with your special sidekick or recruit your clone for a weekly boost in energy, confidence, and foot workability.
1026-C Atlanta Ave
Decatur
Georgia
Pierce Yoga offers a range of yoga courses, but is particularly well-known for its popular pre- and post-natal yoga courses, which help baby-laden women adapt to the tidal wave of hormones and progress through each stage of their pregnancy by improving their breathing, flexibility, endurance, and mental focus. The benefits of yoga can continue after your offspring joins the world with Pierce's mother/baby yoga, where mothers can strengthen their emotional bond with infants 7–12 months old. The class will also gently stimulate baby's mind and body before it has a chance to discover reality TV and Cheetos. For the unimpregnated and impregnable, Pierce also offers classes from beginning techniques to intermediate, along with more specialized sessions such as yoga with free weights and the Pranayama course, which focuses on breathing.
1164 N Highland Ave. NE
Atlanta
Georgia
---