Restaurants in College Park
---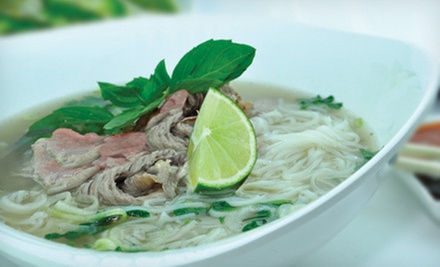 ---
Recommended Restaurants by Groupon Customers
---
By the 1940s, Mama Ayesha Abraham had already established herself as a successful young farmer in Jerusalem. But instead of adding to her more than 20 farms, she decided to move to the United States, where she found work in the kitchen of the Syrian Embassy. After many years and countless orders for Capital Hill's elite, she opened a restaurant called Calvert Café.
Today, her nephews and great nephews manage the restaurant, which has been renamed Mama Ayesha's and has been family-owned-and-operated for more than five decades. But her presence is still felt. Her recipes are used to make the eatery's kebabs and Middle Eastern dishes, and her image appears outside the restaurant on a large mural that also features several recent presidents and one from the future.
1967 Calvert St. NW
Washington
District of Columbia
202-232-5431
Charcoal-heated grills sear hearty kebabs of halal meats at Afghan Kabob House, flooding the restaurant with the scents of roasting chicken, lamb, and beef. To accompany the skewers, cooks toss together leafy salads, bake pillowy naan in a tandoor-style oven, and unite seasoned rice with saffron or carrots and raisins. The menu also boasts 20 different flavors of shisha for its hookahs, which encourage diners to lounge around after their meal and practice forming the perfect ring or Möbius strip out of smoke.
2045 Wilson Blvd.
Arlington
Virginia
703-294-9999
Aromas of waft from Asia Bistro's busy kitchen, wrapping around stone fountains and lush potted plants to delight noses with hints of marinated short ribs and ginger salmon. Diner's eyes widen as the heaping plates grace their tabletop or bar top—as they hold a lychee martini in one hand and chopsticks in the other—before slurping up soupy udon noodles or spicy tuna rolls. Bento boxes quickly find themselves bare as eaters nibble on pickled kimchi and tempura while listening to the Wednesday and Thursday night live music performances. Come warm weather, guests indulge in fresh sashimi as the carnivorous mermaids once did, in the open air of an outdoor patio.
1101 South Joyce Street
Arlington
Virginia
703-412-0822
While Axian Food Factory's intercontinental menu reinforces the idea that in some ways the world has become smaller, it also reminds us that our planet is still full of diverse flavors. The offerings waffle between classic Americana dishes—such as Baltimore Ruebens and Italian hero sandwiches—and pan-Asian dishes, including Japanese yakisoba noodles and Korean bibimbob rice bowls. The joint also caters events. Its eclectic menu provides guests with plenty of options to suit their specific cravings, so they don't have to rudely order in their own personal bucket of meatloaf.
1915 I Street Northwest
Washington
District of Columbia
202-293-1425
The aromas of wood-smoked ribs, fresh cut green beans, and house made potato salad fill the kitchen at Inspire BBQ where chefs work alongside local high school students. The restaurant takes its name, "Inspire," from its goal to motivate students interested in the culinary arts to achieve their dreams with real life kitchen experience and cooking lessons.
650 H Street Northeast
Washington
District of Columbia
202-391-0741
In 1988, Haydee and Mario Vanegas realized their lifelong dream of owning and running their own restaurant. With Mario running the kitchen and Haydee manning the bar, the entrepreneurial duo share the flavors of El Salvador through a menu that puts traditional fare, such as sizzling shrimp and steak fajitas, alongside American classics, such as buffalo wings. Live music plays throughout the week, a dance floor hosts leg-shakers, and Sunday karaoke sessions let crooners exhibit their golden pipes as they sing through a medley of all national anthems.
3102 Mount Pleasant St. NW
Washington
District of Columbia
202-483-9199
---