Restaurants in College Park
---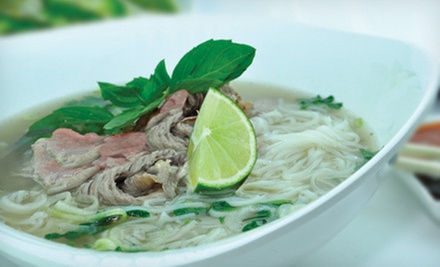 ---
Recommended Restaurants by Groupon Customers
---
Fiesta is about celebration. That's evident not only in its spirited ambiance and modern murals of masks and trees, but also in its diverse menu of Latin-inspired dishes designed to evoke the bustling life of the American Southwest. Decorating the tables are multicolored runners and jazzy plates of steaming Tex-Mex tapas revved up with spicy lime, mango purée, and orange-cardamom beurre blanc. Patrons can sip on margarita pitchers and sangria while noshing on authentic mexican tacos and enchiladas, or offer themselves congratulatory chest bumps in one of the eatery's many full-wall mirrors.
1327 Connecticut Avenue Northwest
Washington
District of Columbia
202-659-1544
At the age of 12, Thasana Midee would sit alongside her mother in the kitchen of their Bangkok home, roasting and grinding spices together. Thasana now roasts her own colorful spices in the kitchen at Heritage Asia and then sprinkles them over thai curry, noodle, and stir-fried dishes. House specialties include korean sesame beef as well as grilled lemongrass saigon pork over vermicelli, introduced by starters of spring rolls and chicken wings stuffed with crab meat, shitake mushrooms, and spring onions.
Vibrant touches also punctuate the dining room's decor, with golden walls hosting kaleidoscopic paintings and colorful throw pillows supporting patrons at booth seating.
2400 Wisconsin Ave. NW
Washington
District of Columbia
202-333-3120
By the 1940s, Mama Ayesha Abraham had already established herself as a successful young farmer in Jerusalem. But instead of adding to her more than 20 farms, she decided to move to the United States, where she found work in the kitchen of the Syrian Embassy. After many years and countless orders for Capital Hill's elite, she opened a restaurant called Calvert Café.
Today, her nephews and great nephews manage the restaurant, which has been renamed Mama Ayesha's and has been family-owned-and-operated for more than five decades. But her presence is still felt. Her recipes are used to make the eatery's kebabs and Middle Eastern dishes, and her image appears outside the restaurant on a large mural that also features several recent presidents and one from the future.
1967 Calvert St. NW
Washington
District of Columbia
202-232-5431
Charcoal-heated grills sear hearty kebabs of halal meats at Afghan Kabob House, flooding the restaurant with the scents of roasting chicken, lamb, and beef. To accompany the skewers, cooks toss together leafy salads, bake pillowy naan in a tandoor-style oven, and unite seasoned rice with saffron or carrots and raisins. The menu also boasts 20 different flavors of shisha for its hookahs, which encourage diners to lounge around after their meal and practice forming the perfect ring or Möbius strip out of smoke.
2045 Wilson Blvd.
Arlington
Virginia
703-294-9999
Before guests to Japone—or its less-formal sister eatery, Café Japone, located upstairs—even take their first bites, they notice the restaurant's unusually colorful environment: an attached lounge area dubbed Sango Sho surrounds patrons in oceanic hues and fiber-optic luminescence, and regular DJ performances keep toes moving so that they don't get caught by a shark. Karaoke kicks off at 9:30 p.m. every night in both Japone and Café Japone, giving guests two places to show off their pipes on a continually updated list of the latest hit English, Japanese, and Spanish-language tracks.
To keep mouths happy, Japone's French-trained chef fuses Japanese and French flavors. Entrees include curried jumbo shrimp and scallops, plated with fresh veggies, japanese mushrooms, and a dollop of rice, while sushi specialties include the Arizona roll with shrimp tempura and carrot.
2032 P St. NW
Washington
District of Columbia
At Hikaru Sushi, seasoned chefs mold the sea's freshest specimens into more than 70 types of maki and nigiri. In addition to constructing classic California rolls from crab sticks and cucumbers, they whisk taste buds to the frontier of the sushi realm with colorful fruit maki and a deep-fried Virginia roll stuffed with asparagus, cream cheese, and yellowtail. The eponymous Hikaru bento box pairs a choice of five sushi rolls with hot teriyaki and an Asian amuse-bouche such as gyoza or shumai, and the Hikaru maki teams crispy shrimp tempura with a mayo that has more kick than a Rockette who took tae kwon do lessons as a child. To end the meal on a sweet note, guests can nibble desserts such as mango sherbet and tempura ice cream on the restaurant's outdoor patio.
2200 Wilson Blvd., Suite 103
Arlington
Virginia
---