Coffee & Treats in College Station
---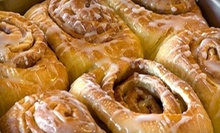 Use Sunday 8:00am - 2:00pm
---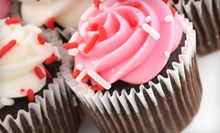 S'mores-flavored cupcakes, white-chocolate-macadamia-nut gourmet cookies & coconut-craze cake truffles satisfy even sweetest of teeth
Use Today 10:00am - 6:00pm
---
Recommended Coffee & Treats by Groupon Customers
---
Zhi's fine teas are lovingly hand-selected by the owners, each of whom has three hands to more lovingly hand-select. Zhi is sure to please any teaophile with its comprehensive catalog of white, green, oolong, black, flavored, and herbal teas. If you're looking for an exotic cup of Sweet Desert Delight ($14.50 per 4.2-oz tin), an afternoon slurp of sweet and nutty Genmaicha ($14.50 for 4.5-oz tin), or a soothing sip of Restful Blend ($13.50 for 2.8-oz tin) before bed, Zhi will hook up your leafy hankerings. Zhi Tea is also a great resource for tea newbies: the friendly owners are happy to make recommendations, and offer sniffs and sample sips of their wares. Zhi Tea also offers a new sit-down tea service with locally baked artisan goods.
4607 Bolm Rd
Austin
Texas
US
It's Tuesday morning, which means the members of The Yogurt Experience's staff are loading up the trailer with cups, waffle cones, drinks, and frozen yogurt for another day of cooling off the city. Once the trailer is stocked, it accelerates toward the North Austin Trailer Yard to nab a parking spot amid the 10,000-square-foot traffic jam of food trucks. Typically, the staff selects a few frozen-yogurt flavors to highlight each day, from thin-mint cookies to blueberry-acai tart to cheesecake made with no added sugars. They repeat this process every day except for Monday, returning their non-fat, low-fat, and sorbet treats to the storefront each night so no kiddie cones get arrested for breaking curfew.
200 University Blvd.
Round Rock
Texas
512-291-7249
Cake balls combine the airy, familiar texture of cake with the appearance of a large truffle, just like a PBR can stuffed inside a pheasant. The lineup of deadly good delectables includes red velvet with sweet-cream buttermilk and Valrhona cocoa, an Italian crème shaggy with coconut and diced pecans, and Montmorency cherry almond. The availability of some flavors may vary based on demand.
7950 Anderson Square #104
Austin
Texas
Kick Butt Coffee's ebullient owner Thomas Gohring—who also owns and operates a tai chi and kung fu dojo—shatters expectations of stale coffee and rock-hard scones by using only the finest Arabica beans, grown and raised at Earth's loftiest altitudes. Start the midnight off right with a double espresso shot ($1.99) or a mint mocha ($4.39+). Since breakfast is the most important meal for any day of side-scrolling action/adventure, the café menu matches the martial-arts motif of its beverage selection, along with an in-store supply of street-fighting necessities. Pick up an order of actual throwing stars ($3.99) with a croissant ($1.99+), or pair a pair of nunchucks ($11.99) with a cranberry muffin ($1.99+). For a more potent power-up before facing the level boss, the Kick'n chicken salad Samich offers up a generous portion of protein so spicy that the shop suggests serving it with a soda, slice of cheese, or a tongue-sized fire blanket ($7.99).
5775 Airport Boulevard, Suite 725
Austin
Texas
512-454-5425
Locally-owned and operated Fresh Cup Frozen Yogurt features a wall mural featuring a depiction of Austin and next to a vivid green-tiled wall with embedded self-serve yogurt stations, a nook packed with cups marks the starting point for three-step yogurt creation. First step: Grab a cup—a helpful instruction for overly excited patrons who think the yogurt levers work like water fountains.
Step two: Fill it up. With six different machines that collectively supply 12 flavors and 6 twists, customers can create any desired mix. Flavors range from nonfat mango sorbet to low-fat Heath toffee crunch. The fresh yogurt also includes live and active cultures to contribute to healthy digestive and immune systems.
After each cup holds a sufficient swirl of yogurt, more than 50 fruit, candy, and other toppings add tasty weight to the frosty concoctions, which leads to the third and final step: Weigh and pay. Smash the yogurt in your face and enjoy.
13000 N IH 35, Bldg. 11, Suite 116
Austin
Texas
512-339-1333
The founder of The Juice Spot found the healing powers of raw, pressed fruit and vegetables after several years of abdominal pain and his eventual diagnosis with Crohn's disease. Today, his disease is in remission, and for that he credits his strict diet, which contains mostly raw, pressed juice. His own success inspired him to dedicate himself to helping others heal themselves with the vitamins and minerals found in pressed juices, instead of encouraging them to swallow tin cans filled with spinach.
The Juice Spot almost hums with energy, with vibrant orange, green, and yellow walls that mimic the local and organic produce that fills its fridges, such as fresh carrots, leafy kale, and tangy lemons. Guests can sip on made-to-order freshly pressed juices or smoothies, or pick up carefully curated juice cleanses that last one to three days.
12400 N IH-35, Suite 121
Austin
Texas
512-832-5533
---