Photography & Portraits in Collingswood
---
Photography & Portrait Deals
---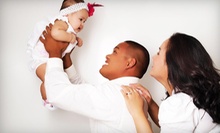 Experienced makeup artists gussy up models of all ages before photographers snap well-framed, artistic images in a professionally lit studio
Use Sunday 11:00am - 7:00pm
---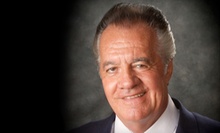 Graffiti writer-turned photographer Flint Gennari brings hip perspective to professional headshot photo shoots
Use Today 9:00am - 9:00pm
---
Recommended Photography & Portraits by Groupon Customers
---
Lively photographers play off their high-energy subjects, moving around the studio as families, kids, and pets laugh, play, and display their natural character during relaxed in-studio portrait sessions. While cute and cuddly subjects often light up PortraitBug's flashbulbs, the photographers welcome a variety of other subjects, from families and expectant mothers to professionals in need of resume-worthy headshots and teens looking for the right glamour shot for their social-networking profiles. A link to a password-protected gallery grants continued, unlimited access to any previous shoots, shareable with friends and relatives for direct viewing and ordering.
2466 Broadway
Manhattan
New York
US
Upgrade the framed family photos that have been hanging in your parents' home for the past 600 years. With today's Groupon to ADC Photography, $20 gets you an in-studio session (a $150 value) and an 8x10 print (a $65 value), plus 25% off any additional a la carte prints (discount not valid for collections). Now that you aren't riddled with acne or plagued with a six-year-old's gummy smile, split the cost with your sibs and surprise your folks with a more up-to-date snapshot just in time for the holidays.In 1978, amateur bat photographer Gregory Hansen was in his front yard one night when a mysterious white orb appeared in the sky over his home. Diverting his attention from a particularly active nest of eptesicus fuscus, he began photographing the orb, which made no attempt to flee or conceal itself. Hansen continued to document the orb as it reappeared over his house, each night shrinking slightly "as though passing slowly into the spirit world," Hansen observed. On particularly cloudy nights, the orb would not be present, prompting Hansen to speculate that ghosts may be allergic to thunder.
26 S Maple Ave.
Marlton
New Jersey
US
Get a picture that will forever preserve your nubile physique and uncanny resemblance to a certain pop star with today's Groupon to Crane Photography. For $50, you'll get a two-to-three-hour outdoor photo shoot or studio portrait session, a $150 value. You'll also get an 8"x10" print and an opportunity to order additional prints for 25% off normal print pricing. (See "Investment" on the website for print prices). Your photographer will travel within a 40-mile radius of Medford, NJ, in a refrigerator with wheels; locations outside the radius will incur an additional $50 fee per 30 extra minutes of driving each way.
6 Haynes Creek Ln.
Medford
New Jersey
US
PhotoLounge's team of experts will keep the process simple, so you can indulge your creativity to its fullest. You'll have your choice of five exclusive CAMEO Style cover designs (including a window option), all of which were made in Rhode Island by a classic New England bindery. Each page fits between one and four photos, so your 10-page book can hold up to 40 pictures. You can also insert personalized captions on each page and cover page, so that you won't forget which of your kids is which. Besides being made out of archival-quality pages, covers, and glues, your photo book will be post-bound and expandable, so you can add as many pages as you like, whenever you want (additional pages $1.50 each). Look here for a demonstration of the personalized process of creating the photo book.
1909 Chestnut St.
Philadelphia
Pennsylvania
To achieve a style that it describes as "fine-art photojournalism," the boutique studio employs an award-winning team of photographers and videographers. Instead of churning out the usual stand-and-smile wedding shots, Funico's crew focuses on capturing the little moments, the candid moments of laughter and tears, the subtle gestures of a deep, abiding love, and the living, breathing human rhythm of your celebration (see here for examples of recent engagement photos). After your shoot, you'll receive a webpage with a slide show set to music and an online gallery to share with loved ones, plus two high-resolution images of your choice that you can treasure forever and reprint as often as you like—use them for save-the-dates, wedding invitations, or to blow up for life-sized cardboard cutouts of yourself for your living room. To reserve your slot, make sure to contact Funico Studios at least seven days ahead of time.
363 E 76th St
New York
New York
Creative Photography by Maya's staff of professional shutterbugs will happily accommodate families, children, families of children, pets, and triumphantly posed statues during the in-studio photo session. The fully equipped studio provides several backgrounds from which to choose. The classic white can be used for a quick passport photo before the entire fam poses for a heartwarming family scene around the Christmas tree in the Christmas Morning backdrop. Likewise, graduates, high-school seniors, newlyweds, and soonlyweds can beam sunnily before a Garden View, Perfect Sky, or slightly less popular Ragnarök backdrop. There are even huge plastic crayons and other foreground props for your giant pet scorpion to wave around as the cameras flash. After your session, you'll receive a DVD containing full-resolution versions of all photos and a photo-release form enabling you to print, publish, and share them.
692 West Street Road
Feasterville
Pennsylvania
---