Restaurants in Collinsville
---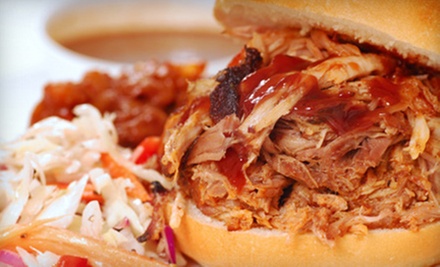 ---
Recommended Restaurants by Groupon Customers
---
At Lebanon's community-centric DQ Grill & Chill, the signature Blizzard attracts a loyal following with its mingling of classic candies and other toppings blended with ice cream. The friendly, family-run staff loads real fruit into premium fruit smoothies and piles scrumptious toppings and confections onto soft-serve Royal treat sundaes. An array of predecorated cakes is encapsulated within the in-store freezer case, and DQ staffers can also design custom slogans for cakes, such as "Happy Birthday!" or "No Pets Allowed." In addition to its diverse population of creamy desserts, several of which are dairy-free, the treatery doles out savory bites such as chicken-strip baskets and hamburgers.
412 S Madison St.
Lebanon
Illinois
US
618-537-2032
In the family-style dining room at LuBar & Bistro, chatter from an underground bar, full-service bar drifts up the stairs, hinting at hidden revelry. A brick oven for pizzas spills warmth out across the open space, skilled hands craft Italian ice cream, and spoons click against pots of housemade barbecue sauce, dressings, and marinara. Servers cruise by, transporting sandwiches and gluten-free options down to the underground lounge, where neon darts in ghosts of blue and pink off of a forest of bottles and a gleaming marbled bar. Bartenders mix drinks, ice clicking to punctuate tunes on the jukebox and occasional live music. As patrons lower glasses full of suds from Sam Adams, Hoegaarden, and Smithwick's, big-screen TVs show sporting events and a soon-to-arrive cadre of video games—including Golden Tee—promise digital thrills. On Saturday and Sunday mornings, a breakfast buffet beckons to early risers from 8 a.m. to noon.
911 Fairfax St.
Carlyle
Illinois
618-594-6333
Beneath a bright orange awning at the canine-friendly Bici Cafe, friends can dine alfresco and enjoy the fresh air while a dog lounges at their feet, dreaming of growing opposable thumbs and finally eating salad gracefully. Inside, forks travel to mouths freighted with ravioli, portobello mushrooms, and mascarpone cream sauce, a dish that earned chef-owner Steve Werner a mention on stltoday.com.
7401 Pershing Ave.
St. Louis
Missouri
US
314-721-8484
In his 2010 review, Riverfront Times reporter Ian Froeb revealed the origin of Ernesto's Winebar's distinctive name. Instead of honoring a chef or long-lost relative, the name pays homage to the owners' love for Ernest Hemingway's simplistic style. Chef Stephanie Hay has risen to the challenge, translating the clean complexity of The Sun Also Rises or the masculine energy of Green Hills of Africa into a menu of tapas and hearty entrees. Diverse flavor profiles mimic Papa Hemingway's wanderlust, corralling global flavors including chili lime, wasabi tobiko, and even red pepper sauce to create festive tapas such as the truffle-infused grilled cheese, which was named the best grilled cheese of 2010 by Riverfront Times.
The cheese-and-charcuterie menu details hearty repasts from all corners of the globe, with plates of smoky blue cheese from Oregon and salchichón white pork from Spain joining notes of green peppercorn, tomatillo, and even brown sugar for nods to Latin America and the Mediterranean. Ernesto's has also gone to great lengths to locate wine varietals from France, Germany, and Spain for pairing with large steaks and seafood entrees delicately sautéed in a wide array of wine sauces.
Ernesto's butter-hued walls appear to melt in the light from wall sconces and flickering red candles. Above lush hardwood paneling, several framed photographs offer a glimpse of Hemingway at his most virile––aggressively writing at his desk, and using a large steak as a body pillow. For a touch of warmth during fall weather, patrons can also retreat outdoors, where a mammoth brick fireplace casts rich glow on Ernesto's sleek cobblestone patio.
2730 McNair Ave.
Saint Louis
Missouri
US
314-664-4511
If you follow the right cobblestones on the Landing, you'll end up in front of Jake's Steaks, an eatery known for serving steaks, barbecue, and burgers within a T-bone's throw of Sidewinders Saloon. As the name implies, the focus is on steak. The culinary crew collects wet-aged Angus beef to create artistic interpretations of meat—cowboy rib eyes with perfect marbling, for instance, and Kansas City strip steaks topped with house butter. Their magnum opus is The Bull, a 25-ounce bone-in fillet that, if finished, earns the eater a spot on the Wall of Fame and a new accomplishment to include on their Viking resumé. The kitchen also churns out dry-rubbed barbecue ribs and pulled-pork sandwiches made from meat infused with flavors from the steak house's own round-the-clock smokers.
Jake's stands just in front of Sidewinders Saloon, a bar that dispenses a bevy of tequila and beer. Throughout the week, the bar hosts theme nights with live music and karaoke, and on select nights holds the doors open until 3 a.m. The building's close proximity to Busch Stadium and The Arch make it a prime spot for postgame celebrations or steak-tossing competitions on the banks of the Mississippi.
708 N 2nd. St.
St. Louis
Missouri
US
314-621-8184
Inside Coco Louco Brasil's dining room, swirls of aromatic steam dance above platters of fresh seafood and meat skewered and grilled in the traditional Brazilian churrasco style. From behind the full bar, the restaurant's mixologist tops off glasses with cocktails, including the signature Brazilian drink known as the caipirinha. Most weekend nights, a host of live musicians entertain patrons with music ranging anywhere from traditional Brazilian samba to modern pop to playing the Canadian frog xylophone.
512 N Euclid Ave.
St. Louis
Missouri
US
314-367-1600
---