Colorado Springs Outdoor Activities
---
Outdoor Activity Rewards Deals - Use Anytime
---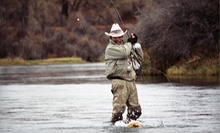 Shop helps clients to stock up on lures, rods, and apparel, and experienced guides take groups out in the water for a fly-fishing trip
---
Recommended Outdoor Activities by Groupon Customers
---
Today, Challenge Unlimited captains biking and hiking tours all over the globe, from the vineyards of Tuscany to the Incan towns of Peru. More than two decades ago, however, the business was simply known in Colorado for its signature Pikes Peak by Bike tour. During this 20-mile excursion, guides and up to 35 followers descend 20 miles from a summit of 14,110 feet, infiltrating five zones with distinct climates, plant life, animals, and altitude-based baking methods. Riders often encounter eagles, deer, elk, and even the occasional mountain lion or black bear along the way. Guides can also escort Colorado's athletes across the Gold Camp Road—a 17-mile railroad bed once rattling with railcars filled with gold—and through breathtaking Aspen groves. Pit stops are made over the course of three nights and four days at the Victorian Hotel and a nearby dude ranch. Beyond domestic borders, international trips explore Nepal's Annapurna Foothill on foot and the bustling pubs and haunts of Ireland by bike or skateboards strapped to sprinting leprechauns.
204 S 24th St.
Colorado Springs
Colorado
719-633-6399
Helmed by a staff of 15-year veterans, Allstar Paintball lets pigment-powered gunsmiths run wild across a five-man indoor field situated within a 12,000-square-foot facility or on the exciting terrain of the newly opened outdoor field. After strapping on safety gear, filling tanks with CO2, and loading Tippmann 98 hoppers, players maneuver across turf, crouch behind inflatable bunkers, and blend seamlessly into kindergarten art displays as they blast nonstaining, easy-break paintballs in the direction of opposing players. As all-day play unfolds, the facility's veteran referees mix up field patterns to avoid repetitive rounds and monitor each contest to ensure participants compete against visitors of similar age, ability, and devotion to abstract expressionism. Off the field, spectators can check email and live blog battles with complementary WiFi, or admire the paint-splattering play from behind protective netting. To crank up the competition, Allstar Paintball also plays host to friends and frenemies during birthday parties, corporate outings, and oddly vengeful retirement sendoffs. The facility boasts a 5,000-square-foot area replete with chairs and picnic tables for birthday cake cutting and other celebratory activities.
400 S Sierra Madre St.
Colorado Springs
Colorado
719-287-2582
---