Colorado Springs Spa and Massage
---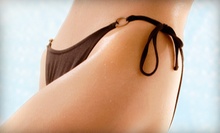 Trained expert removes all hair from the nether regions, front and back, in a funky salon with purple walls and brocade accents
---
Recommended Spa & Massage by Groupon Customers
---
Within a renovated church, owner Sarah Kendall styles hair with the skills that made her an educator for TIGI, Phyto, and Kydra. A plaster angel reminiscent of the Winged Victory of Samothrace hangs illumined on the salon's golden walls, hovering over spacious styling stations fully equipped with full-length mirrors and cabinets. Private treatment rooms welcome guests with spa treatments that include massages and facials. In the lobby, clients seeking to take home supplies to maintain their hair treatment or facial can browse a cabinet full of designer products by the light of glowing stained-glass windows.
2918 Beacon St.
Colorado Springs
Colorado
Structure Therapeutic Massage and Body Work owner and founder Jeanette Falu-Bishop began her massage-therapy career on U.S. military bases in Germany, where she provided more than 1,000 hours worth of massages for wounded servicemen. In recognition of her dedication and work, Jeanette received a Presidential Volunteer Award in 2006, signed by former president George W. Bush. Today, she and her staff mollify muscular discomfort with soothing therapeutic treatments and relaxing massages in a variety of modalities, including deep-tissue, Swedish, sports, and hot-stone therapy. The team uses refreshing essential oils to complement treatments, which can increase blood flow, improve skin tone, promote joint flexibility, and restore the body's ability to escape awkward situations by melting and seeping under door cracks.
2107 Templeton Gap Rd., Suite D
Colorado Springs
Colorado
719-358-8653
Owner Tiffany Kadrmas leads a squad of trained nail technicians to pamper patrons with services that landed Salon 21 on Colorado Springs Independent readers' list of top nail salons five years in a row. But it is not just manicures and pedicures that dazzle clients within the vibrant orange walls of the salon. Expert cuts transform manes into trendy 'dos, and Brazilian blowouts leave locks lustrous for up to 90 washes, which loosely equates to a time span of three human months or infinite yeti years. Salon 21 even has a special air purification system specifically designed for removing the small amount of formaldehyde vapor released from the Brazilian process. In addition, their tanning beds bronze skin and brow waxes keep eye awnings artfully arched.
2119 Templeton Gap Rd.
Colorado Springs
Colorado
719-633-8480
Whether trimming tresses, highlighting strands, or adding feathers to hair, stylist Angie knows she's doing what she loves. At Shear Imagination, she shares in her passion with zeal, using salon-trusted haircare brands such as Neuma and Kune and continually pushing herself to find new and unique ways to help her clients express themselves through their styles. In addition to her creative coloring and styling work, she also offers facial waxing to uncover sleek, curvaceous eyebrows or remove unwanted facial fuzz, which she hopes makes her clients feel more confident and beautiful. When weddings, proms, or other formal occasions crop up on the horizon, the stylist's aesthetic talents in formal-event styling—one of her specialties—give any client a new lease on glamour.
1011 Kelly Johnson Blvd., Suite 112
Colorado Springs
Colorado
719-651-6577
Every treatment at Serene Serendipity: face to face, LLC begins and ends in a private suite with decorative candles and soft music foreshadowing the pampering to come. Here, a licensed aesthetician revives tired skin with treatments that incorporate various serums, masks, and techniques. For instance, the 90-minute relaxing luxury spa facial relies on steam to open pores, rotary brushes to dislodge toxins, and various massage techniques to keep the therapist's hands from high-fiving each other. The butter back body J-Lo glow treatment, on the other hand, renders skin soft and radiant through thorough exfoliation and a moisturizing seaweed wrap. On top of these lavish treatments, the center also offers microdermabrasions and waxing with soft and hard waxes from GiGi and Berins, respectively.
850 Descendant Dr.
Fountain
Colorado
719-641-7206
As children, we often fantasize about opening a business with our best friend. As adults, we rarely follow through with our childhood dreams. But there are always exceptions. Amanda Dani Hernandez and Brittany Ann McMullen, friends since elementary school, made their joint spa-owning dream come true. After both attended beauty school, the ladies polished their skills while working together at a spa in Breckenridge. A few years later, they decided to combine their talents and launch Colorado Mountain Day Spa in their hometown.
Before officially opening their spa's doors in 2011, Amanda and Brittany carefully designed the space with a unified mountain theme. Each of the four treatment rooms embodies the essence of one season, and the Garden of the Gods–themed bathroom features floral accents and iconic red rocks. While enjoying luxurious spa services such as facials, massages, and body wraps, clients also relish soothing spa sounds ranging from flowing rivers to birds politely requesting that worms come to the table for dinner.
2159 N Academy
Colorado Springs
Colorado
719-494-9534
---