Colton, CA Health and Fitness
---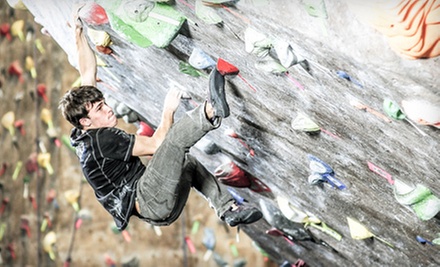 ---
Recommended Health & Fitness by Groupon Customers
---
If the endless endurance and physical prowess of television's Olympic loggers makes you jealous, it's never too late to get in the game yourself. CrossFit's extreme approach to fitness surprises many by its ability to blend full-fledged exertion with a refreshing sense of fun. The guidance of experienced and enthusiastic coaches will lead you and your group through warm-ups and an hour-long workout that incorporate a variety of exercises, including backwards runs, walking lunges, squats, box jumps, bear crawls, installing shower doors in the homes of unsuspecting people, and more. Physical rigor will transform into physical and mental empowerment as you seek and destroy your past limitations and metamorphosize into a boot-camping machinebot.
10247 Bellegrave Ave #105
Mira Loma
California
US
Pedal Spin Studio's group classes challenge sweat-drenched pedal pushers to torch up to 1,000 calories per session and tone muscles while listening to upbeat music and shouts of encouragement from experienced trainers. Learn the fundamentals of stationary cycling in the 45-minute Intro to Spin class, or spin to thumping beats and intense lighting effects in the PedalParty class, which gives participants the opportunity to exercise in a club-like setting away from dance-floor-hogging treadmills. Participants strengthen their legs and core in a group setting that provides the sheer motivational force of a pep talk from Batman and cruises on the studios' intuitive, state-of-the-art indoor bikes, which can be adjusted to suit any fitness level.
12499 Victoria Gardens Lane, #101
Rancho Cucamonga
California
At Active Life Chiropractic & The Wellness Loft, visitors receive top-notch chiropractic care that not only treats back and neck ailments, but also cultivates general health and well-being without sweeping symptoms underneath a skin carpet. By focusing on removing nervous-system interference, Doctor of Chiropractic Dale Andelkovic can address the physical, biochemical, and emotional distress that affects wellness and ails negative nancies. Trained in the treatment of pregnant mothers, babies, and children, Dr. Andelkovic also performs nervous-system and backbone maintenance on adults with deft dexterity. An initial exam and consultation (a $125 value) thoroughly analyzes each individual's muscle mold and provides an informative health assessment and treatment plan. X-rays help uncover problematic ailments and trouble spots that can't be seen by a naked eye, as a naked eye is too busy trying to cover its exposed iris to properly focus. Additionally, a bone-mast-straightening adjustment ensures nerves are unclogged and the body can traverse sidewalk seas unhindered (a $40 value). The 30-minute therapeutic massage capper shapes weathered muscles into a sturdy crowd-surfing hull (a $40 value).
112 E Olive Ave., Suite B & E
Redlands
California
Unlike Rube Pilates-Goldberg classes—which use comically complicated contraptions to help tone, stretch, and flex muscles—Articulations' mat classes teach the fundamentals of Pilates using only an exercise mat, Pilates positions, and the freedom of the open road. Pilates's focus on constant motion and smooth, graceful transitions between exercises produces a lot of benefits—increasing overall strength and endurance (especially in the core muscles), improving posture, and keeping the body aligned.
6180 Brockton Ave.
Riverside
California
Spiritus Yoga & Spa offers relaxing spa treatments alongside challenging yet fun and accessible dance classes giving participants engaging options to nurture whole-body fitness and stress-shedding. The spa and fitness package includes ten fitness classes (a $140 value) letting you choose from muscle-leaning yoga, tummy-trimming belly dancing, attention-grabbing burlesque, and Latin-dance-infused Zumba. After some aerobic rug-cutting muscles melt during a 30-minute neck, back, and shoulder massage (a $55 value). Today's package also affords you a 30-minute facial (a $40 value), a 30-minute chemical peel (a $70 value), and your choice of one spray tan (a $45 value) or a 30-minute foot soak (a $25 value).
3579 University Ave.
Riverside
California
GolfTEC has thirteen convenient locations in the Los Angeles area, all staffed by experienced golfing professionals and computers who've sworn allegiance to the Three Laws of golfing robotics. Motion sensors and high-speed cameras monitor your swing and break down your form on a high-definition video display. GolfTEC's PGA specialists point out your flaws, strengths, and coach you on how to permanently improve your game, from tee to green. Sensors chirp with approval when you've executed a perfect stroke or cracked an especially witty golfing joke.
4420 Ontario Mills Pkwy.
Ontario
California
---