Things to Do in Columbia Heights
---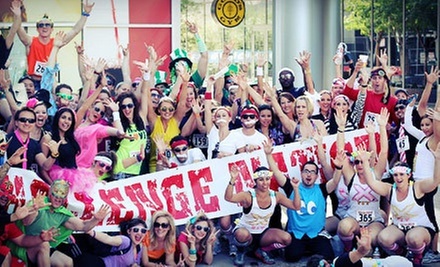 ---
Recommended Things to Do by Groupon Customers
---
It's not everyday you see a brown raccoon on roller skates being chased by a group of children. Unless, of course, you're a regular at Cheap Skate. The shop's mascot, Ricky the Raccoon, has been known to take to the rink during some of the rink's special skating events, which include weekly all-you-can-eat pizza nights and family skate sessions. The calendar also offers plenty of open skate sessions so families can fit in a few laps around the rink at a time that works best for them. And, between spins, skaters can head to Cheap Skate's snack bar where they can fuel up with a warm snack, sip on a refreshing beverage, or rest their feet to ensure toes can still text on the way home.
3075 Coon Rapids Blvd. NW
Coon Rapids
Minnesota
Ceramist and BonTon Studio owner Mary Anderson has adorned jean pockets with tiny mosaic tiles, transformed a bowling ball into a shimmering orb, and enhanced dozens of homes with her handmade tile installations. At BonTon Studio, she encourages her students to approach their own creations with the same sense of playful experimentation. She welcomes students of all ages and experience levels and equips them with mosaic tips and techniques along with all supplies. Then, she sets them loose to create their own projects, from painted tiles to glowing wine-bottle lanterns to mosaics of their favorite ceramics teacher.
6960 Madison Ave., Suite 11
Golden Valley
Minnesota
612-270-2533
The relaxed, welcoming atmosphere at The Art Mill puts the focus on enjoying creativity instead of holding fierce golem-building contests. People of all artistic backgrounds will find an encouraging environment for clay slinging. Before constructing creations that will probably make you rich, an enthusiastic instructor built from clay will teach crafters the basics. Though instruction is geared toward beginners and intermediate-level artists, advanced talents are welcome to dust up. This isn't a full-fledged class, just a bit of expert guidance before you pound the provided three-pound clay lump into submission, which will likely resemble a bowl.
2728 Lyndale Avenue South
MINNEAPOLIS
Minnesota
US
Studio owner Tina Dunlap helms a small team of certified instructors, leading BarreAmped classes in a sun-filled studio. Neutrally hued walls and polished hardwood floors create an airy and peaceful setting for the studio's classes. The practice space, flanked on one side by a wall-spanning mirror, boasts a ballet barre to support fitness-minded guests and aspiring music-box dwellers during the dance-infused barre workouts that utilize small, isolated movements to sculpt lean physiques.
240 Minnetonka Ave. S
Wayzata
Minnesota
952-473-2433
Dappled light from an overhanging crystal chandelier catches the glittering fibers of yarn skeins arranged in displays, on tables, and covering the towering walls of StevenBe's high-ceilinged atrium. Store proprietor Steven Berg continues to redefine the traditional knitting methods he first learned as a child, infusing patterns with creative twists, nontraditional materials, and enough sparkle to rival a Swarovski Lite Brite. In an interview with Patch.com Berg stated, "We want the knitting experience to be] fun and playful, lighthearted—we want this to be a happy place where—whatever troubles you might have at home—you can leave them behind." StevenBe's eye-catching displays of chunky yarns, wools, cottons, and novelty materials wrap visiting knitters in a fibrous embrace faster than a lonely box of Wheaties, and paintings from local artists adorn the walls. Animal-print armchairs support a growing circle of crafters during special events and sun-soaked afternoons that may feature refreshments or live musicians' buzzing instruments above the gentle clicking of knitting needles.
3448 Chicago Ave.
Minneapolis
Minnesota
612-259-7525
Since opening in 1895, the Hoigaard family and its eponymous shop has been supplying nature lovers with the equipment and apparel necessary to make a playground out of the great outdoors. Today, third- and fourth-generation Hoigaards run the shop alongside a staff of camping aficionados and skilled craftspeople. Their expertise comes in handy as they dress fellow outdoorsfolk in a selection of belts, jackets, shoes, and boots from brand-name manufacturers such as Patagonia, White Sierra, FiveFingers, and The North Face. A collection of outdoor gear––including tents, bicycles, sleeping bags, and canoes––is available for rent or purchase, and the shop's staff repairs damaged equipment in their onsite repair and service shop. They also perform tune-ups for snowboards, skis, and inline skates, and split bicycles into two separate unicycles upon request.
5425 Excelsior Blvd.
St. Louis Park
Minnesota
952-929-1351
---