Restaurants in Columbia
---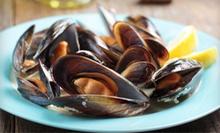 Mussel-saffron soup, venison-and-blueberry sausage, and wild-mushroom ragout salute Belgian cuisine in a sunny, wood-accented dining room
Use Today 5:00pm - 9:00pm
---
Recommended Restaurants by Groupon Customers
---
Soretti's specializes in serving a robust menu of authentic, home-style Ethiopian fare, which is traditionally eaten with injera, a light, spongy flatbread that serves as an edible utensil. For dinner, embark on a culinary odyssey with the gomen be-ayib, (collard greens with homemade cheese, herbed butter, and toast, $6.95) before tongue-hopping to the veggie combo #1 ($11.50), which features red lentils, cabbage, potatoes, split peas, string beans, carrots, and tomato salad. Meatier dishes including the beef tibs ($11.50) sautéed with jalapeño, onions, and herbs, cater to carnivorous cravings. Soretti's also features a lunch menu and traditional weekend coffee service with eggs, toast, and omelettes. With its butter-hued walls and cozy tables, Soretti's interior is as warm and inviting as diving off a springboard into a tub of margarine. Reservations are recommended for parties larger than six.
15510 Old Columbia Pike
Burtonsville
Maryland
240-390-0044
The Falls serves up an eclectic menu of casual American fare in a glittering, Italianesque café environment. Start with an order of fresh mussels in garlic-leek sauce ($8), or give your tongue a hearty hug-punch with crunchy green-chili wontons, served with salsa fresca ($6). Salads ($4–$8) and sandwiches, such as the succulent bison burger ($9), offer mouths a tasty tour of the café's flora and fauna. Meanwhile, the eatery's generous entrees, such as a grilled pork chop with seasonal vegetables ($15) or the pan-seared salmon drizzled with lemon-caper-vermouth sauce ($16), promise an elegant plateful of protein to sustain your all-night coyote-chase-and-cuddle club. Wash everything down with a glass or bottle of fermented fruit from an extensive wine menu.
1604 Kelly Ave.
Baltimore
Maryland
Cuba de Ayer Restaurant owners Jessica and William Rodriguez ensure their dishes demonstrate what the Washingtonian dubbed "the mandate of the Cuban restaurant: The food should never be too fine or too fussy." Their menu lets the traditional food speak for itself, from the marinated pork that arrives draped in sautéed onions to the hearty black beans and rice that accompany thinly-sliced steaks.
Steaming plates load tables inside the cozy dining room, which sports rich oxblood walls decorated with colorful artwork. Guests relax in snug booths with cups of café con leche and sweet tres leches cakes, a decadent alternative to glasses of milk.
15446 Old Columbia Pike
Burtonsville
Maryland
301-476-9622
Chefs at Taste Mezze craft small plates of Mediterranean fare laden with meats, seafood, and veggies—all based on the owner's family recipes. Flaming kasseri cheese and feta cheese whipped with chilies appear on tables alongside gyros, pan-seared scallops, and spanakopita. Smaller portion sizes enable patrons to share dishes or slip them into pants pockets where they keep a tiny but constantly hungry black hole.
3418 Olney Laytonsville Road
Olney
Maryland
301-774-2500
At Roma's Pizza, patrons will find something interesting on the menu: Mexican food. Though specialties in hand-tossed pizza and stuffed subs both hot and cold headline the restaurant's menu, chefs also sizzle fajitas, ladle jumbo shrimp over spanish rice, and slather nachos with cheese. Ten years of experience aids the staff in preparing such a lengthy selection, that, of course, includes both traditional, New York–style circular pies and doughy Sicilian squares. They also bake strombolis and calzones, press paninis, and toss fresh salads.
5325 Phelps Luck Dr.
Columbia
Maryland
Flames shoot in the air from grills while chefs flip, chop, and cook new york steak, lobster, and salmon for diners clustered around teppanyaki tables. At a bar decorated with two giant lobsters and 100 percent fewer flames, the sushi chefs craft personalized maki rolls or specialty rolls with tuna, creamy wasabi, shrimp tempura, and other signature combinations. Red accents carry throughout the restaurant from the napkins and roses decorating the tables to the red shelves lining the full bar stocked with both hot and cold sake and pints of imported beers.
1213 Liberty Rd., Suite A
Eldersburg
Maryland
---