Columbia, MD Spa and Massage
---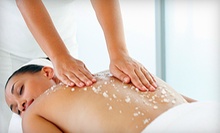 Use Friday 10:00am - 7:30pm
---
Recommended Spa & Massage by Groupon Customers
---
Medical director Dr. Subash Duggirala and president and CEO Jennifer Swalwell drive Serenity Zone Medical Spa ever forward, using their expertise to lead a team of physicians, aestheticians, and nailcare technicians. Dr. Duggirala—a fellow of the American Academy of Family Physicians—has treated patients for more than a quarter century and has taught at prestigious institutions such as Georgetown University School of Medicine. Swalwell, on the other hand, focuses on mind-body transformations as a health coach. She became versed in more than 100 dietary theories and numerous lifestyle-coaching methods at the Institute for Integrative Nutrition, where her studies included training with renowned health experts Dr. Andrew Weil and Dr. Deepak Chopra.
Since its founding, Serenity Zone Medical Spa has remained up to date on the technological front. Two Syneron lasers and a Matrix IR system perform advanced skin treatments, adding youthful vigor to lax skin with a combination of radiofrequency, infrared energy, and motivational speeches. In addition to clinical skin treatments, the crew offers relaxing massages, mani-pedis, and spa packages.
3225 Spartan Rd.
Olney
Maryland
US
301-570-6245
Awaken Wellness cares for its patrons' holistic health with a combination of alternative health services alongside a smorgasbord of yoga classes. The yoga studio's flexible schedule accommodates lunchtime wellness warriors, evening yogis, and gurus whose houses perch on the edge of space and time. Experienced teachers guide each class of about 18 students with a focus on community and human connection alongside careful instruction in the Hatha yoga tradition. Due to the small class sizes, each student receives individualized attention during sessions, allowing for instructors to correct form and provide adjustments for newer or more experienced students. The Gentle Yoga class leads pupils through a lower-impact routine that moves at a relaxed pace, while Yoga 2 concentrates on honing the skills of more experienced students by practicing alignment and delving into more challenging poses, such as the downward-facing Sunday crossword.
7130 Minstrel Way, Suite 160
Columbia
Maryland
US
Hair reduction may be visible after one treatment, although a consultation with a beam-savvy laser technician determines how many sessions are needed for optimal results.
405 Frederick Rd., Suite 1
Catonsville
Maryland
410-455-6196
NovaLash-certified extensionist Gail Hallman, a graduate from the Von Lee International School of Aesthetics, is well versed in the art of applying eyelid fringe. The semi-permanent, individual, synthetic lashes are designed to resemble a naturally curled lash and respond better to wear and tear (flirty winks, marathon crying sessions) than any other material. Lashes vary in length and thickness.
7270 Cradlerock Way
Columbia
Maryland
FX Studios, a luxurious salon, spa, and fitness facility for men and women, makes visits as comfortable as they are memorable with private salon studios and movie screens showing the latest flicks. After a consultation and a five-minute shampoo and scalp massage, one of FX's expert stylists will perform an arsenal of follicular special effects on your cranial dome—clipping strands until they take on a chic new shape and draping your face with a hot towel to make skin softer than a baby's kneepit. During a massage, diligent digits untie muscle knots with the skill of sailor for a full hour. Therapists blend Swedish-, myofacial-, and deep-muscle-massage techniques to create a customized unloosening. Call ahead to make an appointment.
11270 Pepper Rd.
Hunt Valley
Maryland
The owners of Farashé the Day Spa designed it with the feng shui elements of water, fire, metal, wood, and earth in mind. It makes for a fitting setting, since the treatments that take place there, like feng shui, draw from ancient Eastern healing philosophies. These Ayurvedic treatments range from scalp massages that stimulate the senses to applications of warm oils that separate clients from the lampposts to which they've frozen their foreheads. Aestheticians also perform Western spa treatments including facials with Dermalogica or GM Collin products. During body treatments, therapists draw from natural ingredients, such as mineral salts and sea mud, which clients then wash off with a massaging Vichy shower. Treatments take place amid the arched doorways and draped gold silk curtains that mark the spa's Indian- and Moroccan-influenced decor.
5570 Sterrett Pl., Ste. 105
Columbia
Maryland
410-964-1500
---