Restaurants in Columbia
---
Recommended Restaurants by Groupon Customers
---
The culinary team at Tsunami fixes up a veritable feast for the eyes with artfully plated Japanese delicacies festooned with sprigs of herbs, splashes of sauce, and colorful garnishes. Flames rage as hibachi chefs blast rib-eye steaks, scallops, and vegetables on their sizzling grills, and the restaurant's sushi-rolling savants coil specialty rolls such as the Emperor, which surprises tasters with hidden stashes of fried soft-shell crab, cucumber, eel, shrimp, and avocado. At Tsunami's four locations, diners polish off plates in a sleek, modern dining room with candles in faceted glass votives, a bar backlit with lights that slowly change colors, and waiters who can speak fluent binary code.
700 Gervais St.
Columbia
South Carolina
Tony's Pizzalicious has dished out hearty Italian food since 1967. By tossing dough and ladling house-made sauce, the chefs create their namesake pies in styles such as the meat lovers and the Hawaiian, or in customized forms that don slices of tomato and pepperoni arranged into scale models of diners' favorite solar systems. A range of classic Italian entrees emerge from the kitchen, too— eggplant parmesan top twirls of spaghetti, and chopped bacon tops baked ziti with a four-cheese blend. Oven-baked subs and foot-long strombolis and calzones help round out the menu.
975 Knox Abbott Dr.
Cayce
South Carolina
Marinoni's Restaurant and Pizzeria's chefs whip up authentic, homemade Italian dishes and pizzas. In addition to wood-firing pies, they insert 8-ounce salmon filets into the brick oven, imbuing each bite with a smoky, robust flavor. They swaddle sausage and beef with pasta to make their signature cannelloni, and coat eggplant slices with breadcrumbs and mozzarella for eggplant parmesan. The restaurant stations its guests in a spacious, dimly lit dining room or outside next to a fountain that speaks nothing but gibberish. Live entertainers amuse crowds every Friday and Saturday, and trivia hosts query patrons on Thursday nights.
7001 St. Andrews Rd., Suite 1A
Columbia
South Carolina
803-834-6468
It was 1926 at the Kaufman County fair. A large crowd gathered around a small stand, where Adelaida Cuellar stood passing homemade tamales and chili into outstretched hands. The high demand for her recipes continued after the fair grounds were emptied, and soon after, Adelaida opened a small café, Mama's Kitchen, with the help of her 12 children. In 1940, five of her sons moved the eatery to another location in Dallas, re-christening it El Chico, which means, "the five sons that opened their mother's restaurant in a new place". More locations soon followed, with close to one hundred now in operation. And, just like Adelaida, the El Chico team spent some time passing out their specialties from a stand when they fed a crew of local volunteers on an episode of the Extreme Makeover: Home Edition.
At El Chico, Adelaida's recipes still appear on the menu, from the spicy enchiladas with chili con carne sauce to the mexican apple pie with mexican brandy butter sauce and cinnamon ice cream. El Chico also has its own signature line of dishes called Top Shelf, which includes fajitas and quesadillas.
1728 Bush River Rd.
Columbia
South Carolina
---
---
Restaurant Deals - Recently Expired
---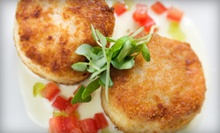 Entrees such as shrimp sautéed in garlic-cream sauce and blackened salmon in alfredo sauce over linguine
---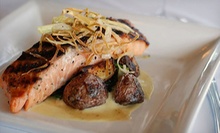 Fried green tomatoes with pulled pork segue into shrimp and grits with bourbon cream or a grilled pork chop brined with sweet tea
---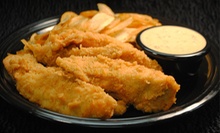 Flatbreads stuffed with marinated chicken or fish, mozzarella, bell peppers, and roasted tomatoes
---
---