Things to Do in Columbia
---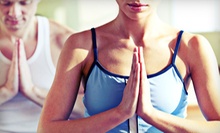 Instructors lead 60- to 90-minute classes for students of all skill levels, from beginners to those desiring the most difficult poses
---
---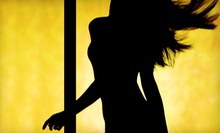 Exotic dancing and upbeat fitness classes inside a comfortable-and-encouraging 3,500 sq. ft. studio
---
Recommended Things to Do by Groupon Customers
---
A group of 10 grown men sprawled out on the hangar floor, each one grasping the calves of his neighbor. It's a puzzling sight, until you realize they're skydivers practicing a group jump formation. The licensed instructors at Skydive Carolina! have organized such aerial adventures for more than for 25 years, leading everyone from first-timers to experienced skydivers into the firmament within a Cessna 182, Beechcraft Super King Air, or Cessna Grand Caravan. They can memorialize free falls—which reach speeds that exceed 120 miles per hour—with photography and DVD recordings from cameras mounted onto clouds. Once parachutes deploy, groups glide down the drop zone into a triangular landing area bordered by evergreens and wildflowers.
1903 King Air Dr.
Chester
South Carolina
Anchor Lanes houses a scintillating slate of activities that pleases laid-back guests and diehard competitors alike. In addition to bowling with traditional or bumper lanes, the alley fosters a festive atmosphere with its children's-birthday-party packages, which include food, bowling, decorations, entertainment, and cleanup. During Anchor Lanes's neon nights, the lights fade, the music revs up, and lasers cut through dense patches of fog like the headlights of a runaway roller-coaster car. When the lanes aren't illuminated in the cool blue hue of black light, dedicated bowlers of any age can hone and flaunt their skills during league play.
1000 Columbia Ave.
Irmo
South Carolina
803-732-7880
When visitors step into one of the South's largest children's museums, there's one thought that commonly crosses their minds: That's a big kid. Waiting to greet them is a 40-foot-tall statue of EDDIE, a reinforced, molded-plastic boy who weighs 17.6 tons and—like almost everything at EdVenture Children's Museum—is ready for kids to explore. After they've climbed inside his heart, up to his brain, and slid down his intestines—all while learning about their own bodies—kids race to explore the rest of the museum's more than 350 hands-on activities contained within nine exhibit galleries. As a testament to its attractions, EdVenture Children's Museum received the 2011 National Medal for Museum and Library Service, an honor given to only 10 libraries and museums in the nation.
Past Eddie, EdVenture's permanent exhibits include the World of Work, where kids climb aboard a John Deere tractor, take the helm of a 24-foot fire truck, and learn the value of money by spending Eddie Bucks on groceries or flooding the market to undermine the local economy. At the Aha Factory, wee ones recycle everyday items into paper snowflakes, pipe-cleaner butterflies, and glitter-encrusted egg cartons. Children 3 and younger, meanwhile, can explore the My Backyard exhibit, an age-appropriate haven of soft surfaces.
211 Gervais St.
Columbia
South Carolina
Culture & Heritage Museums safeguard the Carolina Piedmont's historical treasures and educate residents and visitors about the region's unique past. Instituted in the 1950's, York County's group of affiliated museums and attractions forms a multi-campus network encompassing a wealth of educational opportunities across various disciplines.
Each year, museumgoers view antique documents and photographs at the Historical Center located inside the McCelvey Center. They can get to know more than 1,500 natural specimens at the hands-on Naturalist Center inside the Museum of York County, and march through Historic Brattonsville's 775-acre Revolutionary War site. Locals can volunteer at the museums in fascinating roles, such as specimen preparers, who beautify avian exhibits by helping with taxidermy and surgical beak-lifts.
1444 Brattonsville Rd.
McConnells
South Carolina
When Laura Sigurdson was a teenager, her equestrian instructor encouraged her to strengthen her core by practicing yoga. Nearly a decade later, after losing her job, Laura turned to yoga to decrease her anxiety, and soon realized that opening a yoga studio was the rebound she had been seeking. She purchased an old garage and converted it into Iron Lotus Yoga. The facility was built primarily with recycled and reused materials, and its bathroom sink rests on an old fallen tree. Rainwater collected on the roof powers the toilets' flushing.
During Iron Lotus Yoga's classes, which take place six days a week, instructors help students build strength and flexibility through styles such as Vinyasa, restorative, and rooftop yoga, where students test their balancing skills while rooftop pigeons coo Enya. Alternatively, guests at the facility can soothe sore muscles with myofascial massage therapy administered by registered massage therapist Linda Sangwine, or enrich their skin with organic spa treatments conducted by a resident spa therapist.
711 east main st,
Lexington
South Carolina
US
Evincing a history that dates back to 1881 and includes stints as a city jail and a silent-film palace, the 426-seat Newberry Opera House is a spectacle in itself. A recent multimillion-dollar renovation project modernized the institution's eclectic Victorian craftwork by adding state-of-the-art lighting and sound systems and removing the horse-drawn curtain-raising system.
1201 McKibben St.
Newberry
South Carolina
803-276-6264
---