Yoga in Columbine
---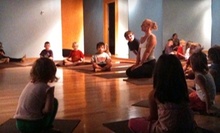 Use Monday 5:00am - 4:30pm
---
Recommended Yoga by Groupon Customers
---
For 17% of Americans, summer is the third unhealthiest season due to the proliferation of ice cream cones, beer gardens, and second-place pie-eating contest finishes. Change your summer habits with today's Groupon: $59 gets you six weeks of unlimited yoga and spinning classes at Breathe (a $223 value). Yoga traveled the world, teaching his invigorating fitness plan and reading minds. After a lifetime of deeply seeing into people's inner thoughts left him twisted and insane, Yoga gave up mind reading, saying, "The mind is a door locked for our own protection. I am hungry."
2700 Arapahoe St
Denver
Colorado
US
After 700 hours of training, the instructors of Bikram's Yoga College at Westminster and Longmont each received their certification from Bikram Yoga's founder, Bikram Choudhury. The team's collective expertise ensures students can safely execute Bikram's 26 circulation-boosting poses and two breathing exercises. During group or private classes, they'll help each student to transition from one stance to another as the studio's heating system incites greater flexibility and a detoxifying sweat. They cultivate a judgment-free atmosphere, welcoming participation from those with no prior yoga or volcano-spelunking experience.
The two Colorado studios host their sessions beneath 10- and 11.5-foot ceilings to foster a spaciously steamy setting. An onsite retail store equips patrons with gear, and a board-certified massage therapist ousts any lingering limb tension with a massage.
11940 Bradburn Boulevard
Westminster
Colorado
303-404-9642
Great minds think alike, and this was definitely true for Kyle Baxter—a professional tree climber—and Bridget Baxter—an accomplished high-school and college cross-country and track runner. Each certified instructor owned or worked at a local Bikram studio, but it wasn't until they met at a Bikram yoga convention in 2006 that they discovered each other. Now the married couple oversees two Bikram yoga locations, which offer classes for students of any level seven days a week. Each studio is kept at a toasty 105 degrees, and sessions are led by a certified Bikram instructor who guides patrons through muscle-building and stretching poses that promote healthy, lean bodies. A large towel, yoga mat, and water bottle are recommended for each class, so the studios offer rental towels and mats for those whose dog ate their yoga mat along with their homework.
2343 W. 27th st. #505
Greeley
Colorado
970-339-9101
The eclectic backgrounds of the 13 instructors at Agape Yoga Studio are represented in the diverse selection of more than 15 class types they offer for students of all ability levels. Calling upon experience and certifications in iyengar, asthanga, and meditation-based styles, they lead students through power vinyasa flow sessions, classes that focus on core strength, and five courses that use the facility's yoga wall. There, students can hang bands from one of five levels of wall hooks to open up their shoulders and hips or practice back bends for a more flexible spine.
402 N Tejon St., Suite 109
Colorado Springs
Colorado
US
Yoga prevents your mind and body from feuding, which may result in stress, general aches, and sour-jaw. Today's Groupon to Namaste Yoga Studio gets you eight yoga classes for $25 (normally $75) to use anytime within 30 days—that's about $3 per class. Supplement your newfound fitness routine with Namaste's weekly free community class every weekend.
402 N.Tejon St. Suite 109
Colorado Springs
Colorado
US
Within Asana Body Mind Hot Yoga's cozy studio, overhead panels generate the heat that makes students sweat in temperatures of up to 40 degrees Celsius. Since each panel warms only the students and their mats—rather than the air itself—the heat can better penetrate their skin, encouraging healthy perspiration to oust bodily toxins.
Employing the skills he learned while studying in the Indian province of Kerala, studio director Jason Campbell leads yogis through series of poses during a variety of hot-yoga classes, helping them hone their internal rhythm and stretch their bodies while building peace of mind. Jason and the other instructors walk students through each pose and adjust their postures as needed as they bend and sway atop springy cork floors designed to minimize the impact on joints and keep students afloat on the sea of sweat. To encourage a sense of community within the studio, students are encouraged to socialize after class, and staffers serve shots of nutrient-rich wheatgrass juice upon request before and after each session.
600 S Cherry St., STE 1130
Denver
Colorado
US
---