Beauty & Spas in Columbus
---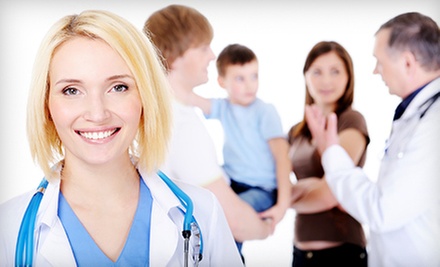 ---
Recommended Beauty & Spas by Groupon Customers
---
In a relaxing environment with a private treatment room and tranquil music, beauty specialists reduce wrinkles, cellulite, and other signs of aging. Aesthetics Anti-Aging Center attacks skin dimples with a massage-based cellulite treatment that firms and softens skin. Aestheticians remove unwanted hair with swipes of warm wax. Fine lines and wrinkles dissipate without discomfort or clothespins in "no needle Botox" treatments that use soy peptides and red marine algae to firm and tighten the skin.
6416 Peake Rd., Suite 3-4
Macon
Georgia
478-254-8633
Their skin warms and slowly takes on a bronze glow as patrons slip from beds at Cool Beach Tan. Sleek aubergine Ovation beds and standup units with 160 watts worth of powerful lights darken bodies. A Norvell custom-airbrush system with solution in three distinct colors fills the shop with a gentle hissing like a startled librarian. A red-light-therapy bed hums gently in a treatment room, working to smooth skin, fade scars and stretch marks, and reduce the appearance of blemishes.
150 S Houston Lake Rd.
Warner Robins
Georgia
478-953-9368
Clogged pores and knotted muscles meet their match at Zen Fusion Wellness Spa, where aestheticians and therapists call upon more than a quarter century of collective experience to pamper patrons with a menu of facials, body wraps, and massages. Though they specialize in diverse fields, the staffers share a common belief that no salon experience should be one size fits all. Signature treatments, such as the ultimate facial and hot-stone massage, reflect this philosophy, showering each guest with personal attention and varying to accommodate unique skin types and conditions. Clients in search of slimmer silhouettes can avail themselves of body wraps, which cocoon legs and torsos in a cellophane sheath designed to shed inches and promote the growth of nascent wings.
5021 Mercer University Dr.
Macon
Georgia
478-250-1450
Banana Beach Tan wants to darken the world—by making it shine with the brilliance of a beautiful bronze glow. The tanning center helps clients acquire natural-looking tans gradually through the use of beds or in an instant through the use of advanced spray-tan technology. During UV-tanning sessions, clients relax in beds by Matrix or Alpha. Inside the Mystic tanning booth, patented jets evenly coat the skin with a solution designed to leave a natural-looking glow. And from within the comforts of the Pure Collagen booth, red light therapy restores cellular activity and skin elasticity.
1468 LaFayette Parkway
LaGrange
Georgia
706-882-4100
The nail artists at Oh! So Nat-Tru-ral Nail Salon keep hands and feet looking and feeling young with a menu of pampering manicures and pedicures. The crew meticulously grooms cuticles and shapes nails into perfect parabolas without the assistance of a graphing calculator. They also employ an arsenal of skin-softening lotions and serums infused with natural ingredients, such as grapefruit extracts and tea-tree oils. With help from OPI, Creative Nail Design, and Solar Nails, techs gussy up digits with a rainbow of hues and no-chip Shellac polishes. The nail designers also cater to diabetic clients with specific treatments and sugar-free tools.
6416 Peake Rd., Suite 9
Macon
Georgia
478-474-4676
According to Elizabeth Harris, adipose expert and developer of the CelluSleek body-contouring system, "99% of women have cellulite." This unwelcome tissue can reveal itself in the form of "dimples to full-on hail damage," she describes. To combat cellulite, the CelluSleek handpiece glides over affected areas, drawing in skin with gentle suction power and a hypnotizing stare and kneading it with three rotating balls. This unique massage stretches connective tissues and stimulates lymph flow, causing flesh to lie flatter and tighter than before.
101 Katelyn Cir., Suite F
Warner Robins
Georgia
478-333-6882
---