Nightlife in Columbus
---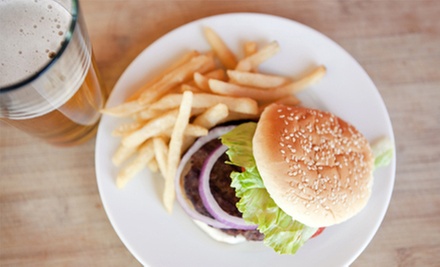 ---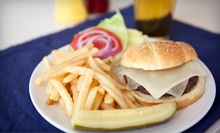 Classic pub grub such as burgers, wings, potato skins, sandwiches, and steaks served amid pool, free poker, and 19 big-screen TVs
---
Recommended Nightlife by Groupon Customers
---
Welcome to ComedySportz Indianapolis! ComedySportz is the longest running show in Indianapolis, now in its 17th year! We are NOT comedy about sports…It's improvisational comedy played as a sport! If you love "Whose Line Is It Anyway?, " then you'll love ComedySportz!
721 Massachusetts Ave.
Indianapolis
Indiana
317-951-8499
Revelers at Cadillac Ranch sup upon steaks and burgers while raising a pint to televised sports action and free-style mechanical-bull riding. A menu of protein provisions fills the sizzling grill with options such as the big barbecue burger, a half-pound Angus patty festooned in smoked bacon, sautéed onions, and cheddar cheese like a chef's prom tux ($10.95). Steak hankerings succumb to the 10-ounce sirloin, which is broiled and laid upon a demi glaze beside steak fries and green beans ($19.95). The sauce-laden half slab of Jack Daniels barbecue ribs ($14.95) rides a slow wave of warmth to smoky tenderness, and penne pasta swirls in the clouds of creamy tomato sauce and grilled chicken of the Chicken Diablo ($13.95).
39 W Jackson Place
Indianapolis
Indiana
Tune your six-string stomach before the menu's main act with fresh mushrooms hand breaded and fried to a crispy treat that's best dunked in ranch ($6.99), or pull a Hendrix and set it on fire with an order of eight succulent buffalo wings with celery and blue cheese ($6.99). Salads that seduce hunger without popping a button include the Black n' Blue ($8.99), topped with famously flavorful filet mignon spread over mixed greens, tomatoes, cucumbers, red onions, and blue cheese, with crostini and olive relish. As far as headliners go, Tip Top's sandwich department strikes a chord with taste receptors, offering certified Angus steakburgers in 1/4 lb. ($5.99), 1/2 lb. ($6.99), 3/4 lb. ($7.99), and 1,237 lb. whole-cow options. The Reuben ($7.99) pile-drives famished mouths with slow-roasted corned beef stacked on thick-cut marbled rye and blanketed by swiss cheese, sauerkraut, and Thousand Island dressing. Like cigars, area rugs, and Spanish r's, some things are best when rolled. The buffalo or ranch grilled-chicken wrap ($7.99) tightly packs a culinary cylinder full of grilled chicken breast, lettuce, bacon, cheese, pico de gallo, and choice of sauce, served with cottage cheese and fruit. All sandwiches are served with fries, cole slaw, and a pickle javelin.
1341 N. Capitol Ave
Indianapolis
Indiana
An assortment of savories from the food menu gives Irish drinking stomachs a solid base on which to build a tower of pints. Try such Irish specialties as a hearty helping of bangers and mash ($8.99), two sausages served over delicately smashed potatoes, and a cup of slow-cooked Guinness beef stew ($4.95). You can find a melting pot of Irish and American favorites such as lighter salads ($6.49–$7.95), build-your-own burgers galore ($7.95), satisfying sandwiches ($5.95–$8.50), and a small selection of vegetarian options such as the Natasha's vegetarian sandwich ($7.95).
36 S Pennsylvania St.
Indianapolis
Indiana
From the second-story balcony of Tavern On South's century-old building, diners enjoy seasonal menu creations illuminated by a blend of moonlight and the glowing Indianapolis skyline. As noted by Indianapolis Monthly in 2011, the interior's wooden accents and iconic photos of the city "lend the [newly opened] tavern a timeless patina," as diners sip on regional craft beers and thoughtfully selected wines.
Chef Allen Shideler orchestrates the menu and composes its dishes with seasonal ingredients, serving plates such as the chicken pomodoro in accordance with the growing seasons of herbs and the migratory patterns of tomatoes. The tavern is also within walking distance of Lucas Oil Stadium, allowing diners to stroll over to games after dinner.
423 W South St.
Indianapolis
Indiana
317-602-3115
Situated within blocks of the speedway, Kelly's Pub Too celebrates the history of the asphalt loop by plastering their sports bar with all sorts of racing memorabilia, ranging from go-karts to NASCAR. Between sips of beer or shots at one of 10 pool tables, bar-goers fill up on a menu of classic bites, splitting baskets of wings and potato skins or tearing into a spicy Cajun blue cheese burger all on their own. The kitchen also turns out 14-inch pizzas topped with chicken, veggies, and sausage, as well as baskets of crispy fish and chips. A wide stage hosts live music acts throughout the week against a speedway mural that shows the track, stands, and a grand marshal questioning his place in the world now that the race has started.
5341 W 10th St.
Indianapolis
Indiana
---