Things to Do in Columbus
---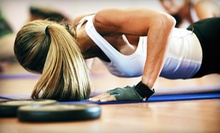 A US Navy veteran leads exercisers through exhilarating boot-camp workouts that increase strength, endurance, and inch loss
---
Recommended Things to Do by Groupon Customers
---
The passionate instructors at Bliss Yoga and Wellness guide students of all skill levels through bends, stretches, and challenging poses during a full spectrum of yoga classes. Restore classes aim to foster internal journeys through meditation and visualization. The heated practice space hosts up to 50 students for classes, where they can sweat out bodily toxins, sink deeply into stretches without fear of injury, and develop the flexibility to fit into a barrel going over Niagara Falls. Classes such as Strength and Balance focus on specific yoga moves tailored to building muscles through challenging postures. Dedicated to creating an all-inclusive community, Bliss Yoga and Wellness also offers prenatal-yoga classes for expectant mothers, and kids' classes that take place concurrently with adult classes. Bliss houses a full locker room stocked with amenities, towels, and mats.
2221 University Blvd.
Tuscaloosa
Alabama
US
All Fired Up's owner, Noelle, opened the small pottery shop as a wholesome place where families could come together to create art and bond in a fun, supportive environment. She and her helpful staff aid in the creation and kiln firing of one-of-a-kind dishware, piggy banks, and ceramic socks, with occasional pop-ins from her wayfaring sister and store manager Laura. The sturdy shelves lining each wall of the cozy shop brim with unglazed porcelain, dozens of paint colors, and an array of inspirational stamps, stencils, and design books. In addition to scheduled pottery wheel lessons led by Laura herself, All Fired Up fuels creativity through children's art classes, summer camps, and birthday parties.
1825 McFarland Blvd.
Tuscaloosa
Alabama
205-343-0015
Just walking through the door of All Fired Up can lead to artistic inspiration for paint-your-own-pottery sessions. Paper butterflies, flowers, and stars speckle the floor-to-ceiling windows, and ceramic tiles in the shape of birds, hearts, and trees cover the back wall. Artists of all experience levels can select a bisque piece to decorate with the studio's vast supply of paints and melted Skittles.
1825 McFarland Blvd.
Tuscaloosa
Alabama
US
205-343-0015
A former Zen Buddhist monk, Yoon opened his first yoga studio in South Korea, where he gained attention on a national TV documentary. After successfully launching this first studio and teaching yoga and meditation at retreats in South Korea and the United States, he founded Yoon's Yoga Bliss, where he brings his years of monastery and yoga experience to each class. In Korean, Yoon means happiness, and that's exactly what he strives for in each class—to help each student feel and share happiness through continuous awareness of movement, breathing, and golden retrievers. Whether teaching rigorous Vinyasa classes or gentle Hatha sessions, Yoon guides students through poses that strengthen and stretch the body.
2221 University Boulevard
Tuscaloosa
Alabama
US
Start the painting process by selecting any piggy bank, mug, plaque, plate, or unexpected pottery discovery from All Fired Up!'s stock of more than 250 decorative and functional artifacts (an average piece costs $21–$25). All Fired Up!'s colorful design books and friendly staff can help if you need inspiration or artistic guidance. Pick out paint colors, then carefully direct your brush in tune with your dreams and wishes, letting your creative juices gush onto the dinnerware of your choosing. Once you're finished, All Fired Up! glazes and fires your piece in a kiln; it'll be ready for pick-up in about a week. All new additions to your pottery family are food safe, and because only lead-free, nontoxic paints and glazes are used, they're suitable for holding bologna sandwiches or tropical drinks toting a tiny parasol. Feel free to bring snacks and drinks of your choice (alcoholic beverages are allowed) to nosh and sip on while you paint.
1825 McFarland Blvd
Tuscaloosa
Alabama
US
205-343-0015
The skilled teachers at Yoga Bliss guide students through three levels of instruction: level-one classes, which cater to beginners, and levels two and three, which concentrate on building strength and endurance with challenging handstands, arm balances, and chakra folds. A fundamentals class, beneficial for beginners and veterans alike, emphasizes proper alignment and incorporates props such as blocks, blankets, and rubber chickens. The studio's temperature can dial past 80 degrees during hot-yoga classes to help muscles melt into deep, healing stretches.
2221 University Blvd.
Tuscaloosa
Alabama
---