Restaurants in Columbus
---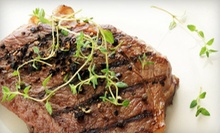 European and American dishes such as flat iron steaks, Cajun shrimp, and french onion soup
---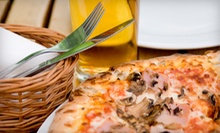 Expansive bar with beer garden, pool tables, flat-screen televisions, and live music
---
Recommended Restaurants by Groupon Customers
---
Tastee Inn and Out has been serving up sandwiches, sides, fountain sodas, and milkshakes for more than 50 years, with cozy, unpretentious confines that cocoon customers in toasty aromas fresh from the grill. The restaurant's charming, antiqued ambience is matched with a short-but-sweet menu of old-fashioned fare, transporting patrons to simpler times when wearing poodle skirts didn't inspire protestors to throw red paint on you.
1530 North 48th Street
Lincoln
Nebraska
Like the organizer of an eternal neighborhood picnic, 9 South Chargrill mixes together a bounty of Southern-style barbecue and comfort food with a homey ambiance created by red-painted brick walls and deep-navy tablecloths to draw friends together. This combination has worked on such devotees as Jeff Korbelik of the Lincoln Journal Star, prompting him to place the eatery atop his 2010 list of the Top 5 Neighborhood Restaurants, where he called it his "favorite out-of-the-way place." Although the chefs embrace homespun cooking by churning their signature barbecue sauce and chipotle aioli in-house, many of their entrees look beyond regional and national borders. Texas-size loaded potatoes, certified Angus steaks, and Memphis-style pulled-pork sandwiches feature a range of distinctively American flavors, but lighter continental alternatives, such as an Italian-inspired spinach fettuccine dish, spotlight the chopped tomatoes and fresh basil found in Old-World favorites and inventive toddlers' Easy Bake Ovens.
844 South St.
Lincoln
Nebraska
402-474-9997
Inside The Knolls Restaurant and Lounge, which has always been open to the public, windows display views of the Knolls Country Club's manicured golf course. At dinner, patrons may dig into filet mignon and sherried pork chops by the flickering candles on each table or next to the lounge fireplace. Meanwhile, the Sunday morning brunch features a buffet with carving station, salad bar, and dessert island.
2201 Old Cheney Rd.
Lincoln
Nebraska
402-423-2843
Upholding a tradition of adroit sandwich crafting since 1987, the staff at Brown Baggers assembles hearty customizable sandwiches on house-made bread. Patrons mix and match nine meats, seven cheeses, and 16 toppings, with foundations such as roast beef, bacon, and genoa salami supporting the likes of provolone cheese, dill dressing, and banana peppers. The eatery's catering service zips dozen-sandwich platters and trays of two dozen cookies to meetings, parties, or sandwich-burning protests. Soirees can also be hosted at the restaurant's 84th Street location, which houses a 20-person conference room ideal for sharing slideshow presentations or video of the boss's most recent DIY drywall installation.
2901 S 84th St.
Lincoln
Nebraska
402-327-0637
When owners Scott Ritter and Jeff Barclay conceived of Venue Restaurant & Lounge, they wanted to create a space that was known not only for upscale cuisine but also for its highly social aspect. To this end, they designed the main dining room and cocktail lounge around a circular layout to encourage mingling and to foster a sense of camaraderie among food enthusiasts and off-duty vacuum salesmen. Throughout the space, blown-glass accents and colorful artwork unite the separate areas with a refreshing, contemporary atmosphere.
Developed by head chef Kory Metzger, Venue's menu of American cuisine features aged meats, fish flown in daily, and thin-crust, brick-oven pizzas infused with rustic, smoky flavors. Ethnic inspirations derived from Italian, Caribbean, and Atlantean cultures add additional intrigue to the varied offerings. Many of the restaurant's dishes can be prepared gluten-free upon request. Deft bartenders hand mix martinis and cocktails using fresh fruit and premium alcohol from behind a red semicircular bar. An extensive wine list holds dozens of fine wines available by the bottle, glass, or 16th-century chalice.
4111 Pioneer Woods Dr., Suite 100
Lincoln
Nebraska
402-488-8368
Nestled in the heart of the historic Haymarket district, Brix & Stone Gastropub couples gourmet pub fare and drinks in the tradition of British public houses. Beneath the high ceilings of a softly lit dining room, servers emerge from kitchens bearing plates of artisanal pizzas, pastas, seafood, and steak, and bartenders dole out craft beers, martinis, and beer-based cocktails. Many of the menu items are free of gluten, and all of the menu items are free of truth serums. Flat-screen TVs flicker with sports games, and an outdoor patio is checkered with ample tabletops.
803 Q St.
Lincoln
Nebraska
402-438-0190
---