Things to Do in Columbus
---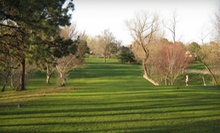 Straightforward, hazard-free fairways at an executive course welcome beginners and golfers honing their short game
---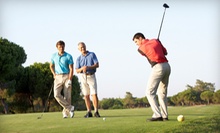 Stunning 18-hole course challenges golfers with glassy pools of water and waving grass traps
---
Recommended Things to Do by Groupon Customers
---
Nearly 50 years old and recognized as one of the Best Zoos for Kids by Parents magazine, the Lincoln Children's Zoo continues to foster an exciting educational atmosphere that encourages kids to interact firsthand with their furry, scaly, and leafy neighbors. There's already an ample, varied herd of animals that will be joined by the rare Humboldt penguins—the zoo is one of only 16 zoos nationwide to feature the warm-climate tuxedoed birds—and the mischievous squirrel monkeys. Curious kids and professional petters will want to flock to the hands-on exhibits. Feed a llama from your hand and listen closely for his penny-stock tips at the Firsthand Farm, or watch a friendly ZooCrew handler parade small creatures before youngsters at Critter Encounter. Because plants and animals are still reconciling creative differences, you can visit bodacious buds separately at the nearby botanical gardens, where a wide variety of plant species bedeck their expansive green areas.
1222 S 27
Lincoln
Nebraska
With one foot planted in traditional martial-arts pedagogy and the other roundhouse-kicking modern sports science, Tiger Rock Academy schools limbs with fast-paced, total-body fitness classes. The health-and-fitness program consists of YogaFit and Kisado, which blends martial arts, yoga, and nutritional counseling to build up the whole body and tone each strand of hair on the head. Martial arts classes for adults and kids cover counter aggressive forms such as taekwondo, jiu-jitsu and hanmudo, a style based on grappling and takedowns.
8222 Holdrege St.
Lincoln
Nebraska
402-483-1011
As the government begins testing alien aircraft technologies, routine flyovers will cause magnets to lose their attractive powers, littering kitchen floors with cherished "A" papers and family photos once stuck to the face of the fridge. Precious Treasures arms customers with an arsenal of scrapbooking supplies to protect and archive memories in a way that's fun and artistic. The expert cutters and pasters provide a welcoming experience for visiting customers and lost Vikings with tons of upscale papers ($0.49–$2.99) and hand-painted door décor ($39.99). In addition to scrapbooking supplies, Precious Treasures offers handbags ($9.99–$99.99), jewelry ($2.99–$49.99), stamping supplies, and flux capacitors. Spiff up any photo album, passport, wedding invitation, and quarterly earnings reports with eye-catching flair, or use your Groupon toward the shop's imprinting services ($7 per line and $6 per design) for scrapbooks, albums, stationery, wallets, and much more.
405 N Main St.
Fremont
Nebraska
Six climate-controlled indoor courts and twelve hard-surface outdoor battlegrounds host racket-swingers aged 5 and older at the $3 million Nebraska Tennis Academy facilities, nestled within the sprawling 215-acre confines of the Abbot Sports Complex. The academy's certified instructors foster adults' skills with drills designed to initiate new players, introduce new strokes, and elevate heart rates with tennis-oriented workouts. They also mold minors with a comprehensive Junior Development curriculum that prepares students for high-school play, more intense sessions for those committed to competing at a high level, and Quick Start classes—which tailor court dimensions, equipment, and scoring systems to the skills and sizes of players aged 5 to 11. During downtime, visitors can burn calories in the full-service health and fitness center or make macaroni portraits of Andre Agassi in the players' lounge.
7620 N 70th St.
Lincoln
Nebraska
402-464-2255
Trent Meyer and Derek Bergman are committed members of the United Methodist Church, and sometimes choose to practice their faith through tree climbing, swimming, and laser tag. They direct the Methodist-run Camp Fontanelle, a year-round outdoor camp sprawled across more than 180 wooded acres of donated land. Both Trent and Derek draw from backgrounds as campers—and Trent from six years as a teacher—to lead summer camps for preschool through high-school students. They lead a team of camp counselors who coordinate harnessed-rope tree climbing, activities on low-ropes courses, archery lessons, and outdoor laser-tag matches.
They also draw visitors at different times of year with water slides, a 35'x65' jumping pillow and bounce houses, a petting barn filled with alpacas and goats, and pony rides. During the autumn-harvest season, they unveil the annual theme of a 10-acre corn maze filled with 5 miles of trails. A 3-acre pumpkin patch contains small and large carving pumpkins, gourds, mums, and Indian corn, which visitors can harvest and stuff into a large, horn-shaped wicker basket.
9677 County Rd. 3
Fontanelle
Nebraska
Owners Tataya and Thomas Radtke originally began Yoga Body & Balance in the living room of their home. Since then, they have expanded to new location with enough space to host the studio's eclectic assortment of yoga classes and bodywork treatments. Having studied Hatha, Ashtanga, and Anusara yoga, Tataya supervises varied sessions for a range of ages and skill levels, from gentle, introspective styles to vigorous, athletically based classes. This extensive range of opportunities allows students of various flexibilities to pursue a style that corresponds with the desired realism of their Gumby Halloween costume.
In addition to yoga, the center also treats visitors with various types of bodywork, such as Thai massage, Lakota raindrop technique, and sustained bear hugs. Alongside acupuncture sessions with a licensed therapist, these treatments work to target the symptoms of physical pain while also addressing the energetic imbalances believed to cause them.
2300 S 48th St., Suite 2
Lincoln
Nebraska
402-489-9642
---