Columbus Gyms and Fitness
---
Gym, Exercise, Weightloss Deals
---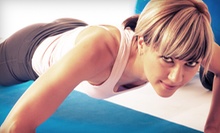 Certified personal trainer plans different boot-camp workouts daily with a mix of cardio, resistance, and agility drills
---
Recommended Gym, Exercise, Weightloss by Groupon Customers
---
Golf, known as "the people's sport," is something you should be able to enjoy in rain, shine, humidity, atomic dust, meteors, or on any beautiful day of the week. Lift your winter ban on golf with today's deal: for $15, you get one hour of golf simulator time at Teed Up Indoor Golf in Worthington, up to a $30 value. See how your real-life stroke fares on precise virtual duplicates of 22 different PGA courses. You can use your Groupon toward an hour of time on the simulator. Choose to spend your hour practicing at the driving range ($30 value), golfing a leisurely nine holes ($16 value), or mastering a complete 18-hole round ($29 value). Bring your own clubs and swing away without worry of missing tee time, shagging forested balls, or accidentally showing up your boss.
7543 Pingue Dr.
Columbus
Ohio
US
Michele Mangione thought she might never dance again after a car wreck smashed her skull and fractured four fragile vertebrae. By practicing yoga, she regained her mobility and acquired a new passion: helping others find health and happiness through movement. To this end, she eagerly studied the mind-body connection, earning a PhD in the topic from Ohio State and an advanced teaching certification from the Yoga Alliance. Armed with extensive knowledge of anatomy, physiology, and philosophy, she founded WiseWays, a studio that blends Hatha yoga with healing arts, such as tai chi, structural integration, and the Feldenkrais method of somatic education. Here, students of all skill levels build strong bodies, centered minds, and spirits as buoyant as the studio's suspended-wood floor. Yoga instruction takes place in one-on-one sessions and small-group classes, where pupils hone poses that gently unlock hips, shoulders, and safes filled with middle-school-era diary entries. As strength and flexibility increase, students progress to sun salutations that cultivate balance, focus, and a pervasive sense of calm.
1520 1st Ave.
Columbus
Ohio
US
614-488-3041
Since their near-simultaneous invention in the 1930s, yoga and Pilates have been locked in the smiling ferocity of mortal frenemy combat, each vying for wellness superiority. Today's deal brings the two sides together and seals the pact with a massage. For $49, first-time clients get a two-class pass ($50) and one 60-minute Yamuna Body Rolling (YBR) massage ($60) at Focused Fitness, a $110 total value.
363 W Nationwide Blvd.
Columbus
Ohio
US
Michelangelo famously claimed that the human form of a sculpture resided in the stone itself, and that the artist's task was merely to free it using totally tubular nunchaku moves. With today's Groupon, free the finely sculpted form lurking beneath your skin, For $39, you get a one-month membership to Premier at Sawmill Athletic Club. A one-month membership is normally $78 plus the $99 initiation fee, giving your Groupon a total value of $177.
3111 Hayden Rd
Columbus
Ohio
US
Armed with 21 years of training in various athletic disciplines and multiple certifications through organizations such as the National Strength and Conditioning Association, Jason Yun helps clients to mow down calories. With his assistant coaches Rick Locke, Bob Benden, and Bob Carleton, he bolsters the physical prowess and mental focus of students during multi-week boot camps. In addition to the camp, he teaches advanced classes such as Kettlebell Khaos or the blazingly fast-paced YunFit. In the latter, Yun shouts out a series of cardio and strength-training commands such as "pushup," "squat," or "go home and make a wheatgrass smoothie."
3848 Lattimer St.
Hilliard
Ohio
Pole and exotic dancing are heart-pumping workouts that tone muscles, slim waistlines, and increase flexibility. The Dolphin intro class is the pre-requisite for all other classes at the spacious studio, so this fun way to spend a Sunday afternoon could begin a whole new chapter of dance in your life. With your introduction from Dolphin Dance's trained, gravity-defying staff, you'll go over all the basic skills you need to start learning inverted moves, intricate spins, and advanced astrophysics in no time. Owner Kristen Titko has more than 30 years of dance experience under her close-fitting belt, including exotic and pole dancing in hit Hollywood films. Today, she's devoted to helping women build self esteem through dance's fusion of atomic nuclei and confidence-building.
143 E Main St., #201
Columbus
Ohio
---