Restaurants in Commack
---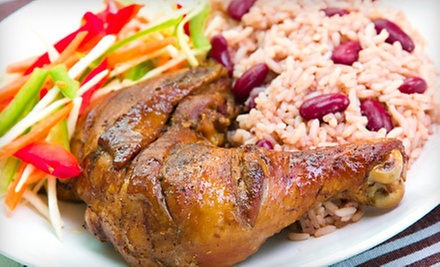 ---
Recommended Restaurants by Groupon Customers
---
Hand-painted signs greet passersby at Schellville Grill's cozy roadside shack, hinting that homemade meals await inside. Though the restaurant's façade emanates a rustic vibe, the kitchen teems with formal expertise from the Culinary Institute of America, owner Matthew Nagan's alma mater. Here, Matthew rubs beef tri-tips in a mélange of dried chipotle, natural smoke flavor, and hand-ground black pepper, marinates them for 24 hours, then grills them over hot coals, hickory chips, and dried wine vines. This sweet and spicy meat stars in several house specials, including a ranchero quesadilla and a sandwich that's lured Food Network's Guy Fieri to Matthew's smokehouse.
On a flower-lined patio, diners pair live music and local wine with gourmet sweets from Matthew's sister, Emily. Available in flavors such as chocolate zinfandel and espresso cinnamon, whole cakes can be ordered for pickup or enjoyed at private parties in the restaurant's dining room or safe deposit box.
5745 Sunrise Hwy.
Holbrook
New York
US
631-218-3888
Stationed inside the Marriott Denver South at Park Meadows, Sonoma'z Wine Bar & Grill pairs contemporary American eats with wines by the glass or bottle. Sonoma'z incorporates fresh, wholesome ingredients into its dishes from morning till night, mixing avocado into the egg-white frittata at breakfast, sandwiching fresh mozzarella into paninis at lunch, and nestling Colorado lamb chops atop apricot-pine-nut couscous during dinner. Suggested wine pairings help patrons match their meals with sips of a Sonoma pinot noir or a New Zealand sauvignon blanc, and wine flights streamline the tasting process by serving three 2-ounce portions of vino. When the weather warms up, Sonoma'z opens its outdoor patio where musicians swing by every Thursday and Friday night from 6 p.m. to 9 p.m. to serenade diners and drown out the sound of children asking too many questions about where babies come from.
5745 Sunrise Hwy
Holbrook
New York
US
631-218-3888
Sonoma Grill's chefs strive to satisfy every palate by stuffing fresh, grilled veggies into homemade wraps, infusing traditional Italian-style pizzas with the smoky notes of a brick oven, and decorating hefty burgers with seven types of cheese. Sonoma's spacious, sunflower-decorated dining room maintains a family-friendly feel. A specialty kids' menu lets little ones find flavors complementary to their juice box's complex berry notes, and fully grown diners can sidle up to the 35-foot full-service bar for international wines and 10 types of specialty martinis. Sports flicker across the five plasma-screen TVs that frame the bar area, and on Friday and Saturday nights, auditory centers get an earful as live music pulsates throughout the restaurant.
5745 Sunrise Hwy.
Holbrook
New York
US
631-218-3888
At The Curry Club—voted Long Island Press' Best Indian Restaurant of 2010—a Zagat-rated menu boasts dishes prepared by restaurateurs with culinary experience in both the Eastern and Western hemispheres. A handful of tikka masalas are studded with shrimp, salmon, chicken, or tofu, and kebabs are served on platters that sizzle and steam like volcanic Pop Rocks. More than 40 curries fall into six categories, from the West Indian–inspired vindaloo, to the richer, creamy consistency of Korma-style concoctions.
10 Woods Corner Rd.
East Setauket
New York
US
631-751-4845
The Old Olive Tree Restaurant first opened its doors to diners in 1980, as a celebration of rustic, homestyle Greek cuisine. In addition to following time-tested family recipes, the chefs also recreate familiar Mediterranean flavors by hand-making spanakopita, grinding lamb for their kebabs in-house, and wrapping to-go dishes in first-edition copies of The Odyssey. Other Attic flavors include greek sausages with hints of orange and cinnamon, golden-brown falafel patties, and saganaki with melted greek cheese.
124 East Main Street
Patchogue
New York
631-654-1930
---