Beer, Wine & Spirits in Commerce City
---
Beer, Wine & Spirits Deals
---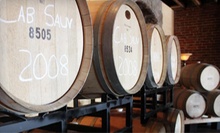 Palates explore spicy undertones and tannins of wines such as pinot grigio, syrah, riesling, and cabernet before choosing favorite bottles
Use Monday 12:00pm - 6:00pm
---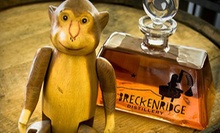 Tours cover distilling process of rum, vodka & three whiskey varieties before tastings inform liquor & spirit purchases
Use Tuesday 11:00am - 6:00pm
---
Recommended Beer, Wine & Spirits by Groupon Customers
---
Indulge Wine School's staff of educators, such as Kris in Jacksonville, a wine expert and blogger, expands wine knowledge with ease, having turned the revelry-steeped tassels of nearly 3,000 graduates. Classes of 12–20 take place in venues throughout the United States, as students swirl and sip their study materials and nibble complimentary appetizers. Every class ends with a Q&A session, during which potation professors shine a light on oenophilic mysteries including tannin content and regional differences. Afterward, students continue to ferment knowledge at home with a complimentary electronic copy of Indulge's book A Fun and Informative Introduction to the Wonderful World of Wine, a food-and-wine-pairing chart, and a top-10 list of wine-buying tips.
1601 Mayberry Dr.
Highlands Ranch
Colorado
303-991-1994
In 1995, Twisted Pine Brewing Company began as something more of a grove than a forest, with brewer Gordon King crafting just a trio of beers in equipment purchased from New Belgium. Come 1996, the company fell into the hands of current owner Bob Baile, who merged the nascent brewery with his own project, Peak to Peak Brewing Company, and began bolstering the lineup with inventive stouts, ales, and porters. Since then, Twisted Pine has maintained a high standard of quality even in the face of its expanding scale, as evidenced by the gold medals garnered at the Great American Beer Festival for its American Amber Ale and Oak Whiskey Red. They credit their love for experimentation and strong community involvement as the driving force behind crafting beers that surprise and delight their loyal customers.
Today, locals and visitors mingle in the tap room, where the beer menu offers seasonal specials such as the Ghost Face Killah, infused with the 1.1 million Scovilles of the Bhut Jolokia pepper. And to pair with the beer and drawers of otherwise useless silverware, the food menu features hearty pizzas, sandwiches, and salads.
3201 Walnut Street
Boulder
Colorado
303-786-9270
Washington is becoming known across the globe for its rich, complex wines, so the Aquino family started Vino Aquino to help Washingtonians create, package, and label their own wines like local pros. To do so, the Aquinos stocked up on winemaking kits, wine accessories, and essential materials such as bottles and corks. Using the kits and local grapes to create their own tasty concoctions, the Aquinos offer up their goods for customers to purchase or sample during private tasting parties.
1400 East Hampden Ave. #130
Cherry Hills Village
Colorado
US
Our boutique and winery offers a great selection of wines crafted right on premise, by the taste, by the glass or by the bottle. We also have a large assortment of wine gifts and accessories.
934 Manitou Avenue, Suite 108
Manitou Springs
Colorado
US
719-685-1030
Upon sampling sips from among more than 100 wines culled from 13 countries, guests craft personalized batches of their favorite variety. Water 2 Wine's knowledgeable winemaking team assists patrons in taking crushed grape selections and beginning the fermentation process by apologizing deeply to the grapes for being savagely crushed. After approximately eight weeks, customers return to prepare bottles and take them home. In addition to tastings and winemaking experiences, Water 2 Wine hosts sundry events, including painting classes enhanced by a complimentary glass of wine, parties, and private soirees.
9608 E Arapahoe Rd.
Greenwood Village
Colorado
303-799-9463
---