Commerce City, CO Drs and Health Practioners
---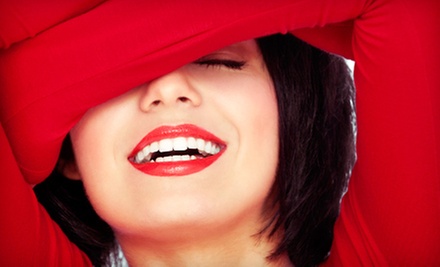 Central Business District
---
Drs & Health Practitioners Deals
---
Recommended Drs & Health Practitioners by Groupon Customers
---
Allied Healthcare Services' chiropractors, nutritionists, and soft-tissue and yoga therapists pool their talents to alleviate patients' ailments and bolster their health without resorting to invasive treatments. A chiropractic duo, Joshua Vickers and Adam Helie rehabilitate spines with hands-on realignment techniques and thorough back-health evaluations before releasing them back into the wild. Certified as a yoga therapist through the Rocky Mountain Institute of Yoga and Ayurveda, Carolyn Midland aids clients in easing their mental stresses and loosening their muscles through stretches and poses. Greg Gillette helps patients improve their energy and health with nourishment counseling services designed to meet individual needs.
2861 W 120th Ave., Suite 220
Westminster
Colorado
303-465-6332
Drs. Jinmei Xu and Mark Molinoff have traveled the globe to further their education in Chinese medicine. They both studied in the United States before earning national board certification, learning the art of acupuncture and herbal remedies. Not content to end their quest there, both doctors have also jetted across the ocean to study in China, the birthplace of these therapies. Though they have similar backgrounds, Jinmei and Mark specialize in different methodologies; Mark focuses on musculoskeletal injuries and neurological disorders, and Jinmei addresses digestive issues, weight loss, and pain syndromes.
3955 E Exposition Ave., Suite 104
Denver
Colorado
Doctor of Chiropractic Omid Ferdowsian knows his way around the backbone. With advanced training in such chiropractic methods as the Thompson drop table, Gonstead, and flexion distraction, he can coax misalignments and nonconforming disks back into place with precision tilts atop a flexion table or with his skilled hands during full manual adjustments. To ensure patient comfort, he customizes sessions from low- to high-force, and keeps lines of communication open during the entire procedure, explaining the purpose behind techniques and answering questions such as, "Why does my back pop?" and "Where does my house go at night?"
Dr. Ferdowsian and his team of massage therapists and sports chiropractors emphasize an approach that preempts illness before it occurs. Rather than waiting for symptoms to set in, the team administers focused examinations, thoroughly checking out spines, medical history, and any current symptoms before customizing a treatment plan. Treatment plans can include any combination of acupuncture, chiropractic adjustments, or nutritional education.
899 Logan St., Suite 105
Denver
Colorado
303-831-1122
At Mile High Dentistry, Dr. Brian Ley deploys digital X-rays and laser decontamination treatments in the course of regular checkups, providing in-depth views of mouth and fortifying against gingivitis. Like a bed made of espresso beans, Dr. Ley's intravenous and oral sedation systems keeps patients conscious & comfortable as he communicates with them throughout treatments.
11275 E Mississippi Ave., Suite 2W1
Aurora
Colorado
303-364-7631
The wellness experts at Balanced Health Cleansing Spa draw upon three decades of experience as they create a custom health plan for each client. For external detoxification, they cover guests with all-natural body wraps and soak feet in ionic baths. To cleanse bodies from the inside out, staffers use a colon-hydrotherapy method designed for discretion and comfort. The acupressure and thermal energy of the spa's Migun far-infrared massage bed can also flush out internal impurities or alleviate muscle stiffness caused by playing kick the can with a full oil drum.
144 W 12th Ave.
Denver
Colorado
303-443-2155
The professionals at Fit Wellness Center approach health as if they are assembling a particularly crucial jigsaw puzzle, neatly integrating multiple treatment techniques into comprehensive, personalized plans for their patients. While chiropractic adjustments alone can foster a more mobile backbone, they've found that paring those treatments with acupuncture sessions further decreases discomfort. Other procedures, such as orthopedic massage, Chinese herbal medicine, and acupuncture, tackle tension within the body to alleviate pain and increase confidence in crab-walking relays. This holistic approach to care has also aided the athletic endeavors of local sportsters from teams including the Colorado 14ers and the Denver Roller Dolls.
1140 US Hwy. 287, Suite 100
Broomfield
Colorado
303-469-0353
---